Archived News
HIGHTS continues to serve youth during pandemic
Wednesday, April 08, 2020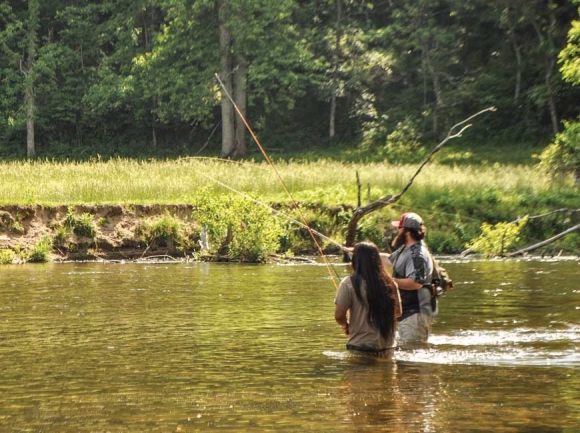 HIGHTS, a nonprofit that serves vulnerable youth in Western North Carolina, has found innovative ways to reach young people even when they can't leave their homes. Donated photo
HIGHTS is an organization serving vulnerable youth in Jackson, Haywood, and Macon counties. Since 2007, the organization has sponsored educational opportunities, recreational activities, job skills training and community service projects for public schools, mental health agencies, church youth groups and many other community organizations.
However, as the Coronavirus Pandemic has caused schools to close and shuttered all gathering places, opportunities to assist underserved youth have become more difficult and complex.
"Our mission is clear: HIGHTS must maintain support for our most vulnerable students and families in this time of crisis and make home visits and wellness checks to as many youths as possible," said HIGHTS Executive Director Marcus Metcalf.
Under non-quarantine conditions HIGHTS partners with local schools and juvenile justice to identify and help vulnerable students. Most of its services are free, and are intended to reduce social isolation and assist youth as they heal from trauma.
"Schools are the most important place in our community for youth that struggle with poverty, mental health issues, abuse and food insecurity. School is a place where students are fed, cared for by their teachers and friends, as well as a place to receive critically needed mental health services," said Metcalf.
HIGHTS' programs include Compass, the after school and summer program helping youth find direction; Inside Out, a community crisis respite program helping youth in crisis; Resilient Seed Industries, an apprenticeship and vocational training program helping youth get jobs; Adventure Learning, helping youth build confidence; Public Schools, helping schools connect to our community; and Hights' Path Program, preparing for adult transitioning and healing.
HIGHTS grows leaders through therapeutic adventure activities and meaningful service opportunities to develop essential life skills to instill feelings of belonging. It helps youth identify purpose by connecting youth to local, natural and community resources. This improves their lives and makes the community stronger, organizers say.
Since the shelter-in-place orders began, HIGHTS staff and interns have worked to put together safety protocols, lists of COVID-19 specific resources, therapeutic activity bags, food boxes and hygienic and emergency supplies. According to Metcalf, since March 16 the HIGHTS team has delivered 249 meals and 63 therapeutic activity kits in Macon, Jackson, and Haywood counties.
These therapeutic activity kits include tools and resources for students and families to use during their time of isolation. They include items that families have expressed a need for like food, toilet paper, medical and personal items. The kits also contain a list of community and online resources including places to get food, medical and mental health services, CDC safety recommendations, and online therapeutic and educational opportunities. Of particular importance for students, they include mental health and mindfulness activities such as games, puzzles, art, cooking supplies and instructions, and gardening supplies.
"The therapeutic activity bags are designed to reduce social isolation, help support students' mental wellness, and bring hope to vulnerable people. Our therapeutic teams contact students each week to guide them through the activities provided and give emotional support to the families," said Metcalf.
HIGHTS is partnering with local schools to perform wellness checks on students that have not been in communication with teachers. Staff members identify their needs and help connect them to community resources. The organization is also assisting schools in delivering food to those who cannot get to food drop-off points.
Additionally, staff is making phone calls to check on youth and families, provide case management and education on COVID-19 safety. They are providing educational support and socialization groups through video platforms to reduce social isolation, and have a therapist making counseling services available through video and phone. Even with all that support, for some youth home is not the safest place.
"For many of the students we work with, home can be a hard place to be. Some are isolated at home with parents who are dealing with job losses, their own mental health, substance abuse challenges, or poverty. These are the students and families we are searching for to help," said Metcalf.
HIGHTS is working to identify those students that are now at home in difficult situations and let them know that they are not alone. For most students, the combination of assistance from HIGHTS and schools will help to stabilize and support them during this difficult time. When staff encounter more critical needs, they seek to connect students and families with the resources they need to maintain safe and healthy lives.
Many nonprofits that rely at least partially on the donations of others are already feeling the effects of the economic downturn caused by the Coronavirus Pandemic. Not only are people not allowed to gather for events like fundraisers, but because of closures and reduced hours, many businesses and individuals lack the excess funds needed to make contributions to nonprofit organizations.
According to Metclaf, HIGHTS has been able to continue its critical work despite economic concerns.
"We are grateful to have such dedicated and responsive local foundations. The Evergreen Foundation and Dogwood Health Trust have reached out to support our work. We are in conversation with several funders to help locate and purchase more supplies and personal protection equipment to expand the number of youths we can serve," he said.
HIGHTS staff report staying positive and motivated during this time and are thankful for the ability to work with community partners.
"Our public schools continue to lead the community and our state in their professional and thoughtful response to getting food, education, and critical services to all students. Juvenile justice, social services, local churches, and many nonprofits like HIGHTS are providing heroic efforts to keep students safe in this crisis. We have a long road ahead of us and we are committed to continuing this great work," Metcalf said.
HIGHTS is an organization built on bringing people together and supporting youth through meaningful connections. Despite all the challenges facing an organization like this during a time of quarantine, HIGHTS is pushing ahead. Doing what it can to serve the underserved in its community.
As the HIGHTS website states, "Our core belief is that youth connected to natural and community resources improve their lives and make our community stronger."
For more information on the work HIGHTS does, or how to support, visit www.hights.org.