Archived Opinion
The days just drone by, listlessly
Wednesday, April 01, 2020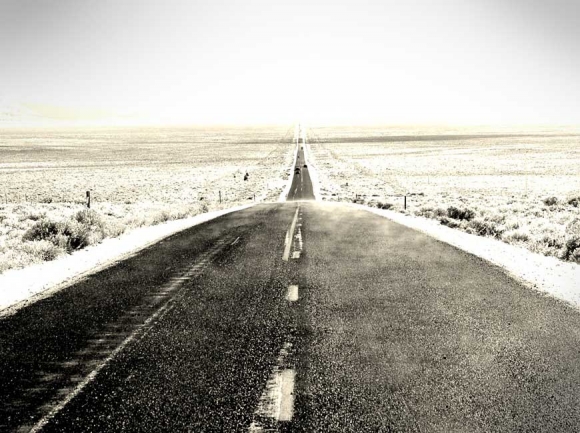 Photo by Benjamin Earwicker from FreeImages
I am thinking of a scene in the movie "Fargo" that captures exactly how I am feeling a couple of weeks into quarantine. The bad guy needs to bury a suitcase full of money somewhere on a long stretch of highway, so he pulls the car over, grabs the suitcase, and walks over to a barbed-wire fence that runs along the road as far as the eye can see.
There's at least a foot of snow on the ground. The bad guy digs a hole, drops the suitcase in it, and then packs it back with dirt and more snow. He looks to his right, fence and snow. Then he looks to his left and sees an identical picture — fence and snow. All that seems to exist in the entire world is the highway, the fence, and the snow.
So, the awful question becomes clear: how will he ever find it again, his suitcase full of money? Finally, he sticks the ice scraper he used to dig the hole in the first place in the ground. Out here in the vast, bewildering sameness, one eight-inch ice scraper is all there is to find one's way.
And so it is with these days, one after the next after the next after the next, all the very same, at home, nowhere to be, nowhere much to go, no way to see the end of it, and no way to go back. Is it Tuesday, or is it Sunday? Who knows? All of the days look and feel exactly the same.
Back in our old lives, the days had their own personalities, each one as distinct as people we know and love. Monday, that dude is a drag, so slow, so negative, almost toxic, the kind of guy you avoid at parties. Wednesday, solid, but a little boring, never misses a day of work, always brings a covered dish when a neighbor is ill. Friday, fun to be around, eager as a colt, but maybe a little loud, a little much, if you know what I mean, the kind of person whose expectations are usually too high, but you find yourself going along with it, because, you know, it's Friday, so you make allowances.
We know our days like we know our friends — which ones are our favorites, which ones we tolerate, which ones we trust. But not anymore. The days have been robbed of their personalities, their functions. They are no longer useful markers of anything. They are now undifferentiated blocks of time, as generic, bland, and implacable as a shelf of store-brand beans, each can a replica of the one next to it.
Of course, this can be liberating in a way. Once you get over being freaked out by this sense of perpetual floating and face the existential crisis of what to do about it, you must bear the burden of responsibility to make your life meaningful after binge-watching "The Office" or "West Wing" for the seventh time and eating nothing but barbecue potato chips, ham sandwiches, and three-layer cake for three consecutive days.
All but the craziest among us have already learned to limit time on the Internet. Every single day, the President of the United States says something that is utterly insane, at least one thing, and 45 percent of the population nods with approval. On Feb. 26, he said there were about 15 cases of the Coronavirus and all of them were getting better and that people should treat the virus like they would treat the flu. He downplayed the serious of COVID-19 for weeks.
A week ago, just as the number of confirmed cases in the U.S. was beginning to accelerate, he said he wanted the country back open for business by Easter. Now, he says that if 100,000 Americans die from the Coronavirus, it would be a clear sign of what a great job we've done to contain the virus. Mainly, he is very, very pleased with the ratings of his press conferences, which he took to Twitter to express with his characteristic coherence and maturity:
"Because the 'Ratings' of my News Conferences etc. are so high, 'Bachelor finale, Monday Night Football type numbers' according to the @nytimes, the Lamestream Media is going CRAZY."
Elsewhere, Americans are divided on whether too much is being made of the Coronavirus, or not enough. Should we get back to work and rev up the economy, or should we stay at home until we've eaten everything in the house but the wallpaper? Is this the scariest public health crisis of our time, or an exaggerated Democrat-driven charade to bring down the greatest president of all time and destroy the economy at the same time? Should we believe the leading medical experts in the field, or some self-styled pastor/blogger/conspiracy theorist from Rabbit Whiskers, Idaho, who is suddenly trending on right wing media sites?
As we ponder these important questions, we're also trying to figure out what to wear for our Zoom meetings, how to keep our kids motivated to do their schoolwork with no teacher within 40 miles of them, how to incorporate exercise into our incredibly busy, binge-watching, Facebook obsessing non-days, and what home improvement project we can tackle without having to venture out to Lowes, when any venture at all off of our own property feels like a scene out of Mad Max.
We're going to have a while to figure all of this out, unless Pastor Rabbit Whiskers gets his way. In my house, we'll be sticking with science for a while longer, I reckon, and staying at home. And staying at home some more. And defrosting things that have been in the bottom of the freezer for a long, long time.
(Chris Cox is a writer and teacher. This email address is being protected from spambots. You need JavaScript enabled to view it.)