Archived Arts & Entertainment
Takeout ordering the new norm for local restaurants
Wednesday, April 01, 2020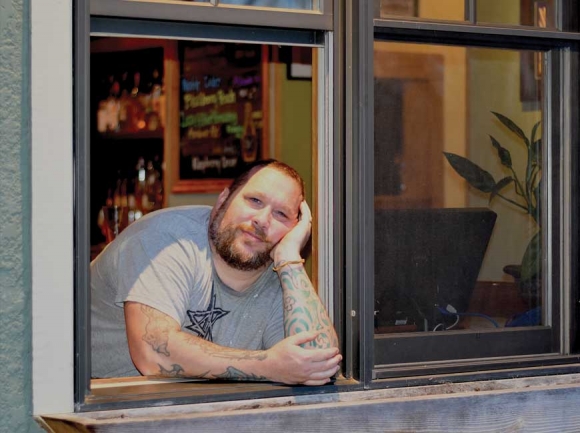 Doug Weaver, co-owner and executive chef at The Sweet Onion in Waynesville. (photo: Garret K. Woodward)
It's Saturday evening at The Sweet Onion in downtown Waynesville. Normally during the time of year, the dining room and bar counter would be packed with locals and tourists alike, servers zipping around in every direction, the open-air kitchen buzzing with orders atop a fiery grill.
But, right now, the space is empty. There's not a server in sight. The room is eerily quiet except for some noise coming from the kitchen. Standing in front of the grill is Doug Weaver, co-owner and executive chef for The Sweet Onion.
"Honestly, it has been surprisingly better than I thought it was going to be," Weaver said. "Our entire town is stocked up on food and I thought everybody was just going to get so scared that they completely stopped 'dining out.'"
In the wake of the current coronavirus pandemic, restaurants and bars across the country and around the world have shutdown, closing their doors to the general public and having to layoff massive numbers of staff until government mandates and social distancing guidelines recede.
And in the midst of these widespread changes in not only societal protocol, but also in respective culinary scenes, the idea of takeout orders has been implemented to somewhat keep restaurants afloat, all while providing folks with a variety of food options.
"What boggles my mind is how quickly people have adapted to these changes," Weaver said. "In regards to our business, everything now is a 'to go' order and our customers have shifted into that mode when it comes to ordering and coming to pick up what we'll have ready for them."
Now in its 13th year of operation, The Sweet Onion is a pillar of gourmet food and fine dining for Haywood County and greater Western North Carolina. It's a bastion for quality dishes and hearty conversation, where Weaver & Co. aim to pack the place and play host to the masses that come through the door looking for a unique culinary experience.
"You've got to understand, what I love running is a restaurant, and what I'm a running right now is a to-go business — it's not the same thing," Weaver solemnly noted. "I'm in default mode right now. But, everybody in our community is going through their own channels and trying to keep their balance, which is what I'm trying to do, too."
Looking around The Sweet Onion, it's pretty much a skeleton crew nowadays. The restaurant had to lay off 33 employees last week, many of which have been loyal to the business for several years. What's left is Weaver, co-owner Dan Elliott, a floor manager and Weaver's wife (a server) who are taking the to-go orders and working the impromptu delivery window near the front entrance.
"These are hard times, these are lean times. Letting go of 33 employees, all of which I consider friends, well, that was a hard week," Weaver said. "And this week has also been hard, where it's just a few of us here keeping the light on. We're away from our families every day now and we're trying to keep the restaurant from sinking."
Compared to sales this week last year, Weaver estimates the to-go orders only match about 10 percent of what the restaurant would normally take in. But, even with 90 percent of its business gone, that 10 percent is enough to keep the vultures away. That fraction of incoming money pays the bills and ensures that The Sweet Onion avoids having to take out a bank loan and accrue debt when it reopens with a full staff once again, whenever that may be.
"This is the situation we've all been put in and we're going to the do best that we can like we always have — you've got to treat every customer as if it were your last," Weaver said. "We're lucky that we're in the comfort food category, where right now a lot of people really need some comfort food."
But, even in the face of adversity and uncertainty, Weaver sees the beauty of Waynesville, this small mountain town that never fails to come together to help each other — this justified sense of neighborly generosity and kindness, something that goes a long way these days.
"My wife and I go to our kid's school to pick up his lesson packets and there are the teachers standing out there for hours handing them their lessons, then on the other side of the line they have lunches ready for the kids to take home," Weaver said. "People don't have to do all of these things, but they do because they care. You're seeing everything come full circle, not only as a business owner, but as a citizen of this community."