Archived News
NC Gov. Cooper issues statewide 'Stay home' order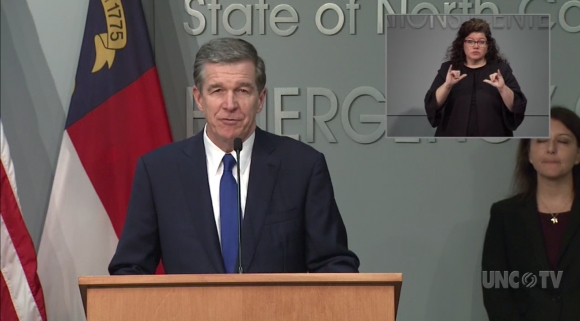 Gov. Roy Cooper announced the order in a press conference on March 27.
UNC-TV
As expected, North Carolina Gov. Roy Cooper issued an order earlier this afternoon directing residents to avoid all unnecessary activity outside the home.
"There are 763 [coronavirus] cases in 60 counties in North Carolina. As expected, our numbers continue to increase rapidly. This is a highly contagious virus," Cooper said during a press conference. "Today I have signed a 'Stay at home' order for the entire state of North Carolina."
North Carolina now joins several other states in ordering some form of self-isolation, including California, Colorado, Idaho, Illinois, Minnesota, Nevada, New Jersey, New York and Wisconsin.
A number of North Carolina counties had issued orders of their own prior to Cooper's announcement, including Buncombe, Forsyth, Graham, Guilford, Mecklenberg and Wake counties. Haywood County's order came on March 26, however the vast majority of counties hadn't enacted any restrictions before Cooper's announcement.
The orders are all similar, and offer widespread exemptions for people working in essential industries or handling necessary tasks like shopping for food and medicine or caring for loved ones.
Cooper's order comes as the Coronavirus Pandemic continues to wreak havoc from Wall Street to Main Street; the Dow Jones industrial averaged plunged from a high of 27,090 on March 4 to 18,591 on March 23 and remains well under 23,000 as of March 27.
On March 26, a jobs report from the U.S. Department of Labor said that 3.3 million Americans had filed for unemployment or under-employment due to hours being cut in just one week.
The previous weekly record was during the recession of 1982, when 695,000 Americans filed in one week; even during the Great Recession of 2008, unemployment claims remained below half a million and never approached a million, much less 3 million.
The order takes effect at 5 p.m. on Monday, March 30 and will remain in force for 30 days unless otherwise altered by Cooper before then. Local governments are still free to enact more stringent measures than contained in Cooper's order.
Read the full text of the order here: https://files.nc.gov/governor/documents/files/EO121-Stay-at-Home-Order-3.pdf