Archived News
Haywood County restricts movement except for essential activity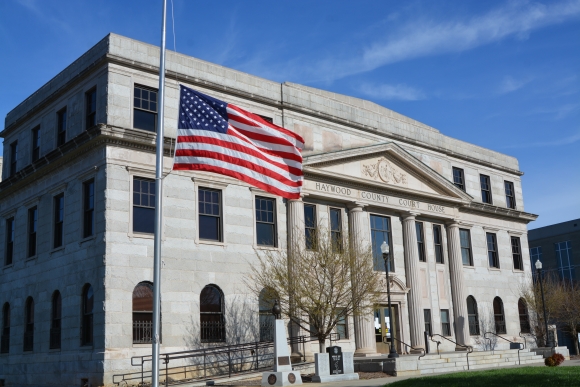 Haywood commissioners met in emergency session on the morning of March 26.
Cory Vaillancourt
As the Coronavirus Pandemic continues to spread, Haywood County and all four of its municipalities will now prohibit non-essential activity through April 16.
"What this does is articulate to us hardheads what our neighbors expect of us," said Haywood County Attorney Frank Queen.
The move came during an emergency meeting called by commissioners for 10 a.m. on March 26 and places Haywood alongside the likes of other counties that have issued such an order, notably Buncombe, Forsyth, Graham, Mecklenberg and Wake counties.
The order includes the towns of Canton, Clyde, Maggie Valley and Waynesville and lays out what Haywood County residents can still do while the order is in effect.
Residents can still go to grocery and convenience stores, seek medicines or medical care, order take-out, bike, hike and jog, care for loved ones in other households and tend to the needs of pets, among other things.
The order also outlines what residents cannot do, including leave home if they are ill, visit others unless there is an urgent need, be within 6 feet of another person in public, travel unless essential or go to work unless defined as working in an essential industry.
Residents returning to Haywood County after traveling outside the county for more than three days for non-essential purposes must self-quarantine at home for 14 days.
All lodging facilities (including direct reservation facilities like Airbnb) with rentals or leases of less than 15 days must close except for work-related accommodations.
Homeless shelters remain open, but campgrounds can not accept new occupants.
Current occupants of hotels and campgrounds may stay, but visitors or property owners who aren't residents of Haywood County must call the county's COVID-19 hotline at 828.356.2019 to report their most recent place of travel, length of stay and purpose for travel.
Lynn Collins, executive director of the Haywood Tourism Development Authority, told commissioners at the meeting she'd polled 72 lodging providers on March 25, and that 59 percent of them approved of the restrictions even though 60 percent of them thought it would be detrimental to their business.
On March 25, Buncombe County Board of Commissioners Chairman Brownie Newman issued a supplemental state of emergency declaration ordering residents to stay home beginning at 8 p.m. March 26. The order is valid through 6 a.m. Thursday April 9, per reporting by Daniel Walton for Mountain Xpress.
Buncombe's order is similar to Haywood's in that it does grant numerous exceptions for health and safety (obtaining medical supplies or medication, visiting a health care professional or obtaining supplies needed to work from home), for necessary supplies and services (food and pet supplies, household consumer products including those necessary for safety and sanitation), for outdoor activity (hiking, walking, biking while observing the 6-foot social distancing requirement), and for those engaged in the care of others.
There are also work exceptions in both orders for those providing essential services — healthcare, government functions, critical infrastructure, some retail operations, educational institutions providing distance learning, social services organizations, tradespeople like plumbers or electricians and news media.
Coronavirus cases continue to spread in the United States and in North Carolina despite widespread measures being implemented to prevent the virus from being transmitted.
According to www.worldometers.info/coronavirus, more than 488,000 confirmed cases had been reported across the world by the morning of March 26. Of those, almost 350,000 were active cases, with about 18,000 of them — around 5 percent — classified as serious.
Closed cases, or cases which had an outcome, were reported to be nearly 140,000; in at least 118,000 of those cases (84 percent) the outcome was recovery, however for more than 22,000 people, the outcome was death (15 percent).
On March 25, the U.S. reported 13,355 new cases — far more than any other country in the world. That grim tally brought the U.S. total to more than 68,000, just 6,000 or so behind Italy and 13,000 behind China, the two countries dealing with the worst outbreaks.
The U.S. has by far the most active cases in the world, with only 428 recoveries and more than 1,000 deaths — leaving at least 67,000 active cases.
Nearly half of all U.S. cases are located in New York state (more than 33,000) with New Jersey a distant second at 4,400. North Carolina ranks 18th with nearly 600 cases and has recorded two deaths.
There are no confirmed cases yet reported in Haywood County, although Cherokee, Jackson, Transylvania, Henderson and Buncombe counties have reported a total of 15, according to the North Carolina Department of Health and Human Services.
Haywood's order takes effect at 5 p.m. today — Thursday, March 26 — but could be amended or changed at any time in consultation with the public health director and the Haywood County Office of Emergency Management. Violation of the order is a Class 2 misdemeanor per G.S. 14-288.20A and is punishable by up to 60 days in jail and/or a $1,000 fine.
To read the full order, click here: https://www.haywoodcountync.gov/DocumentCenter/View/3542/Haywood-County-Stay-Home-Proclamation-version-6-as-passed-final?bidId=
This is a rapidly developing story; look for updates at www.smokymountainnews.com, www.twitter.com/@smokymtnnews, www.facebook.com/smnews and in our next issue, on stands and online on Wednesday, April 1 (no joke).