Archived News
Food and beverage industry reels from Coronavirus Pandemic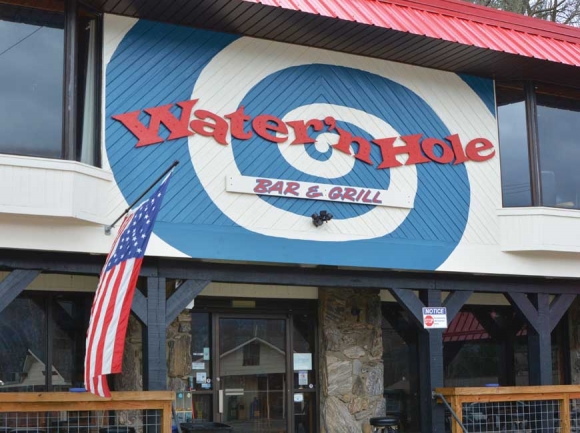 Waynesville's Water'n Hole voluntarily closed in advance of Gov. Cooper's March 17 order. Cory Vaillancourt photo
Last Tuesday, on what would normally be a bustling St. Patrick's Day, owner Dan Elliot sat in his empty Sweet Onion restaurant in the heart of Waynesville's downtown tourist district just after sharing some difficult news with his staff of 34 employees.
"We told them that we're going to have to close for an indefinite amount of time and that there's no longer employment here for them unfortunately," said Elliot. "I guess they would have to go down and file for unemployment if they can, or do what they can do."
The announcement by Elliot came just hours after Gov. Roy Cooper directed the state's bars and restaurants to close by 5 p.m. that day; with that order came devastation to thousands of North Carolinians employed in the industry.
While business owners like Elliot will try to make it through the closures by ramping up take-out, curbside and delivery options, it's not a viable long-term model for sustainability, according to Elliot.
Elliot stopped short of criticizing the governor's decision but thinks Cooper may have ultimately made the right move.
"I think he's in a catch-22, like most other governors," he said. "I think he could have gave it a little more time, but I understand how he's pressured to close. I mean, if the things I've read, the [coronavirus] projections pan out the way they say they're going to pan out, then yes, he did. But obviously, that remains to be seen."
Elliot's upscale restaurant is normally one of the centerpieces of Waynesville's prosperous downtown tourist district, drawing rave reviews and celebrities the likes of Laura Bush and Zack Galifainakis. It will remain closed to the public for now, but the take-out operations he and many other restaurateurs are now engaging in will do little to help the thousands of bartenders, cooks, dishwashers and servers now unemployed.
The service industry isn't taking the layoffs lying down, by any means; one of the first things to pop up in Haywood County was a Facebook group called "Waynesville service industry family," started by a longtime bartender at Waynesville's most infamous watering hole, the Water'n Hole.
"I wanted to make sure that everybody stayed connected," said Crystal Gandolfo. "I think that we all feel like we do have a sense of community because the service industry kind of is a community, especially in this town."
Gandolfo said that people are using the Facebook group as a way to share resources and information as well as to maintain that sense of community through what are sure to be tough times.
"Some people have asked questions about unemployment, how to apply," she said. "Other people are just sharing their stories of their business closures, lots of memes, lots of people laughing."
Applying for unemployment wasn't too difficult, according to Gandolfo, despite heavy volume on the state's website. She said she'd completed the entire process on her phone but had to set an alarm to wake up at 3:30 a.m. because previous attempts were stymied by the overwhelming volume of applications.
In a normal week, according the N.C. Department of Employment Security, around 3,500 unemployment claims are filed. The week of Gov. Cooper's order, more than 100,000 claims were filed.
As of press time, Gandolfo still hadn't seen any money come her way from NCDES but remained hopeful despite skepticism of promises from Raleigh and from Washington.
"There is no outlook for this," she said. "Everything's changing day by day. None of us know. There's a lot of uncertainty. So I think that the main goal and the main thing is if you work in the service industry, take care of your fellow service industry employee as much as you can. But I have found that sitting on your front porch and drinking a beer is kind of like being at the bar, if that makes it better for anybody."
Apply for
unemployment

benefits now

On March 17, N.C. Gov. Roy Cooper waived a number of requirements in regard to the state's unemployment assistance program — among them the week-long waiting period for filing, the job search requirement and the in-person application requirement. Additionally, workers who aren't fully unemployed but have experienced a reduction in hours may also be eligible for benefits, which won't be counted against employers as they usually are.

Although web traffic and call volumes to the North Carolina Department of Employment Security are understandably high, applying for benefits is relatively quick and easy. Consider applying online, during off-hours, such as late at night or early in the morning. Phone calls are not recommended but may be an option for some.

Visit des.nc.gov or call 888.737.0259, Monday through Friday 8 a.m. to 4:30 p.m.