Summer Camp Guide
Camp Folkmoot connects kids and dance
Wednesday, March 18, 2020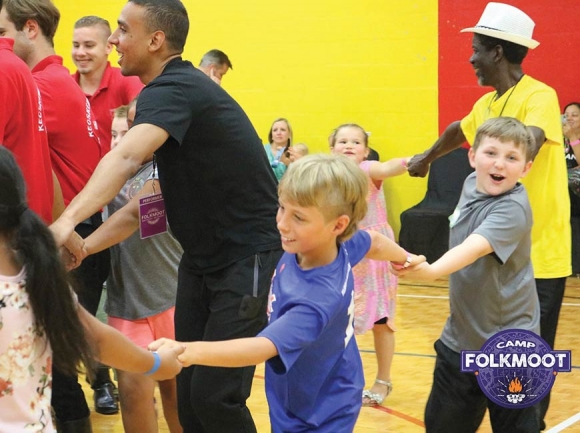 Dancers from Hungary, Egypt and the Bahamas dance with kids from across the mountain region at Camp Folkmoot at the Folkmoot Center. Natalie Ruth Ballard photo
It's not at every summer camp that kids get to meet and interact with folks from countries all around the world, but at Camp Folkmoot in Waynesville, kids will get to do just that.
Camp Folkmoot is a one-day dance and crafts camp for kids and teens from fourth through 12th grades. The camp is an extension of the Folkmoot Festival, a nine-day international festival that invites dance groups from around the world to come share their culture and perform traditional folk dances around Western North Carolina.
According to its mission statement the festival "fosters the vibrancy of many cultures into one community. Folkmoot programs are based on cultural exchange and designed to build global relationships, foster cultural understanding and develop community prosperity."
Camp Folkmoot 2020 will be held from 9 a.m. to 2 p.m. Friday, July 24. The early part of the day will be occupied by dance lessons. Performers from the dance troupes participating in the Folkmoot festival will teach campers traditional folk dances from their home countries. Lunch is served during a midday break in the Folkmoot cafeteria. Following lunch, kids will have the opportunity to learn even more about the visiting cultures by partaking in make-and-take handicrafts native to the countries of those visiting Folkmoot. They will also have the chance to learn and share the culture of Western North Carolina with internationals in a traditional Appalachian square dance lesson. When the day of activities wraps up, there will be a matinee performance by all dance groups beginning at 2 p.m. in the Sam Love Queen Auditorium of the Folkmoot Friendship Center, where parents and community are welcome.The performance will last about an hour and a half.
By the camp's own description, "participants will learn basic concepts and movements, gain an appreciation for the similarities and differences between cultures and hear captivating stories behind the dances of each international group."
Camp Folkmoot takes place the same day as the Folkmoot street dance in downtown Waynesville. Participants are encouraged to go eat dinner and join Folkmoot again for the street dance festivities, having already learned a great deal about the performances, and performers, they will see at the street dance.
The international experience is what sets this camp apart from so many others.
"This is an annual opportunity for youth and families to experience about half a dozen international cultures right here at home" said Fokmoot Executive Director Angie Schwab. "There's an opportunity to learn not only folk dance, but also handicraft from the countries we're featuring this year."
In its third year running, Camp Folkmoot has improved each year, learning from children and parents.
"We've moved from just having dance to adding the handicraft and the matinee, so it's a real value to families and it feels like an interactive opportunity that you won't get anywhere else in Western North Carolina," Schwab said.
Camp Folkmoot costs $30 per student and $10 for accompanying adults. The costs of Camp Folkmoot are absorbed by ticket sales to the festival and entrance fees for the camp. Additionally, the Cherokee Preservation Foundation helps to provide scholarships to campers. With this assistance, Schwab said, "we make it possible for lots of people to attend whether they're able to pay or not."
Folkmoot has a track record of making big impacts on the futures of youth who are able to participate. Schwab has seen how "most of the kids who have participated in Folkmoot activities over time have become world travelers, or have gone on to pursue international studies like political science and international business."
Through Camp Folkmoot, the organization hopes to not only continue this valuable tradition, but also expand upon it.
"All kids who participate in Folkmoot gain a curiosity for other cultures, and I think they see for themselves that there's a bigger world out there for them to engage with," Schwab said.
More information is available at www.folkmoot.org/events/camp-folkmoot-2020/ or call the Folkmoot center at 828.452.2997.