Archived News
Jackson jail death spurs lawsuit
Wednesday, March 11, 2020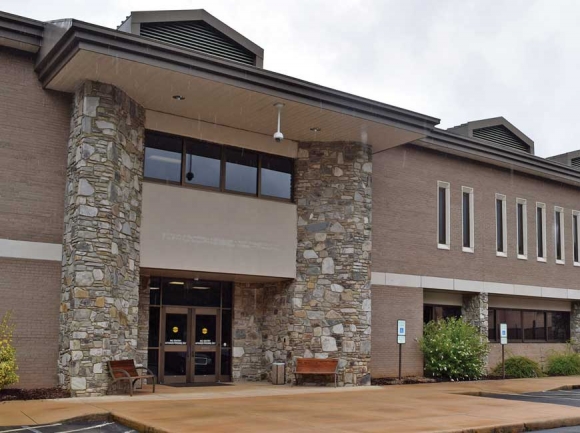 Jackson County's 72-bed jail has seen three suicides since 2014. File photo
The family of a Sylva woman who died by suicide in the Jackson County Detention Center last year has filed suit in federal district court against members of the sheriff's department who handled her incarceration. Filed by Rice's son Matthew Dillard, who is the administrator of Rice's estate, the suit seeks a series of judgments that would easily exceed $3 million if granted in full. He claims that the defendants' "negligent" acts and "malicious, willful and wanton disregard" for Rice's rights led to her death.
Rice, 49, died on Jan. 18, 2019, after she was found hanging by a phone cord in the detention center Jan. 16. According to public documents previously reported on in The Smoky Mountain News, she had been arrested for trespassing at her ex-husband's home in Cashiers and faced 10 charges, including breaking and entering, simple assault, larceny of a motor vehicle, burning personal property and assault on a government official, among others. After her arrest that morning, she was taken to Harris Regional Hospital for evaluation and treatment of a hand injury and then transported to the detention center. While alone in the booking room waiting for the magistrate, she hanged herself with a phone cord just outside of clear range of the monitoring camera.
The State Bureau of Investigation investigated Rice's death, and District Attorney Ashley Welch evaluated the resulting report. In July, Welch announced that no criminal charges would result.
The report showed no "culpable negligence or omissions" by law enforcement, or evidence proving that any officer "failed to perform a duty of his or her office," Welch wrote in a press release. She concluded that detention officers had monitored Rice in compliance with state law and that they did not notice any behavior indicating Rice could be a danger to herself. Earlier that day, Welch said, a medical doctor had determined that Rice was not suicidal.
The allegations
The facts laid out in Dillard's lawsuit bring every one of Welch's conclusions into question. According to the lawsuit, Rice was suicidal, and the officers knew it. She was intoxicated, and they knew that too. She never should have been held in the booking room — which in addition to containing a corded phone was not fully covered by monitoring cameras — and she should have been checked on four times each hour, not two.
Jail logs show that detention officers checked on Rice at irregular intervals twice per hour, as state law requires for all inmates. However, those checks must occur four times per hour when an inmate is suicidal, mentally ill, intoxicated, violent or displaying erratic behavior — the suit argues that Rice should have received this enhanced monitoring.
Rice was arrested after she allegedly attempted to break into her ex-husband's house and attempted to assault his girlfriend and child, who were the only ones home at the time. The girlfriend advised Deputy Ridge Parris, who responded to the scene at 9:15 a.m., that Rice appeared to be "high" on drugs, as she didn't flinch when the door was repeatedly slammed on her fingers. The suit states that Parris immediately noticed that Rice smelled of alcohol. Though Rice resisted arrest and assaulted Parris, he ultimately handcuffed her and put her in the backseat of his patrol car with his K-9 partner. He then went inside to obtain a statement from the witness and wash blood off his hands, leaving Rice and the K-9 in the car for more than 10 minutes.
"While she was handcuffed and locked in the back of the patrol car, Decedent (Rice) used a cigarette lighter and a one dollar bill, which Parris had failed to secure, to set her clothes and the seat of the patrol car on fire in an apparent attempt to commit suicide," the suit reads. "Upon exiting the Rice residence, Parris observed the fire in the patrol car, removed Decedent from the car, and extinguished the flames."
A backup officer arrived, and during the noon hour Rice was taken to Harris' emergency room "due to her hand injury and apparent alcohol use."
Patrol Lieutenant Stephen Watson accompanied her while she was at the hospital, the suit said, and had been made aware of Rice's previous actions. During a self-harm assessment at the hospital, Rice responded "no" to questions such as "Do you have thoughts to harm or kill yourself?" The suit alleges that Watson knew those responses were untrue and "failed to accurately report Decedent's erratic and suicidal behavior." As a result, the hospital determined that Rice was fit for confinement.
At about 1:30 p.m., she was booked and initially placed in a holding cell. During that time, multiple law enforcement personnel — including detention officers Aniyah McMullen, Emily Couvillon, Justin Nicholson and Kayla Elliott, as well as Detention Sergeant Shondra Collini and Bailiff Deputy Mark Junaluska — had the chance to observe Rice, with several reporting that she smelled of alcohol and appeared to be intoxicated or impaired, the lawsuit states. They were aware of her previous actions and "considered her to be a risk of harm to other inmates such that she was segregated from other prisoners."
Due to these concerns, between 3:30 and 4 p.m. she was placed in the booking and bond room. However, this room didn't comply with normal detention center standards. It had only one camera, which did not offer a view of the entire room, and it had a wall-mounted telephone with a cord that extended several feet from the wall — long enough for an inmate to use it to hang themselves.
At 4:06 p.m., Magistrate Judge Albert Reagan granted a restraining order against Rice filed by her ex-husband, who reported on that same document that Rice had threatened suicide. Parris visited the booking room at 6:15 p.m., detailing the list of charges she would face and serving the restraining order.
Then he left the room, and Rice was alone again. Nobody checked on her until 7:06 p.m., when Detention Officer Emily Couvillon found her with no pulse and the phone cord wrapped around her neck. It had likely been there since two minutes after Parris left the room.
Melissa Middleton Rice, as she appeared the day of her arrest. Donated photo
"At approximately 6:17 p.m., after being advised that she would not be provided bail and would be retained in the jail, Decedent went to the back of the Booking Room, outside of the view of the single surveillance camera, and wrapped the phone cord around her neck and sat down to hang herself," the suit reads. "Decedent remained alive until at least 6:27 p.m., when it is believed she became unconscious and stopped breathing."
Twelve parties are named as defendants in the suit. Sheriff Chip Hall is named in his official capacity, and Western Surety Company is named as surety for the sheriff. Captain Patrick McCoy is named in both his individual and official capacities. Also named in both individual and official capacities are Detention Officer Kaitlyn Bradley, Elliott, McMullen, Nicholson and Couvillon, Collini, Junaluska, Parris, and Watson.
The suit lists four causes of action. It alleges that all parties save McCoy and Western Surety are responsible for a wrongful death and that Hall and McCoy are liable for failure to adequately train and supervise their employees to recognize and properly respond to signs of intoxication, suicidal tendencies and unstable behavior. The suit also alleges 14th Amendment violations — the amendment says that no state can deprive a person of life, liberty or property without due process — and violation of N.C. General Statute 162-55, which stipulates that jailers who do wrong to a prisoner contrary to law must pay triple the damages to the injured person and will be guilty of a Class 1 misdemeanor.
"The actions and omissions of Defendants, including Hall, were so outrageous as to shock the conscience of the community and violated Decedent's right to substantive due process," the document reads.
Dillard, on behalf of Rice's estate, is seeking a trial by jury, judgment greater than $1 million on three separate claims, and an award of triple the damages under NCGS 162-55 and attorney's fees.
A civil matter
When reached for comment, Hall referred any questions to County Attorney Heather Baker, who said she was unable to comment on pending litigation.
Welch said that, while she stands by her office's decision not to press criminal charges in Rice's death, she is not surprised to see the family pressing civil charges. While a criminal conviction requires proof beyond a reasonable doubt, a civil judgment requires a lower standard, called a preponderance of evidence.
"From a criminal aspect, we're still confident in the decision we made," Welch said. "From a civil aspect, they're dealing with a whole other burden of proof and a different allegation."
A criminal conviction in the case would require proving that the officers involved were so negligent that their actions equated to manslaughter, and that a "reasonable person" would have known that Rice was likely to attempt suicide. While Dillard seems to disagree, Welch does not believe the evidence met that standard.
Since Rice's death, several of the people named in the suit have seen changes in employment. Collini, who had worked for the sheriff's office since 2014, was dismissed from her position as a detention sergeant on July 1, 2019. Elliott resigned her job as a detention officer on July 14, less than a year after her October 2018 hire. McMullins resigned her detention officer position on Feb. 14, 2019, less than two years after her Feb. 20, 2017, hire. Mark Junaluska, a bailiff deputy at the time of the incident, was reclassified as a road patrol deputy on June 24, 2019.
Meanwhile, McCoy, a deputy lieutenant detective at the time of the incident, was promoted to detention captain on Sept. 1, 2019.
Rice's death marked the third suicide in five years to occur in the Jackson County Detention Center. Charles "Chuckie" Moose died on Nov. 21, 2014, and Steve Ross died on March 13, 2015, both by hanging. In Ross's case, gaps between visual checks were as large as 106 minutes, a far cry from the twice-hourly checks required by law. The SBI investigated Ross's death, though not Moose's. Welch declined to file charges.
"Suicides in a jail are not outside the norm, and that's unfortunate, but in each case that we have reviewed we have never found one yet out of the ones that we have looked into where an SBI investigation has occurred that there is criminal liability," said Welch. "Now, that's completely different than civil liability."
In 2018, there were 46 jail deaths statewide, according to a 2019 report from Disability Rights N.C., and 12 of those were suicides. Among jails in the Smoky Mountain News' core coverage area of Haywood, Jackson, Swain and Macon counties, Jackson is the far-and-away leader in the number of inmate suicides. While Jackson has seen three such incidents since November 2014, in the same period Haywood has seen one. Swain County did report one inmate death, which occurred in 2018, but neither Swain nor Macon County has seen any inmate suicides at all in the past six years.