Archived News
Pancake Day fundraiser free to community
Tuesday, February 18, 2020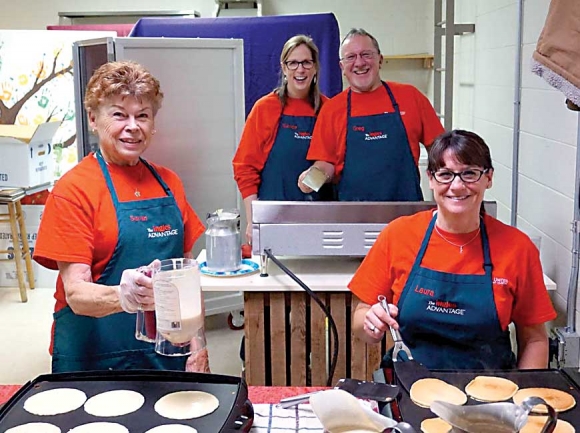 Volunteers prepare pancakes at First United Methodist Church of Waynesville. Donated photo
The beloved community fundraiser known as Pancake Day will return Tuesday, Feb. 25, to First United Methodist Church of Waynesville.
This year marks the 65th anniversary of the church's largest fundraiser and also marks the second year the event will be free to community members. In past years, people have paid $8 a ticket to get the all-you-can-eat pancake breakfast with sides of sausage and bacon, but the event has become so successful and supported that the organizers thought they'd make it free.
"We are planning for the event to be completely free to the community," said church member and event organizer Patrick Bradshaw. "Last year was a huge success and we hope to serve even more community members this year."
In the past, the event has raised as much as $25,000 for facility improvements, scholarships and mission trips, but what the congregation has found is that the community steps up to donate even when the meal tickets are free. From donated food to sponsorships that underwrite the entire event, the fundraiser has become more of a way for the church to connect to the community it serves.
"We want to emphasize that we are able to do this because of the generosity of our community partnerships and our congregation. So many have stepped up to say, 'we want to be a part of this,'" Bradshaw said.
The event is a major undertaking that takes months to plan and about a week to execute using many volunteers and multiple kitchens in the church. The customer service provided by volunteers serving the public could compete with any five-star restaurant as they continue to fill your plate and your cup with a smile.
Last year's event served more than 3,000 people for free and utilized 1,000 hours of volunteer labor to pull it off. To break it down — that's more than 4,000 napkins, 600 pounds of pancake mix, 70 dozen eggs, 700 pounds of bacon, 30 pounds of coffee, 50 gallons of syrup, 2,000 cartons of milk and more than 3,000 pieces of sausage.
Keeping with the community focus, this year's theme for Pancake Day was inspired by Mr. Rogers — "Won't you be my neighbor?" Pancake Day has become a tradition in Haywood County no matter what church people attend and even if they don't attend church. You never know who you'll end up sitting and fellowshipping with while you enjoy those buckwheat and buttermilk pancakes.
"It's about building relationships — relationships we've been building for 60 years and even before Pancake Day," said committee member Mary Lee Sease. "This is just one more thing we can do to continue that effort."
Pancake Day will be held from 6:30 a.m. to 7:30 p.m. Tuesday, Feb. 25, at FUMC inside the Christian Growth Center Christian Growth Center located at 566 S. Haywood St., Waynesville.