Archived News
Morris announces internet speed, access increases
Tuesday, February 18, 2020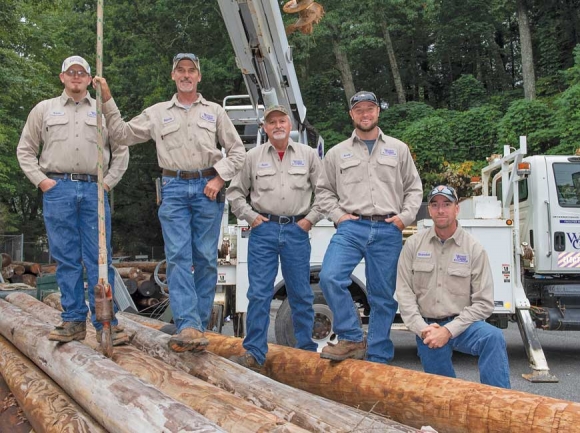 Work to install new broadband lines on WCU power poles began in 2018 and is expected to wrap up by May. File photo
Morris Broadband has significantly upgraded and expanded its service in Macon and Jackson counties, increasing both its download speeds and its service area as the new decade begins.
The lowest-tier package now offers download speeds of 25 megabits per second, up from a previous bottom tier of 10 megabits per second. Customers can now access gigabit service as well.
"In today's fast-paced world, we recognize the necessity of a strong, evolving broadband product for the businesses and citizens of Western North Carolina. It is our first priority," said Morris General Manager Tony Carter.
Western North Carolina's spotty internet availability and slow speeds have been a frequent topic of discussion among elected leaders, business owners and residents alike, with a 2019 report from the internet service comparison website www.highspeedinternet.com naming Sylva as the nation's slowest city for internet.
However, two public-private partnerships are allowing Morris Broadband to significantly expand access in both Jackson and Macon.
In 2018, Western Carolina University announced that it would partner with Morris, allowing the Hendersonville-based company to install its broadband lines on poles owned by Western Carolina Power, which provides electricity to people in the Cullowhee area.
When complete, the project will provide high-speed internet access to 750 homes. Morris has currently passed the 400-home mark and is now in the third and final phrase of the project, expecting to reach all 750 homes by May.
Over in Macon County, Morris expects to reach an additional 226 homes as the result of a grant it received from the GREAT Grant Program, which is offered through the state's Broadband Infrastructure Office and stands for Growing Rural Economies with Access to Technology. The program was created in 2018, when the N.C. General Assembly appropriated $10 million to further broadband access statewide. In 2019, follow-up legislation stated that $15 million should be appropriated each fiscal year through 2028-2029. Grants can be given for projects in Tier 1 and Tier 2 counties.
The $667,000 Macon County project will include $433,550 in grant money along with a $233,450 investment from Morris. The grant requires installation to be complete by June 2021, but Carter expects the work to wrap up by the end of this year.
The 226 homes are located in various outlying areas of the county. Expanded access will affect homes on Gibson Cove Road, Granny Kate Lane, Stoudemire Drive, Schurman Cove Road, Annes Lane, Gibson Cove Estates Road, Willow Wind Heights, Willowbrook Estates, Bryson City Road, Iotla Church Road, Quail Hollow Road, Riverbend Road, Liner Drive, Iotla Hill Drive, Olsen Drive, Bennett Road, Sanderstown Road, Rain Ridge Road, Red Fox Lane, Buster Cabe Road, Tranquil Road, Holbrooks Road, Piney Grove Road, Lee Bates Road, Kangas Drive, Country Walk, Circle Trace, Dillon Drive, Main Trace, Center Trace, East Trace, Southern Trace, Dowdle Mountain Road, Wells Grove Road, Jennings Drive, Angel Cove Road, Chapel Cove Circle, Brookshire Lane, Oakridge Drive and Hunters Trail.
Morris Communications has been around since 1945, but the company got into the broadband business in 2009, when it bought out Mediacom. Since then, Morris has been working to improve the infrastructure it inherited.
"It's always been our goal to build an infrastructure so we could keep up with the speed demand," said Carter. "We've been working toward continued increases since we took over."
Currently, Morris — which also offers cable TV — has 3,500 customers in Jackson County and 3,800 in Macon. Of those, 2,400 in Jackson County and 3,400 in Macon use internet services. The true figure is likely higher for Jackson, said Carter, because Morris serves a good number of apartment complexes that count as a single customer but serve multiple individual households.
While improving speed and access is obviously important, it's difficult to achieve in rural areas. On a per-home basis, it's simply more expensive to offer access in rural, mountainous places.
"With the grants that are coming out, it's making it more and more feasible to do that in Macon County," said Carter. "In Jackson County it was a very collaborative effort with WCU to make that happen."
Those relationships also influenced the recent speed increases Morris announced. WCU wanted its customers to be able to access at least 25 mbps, and projects proposing 25 mbps speeds gain preference in the GREAT Grant Program. So, those partnerships spurred Morris to make its service faster.
While these improvements are significant, they're not pervasive. There are still many areas across the region where internet access is negligible or downright absent. While Carter said his company has a "great working relationship" with Duke Power, the public shouldn't expect a power line collaboration like the one underway with WCU anytime soon.
"I don't think right now it would be able to go to the extent that the WCU relationship has because WCU really stepped in," he said. "It was a major project for them too in the tree cutting they had to do and the pole replacement they had to do, which is one obstacle in expanding in rural areas."
There's a bit more to those partnerships than slapping some cable atop existing poles and calling it a day — there are expenses involved, and somebody has to be willing and able to bear them.
There's also the issue of scale.
"We're all smaller entities, and we can identify our resources quickly and what needs to be done," said Carter. "With Duke, they're a large company, and it would take a lot of effort to get to that point."