Archived News
Democrats face off in Jackson commission race
Wednesday, February 12, 2020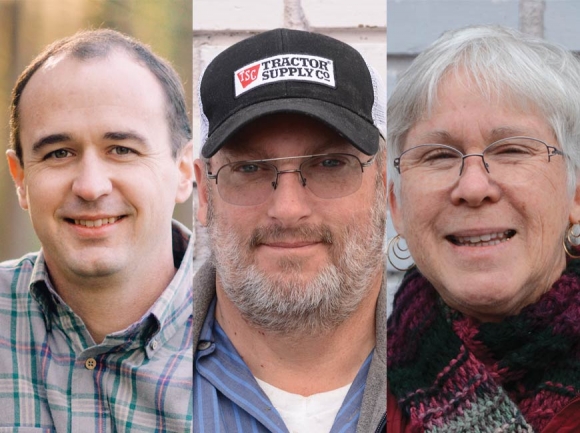 Left to right: Cody Lewis, Brad Stillwell and Susan Bogardus.
With Republican Commissioner Ron Mau leaving his seat for a run at N.C. House District 119, three Democrats are vying for a chance to face Republican Tom Stribling in the General Election for the District 3 seat on the Jackson County Board of Commissioners.
They're all Democrats, but they represent a range of backgrounds and philosophies. One candidate is a farmer, another is a businessman and another a dietician. One is a life-long Jackson County resident, another a native who moved away and returned to raise a family. A third adopted the county after arriving in 2007. Two are men, one is a woman, and all three want a chance to represent the Cullowhee area for the next four years.
What will be your top three priorities if elected?
Susan Bogardus: Boosting affordable housing opportunities for working people, supporting local businesses so that they can pay employees living wages and improving infrastructure for pedestrians and cyclists — especially in communities near Western Carolina University.
Cody Lewis: Fiscal responsibility, improving broadband access and finding and completing small projects in outlying communities that could make a big difference in the lives of those residents.
Brad Stillwell: Creating a new county-paid firefighter position, establishing a county fairgrounds that could host community events and help keep youth off the streets, and just generally helping out the community.
What is your opinion on plans to seek a bond referendum to build an indoor pool?
Lewis: In general, an indoor pool is a needed amenity in the community. However, it's difficult to give an opinion on this specific effort until a final cost estimate and more concrete plans are released.
Stillwell: Many in the community want an indoor pool, but it would be unwise to raise taxes for the purpose of building and maintaining one — he is undecided on the issue. Residents already pay enough in taxes; if there were a tax increase, it should go toward a paid firefighter rather than toward an indoor pool.
Bogardus: Putting out a referendum is a wise move and will allow voters to give their definitive input as to whether they are willing to pay more taxes to have a pool. There's a good chance voters won't approve the referendum, but it's a good idea to put the question out there.
What is your opinion on the status of the county's efforts to expand services for the homeless? Going forward, what should be the county's role in providing these services?
Stillwell: A brick-and-mortar shelter should be built down the road as part of a long-range plan. Local government should spearhead the effort, but the county shouldn't go it alone — if the shelter is built in the town of Sylva, then the town should help fund it.
Bogardus: A year-round, standalone homeless shelter is needed in Jackson County, but finding the money to pay for it could be difficult. Eventually, there should be a partnership between the county and nonprofits in which the county pays for and maintains the building while the nonprofit supports operating costs.
"I think there's this feeling that people should get up and stand on their own feet — we shouldn't be giving them so much," she said. "But my mind is, how do we get them there?"
Lewis: Current trends seem to indicate that a brick-and-mortar shelter will be needed in the future. The county will have to be involved and will likely continue to take the lead in the effort, but nonprofit partnerships will be important to lessen the load on taxpayers.
How can commissioners support improved broadband access?
Bogardus: Better broadband is essential to improving educational opportunities, and, to a lesser extent, supporting small business. However, any significant infrastructure funding will have to come from the state, not the county. The most the county could do would be to create some type of regulation requiring new construction to include broadband access, but locals might not support that type of ordinance.
Lewis: There are strict limits on government funding for broadband projects, so the county's role should be to find grant money and help motivate the private sector to work toward solutions. The collaboration between Western Carolina University and Morris Broadband to carry broadband cable on WCU electric poles is an example of a recent successful endeavor. Addressing this problem will have positive impacts for education, economic development and health care.
"I think we would just have to be an advocate, and if we could be more than that through the rural development grants that are out there, I think we should take advantage of that," he said.
Stillwell: Something needs to be done, but private companies will have to spearhead the solution. The county should stay up-to-date on the issue and possibly consider helping out with future projects. However, no funding commitment should result in a tax hike.
What's the best approach to furthering economic development in Jackson County?
Lewis: Home value has always been a major economic driver, and lack of internet connectivity adversely impacts both home values and businesses' willingness to locate in Jackson County. That's unfortunate, since small business is the backbone of Jackson County. At his business, Lewis has seen firsthand the challenges poor access presents.
"I think the driver of our economy has always been small business, and it will continue to be a significant amount of it based in tourism, and that's OK. That something we can expand on and something we can continue to drive," he said. "If you build up enough of those small little wins, it will have as big of an impact as one large single employer."
Stillwell: It's difficult to name a specific industry as the way of the future, but one thing is certain — more jobs are needed.
"We need jobs in here bad," said Stillwell. "We need to get somebody in here that's going to employ people."
Bogardus: Jackson County doesn't have the space or the workforce to attract a huge employer like a factory — it relies on small business.
"Our base economy is education and health care," she said. "That's the base economy. The growing economy on top of that is all small business."
Luckily, Jackson County already has multiple organizations that work to support small business endeavors, but the N.C. 107 project is likely to set back growth in that sector.
As the N.C. 107 project moves forward, what should be the county's rule in ensuring the best possible outcome?
Stillwell: The project will be detrimental, causing 55 businesses responsible for more than 300 jobs to relocate.
"I just hate to see people lose jobs," he said. "I don't know what we could do. I wish there was something I could say to ease everything right now, but it looks like that's kind of out of my hands."
Bogardus: Many of the issues on N.C. 107 are the result of poor planning and increased traffic from WCU. The county can help ease the pain by staying in touch with affected businesses and helping those that are able to relocate within Jackson County publicize their new locations.
Lewis: The project seems like a done deal at this point, but the county should be looking for anything it can do to lessen the impact. That could mean reducing relocation-related fees from the Tuckaseigee Water and Sewer Authority or simply making an effort to talk with individual businesses about what they need to help them stay in Sylva following relocation.
What can the county do to improve access to affordable housing for workers in the county?
Bogardus: There are some positive signs such as the Mountain Projects development underway on Second Avenue in Sylva. However, a greater inventory of starter homes in the $140,000 to $150,000 range is needed. Aiding with renovations or demolitions of existing structures is an option. The county could also work to communicate to builders that there is a market for smaller homes. Options such as condos and townhouses could also help alleviate the problem.
"I think we could do better if we could help developers see there's a market for what they want to build," she said.
Lewis: The county's direct role in solving the issue will be a limited one, but it's an issue deserving of attention. The county should look for opportunities to partner with nonprofits like Mountain Projects and examine if there are any regulatory obstacles to private development that should be removed or tax incentives that should be provided.
"It's hard for the county to get involved in actual real estate development outside of county-assisted living," he said. "That's not the place of the county. I don't think we want the county competing with developers."
Stillwell: The housing issue is a tough one, and solutions are hard to find. Perhaps the county could offer some assistance to homeowners looking to maintain existing structures. However, there's not too much land available for building new structures.
"I'd say we have to look around and see what's available to see what we could do with what we've got already," he said.
Who's running?
Cody Lewis
• Age: 32
• Background: Born and raised in Sylva, Lewis went to Florida State University, where he earned both a bachelor's degree and an MBA. After seven years in banking and three as CFO of a pharmaceutical consulting company, he and his wife returned to Sylva last year to run his family's convenience store businesses and raise their two young children.
• Political experience: After college Lewis interned for a state representative in Florida, and he has been on the alumni board for FSU's business college for the past six years.
• Reason to run: "Something my grandfather instilled in my brother and I at a young age is that if you have something to give to the community, that you should. I feel like I've gained a lot of experience in banking, in finance, in owning and operating a small business and being around state government and local government enough that I can provide some good experience to the community as a whole."
Brad Stillwell
• Age: 45
• Background: A Jackson County native, Stillwell has been at the Savannah Fire Department for nearly 30 years and runs a cow/calf farm. He's married with a 19-month-old son.
• Political experience: Stillwell currently serves on the county's Farmland Preservation Board, a position he's held for 12 years, and has also served on the local Farm Service Agency board.
• Reason to run: "I wanted to have someone that could speak for the people that don't get out and try to do the best I can with the working folks and our communities."
Susan Bogardus
• Age: 63
• Background: As an "Air Force brat," Bogardus moved all over the country growing up but has been in Jackson County for the past 13 years. She is a registered dietician with a doctorate in nutrition sciences. She has worked at WCU and as an organic grower at the Jackson County Farmer's Market, and she's currently a dietician at the Cherokee Indian Hospital.
• Political experience: Bogardus has long been active in the Jackson County Democratic Party, serving as both precinct chair and assistant chair since arriving to the area in 2007.
• Reason to run: "I feel compelled to run this time because of the people that I work with from Circles of Hope. I think they're the ones who have made me realize how difficult it is to get a job and keep a job, how tied that is into transportation and housing."