Archived Outdoors
Waynesville boarder wins X Games gold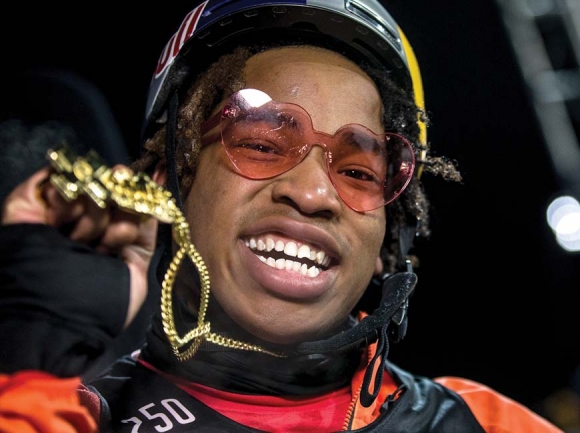 Zeb Powell during Men's Snowboard at Winter X 2020 in Aspen. Christian Pondella/Red Bull Content Pool photo
Waynesville native and X Games rookie Zeb Powell took gold Jan. 26 at an international competition held in Aspen, Colorado, wowing spectators and commentators alike.
Powell, 19, led in all five of the runs given to the eight athletes competing in the Wendy's Snowboard Knuckle Huck, ultimately taking home the top prize and beating out some big names in the process.
"This event was made for a guy like Marcus Kleveland," X Games snowboarding analyst Craig McMorris said in a video explaining the event ahead of its debut appearance in the 2019 games. "He was really at the forefront of the progression for knuckle tricks but unfortunately shattered his knee and could not compete for the 2019 season."
Kleveland was healed up and back at it for 2020, though, and while he came in second, he couldn't overtake Powell. Powell also beat Norweigan snowboarder Fridtjof Sæther Tischendorf, who won gold last year but finished third this time around, as well as 2019's second-place finisher Jake Canter, an American who finished sixth place in yesterday's contest. He also faced competitors from Iceland, Finland and Japan.
Now in its second year as an X Games event, the knuckle huck is an event that grew out of the popularity of social media posts showing athletes doing tricks off the knuckle, which is essentially a bump on a slope but not an actual jump. Powell got the invitation to compete in a Dec. 28 email, which he attributes to a pair of videos he'd posted on social media.
Powell credits his growing up on the slopes to Cataloochee Ski Area with forming his style around the skills that are so essential to success in the knuckle huck.
"When you don't have rails and stuff, you still have all this natural terrain that you don't really see. But if you think enough and use it enough, all this cool stuff comes out," Powell said in a Jan. 8 interview with The Smoky Mountain News. "It definitely shaped me somehow."
It's a formula that was unquestionably successful in the Jan. 26 competition. Catch the full broadcast of the knuckle huck competition at www.youtube.com/watch?v=hobziq6Xn_4.