Archived Opinion
Broken wrist presages my new reality
Wednesday, February 10, 2021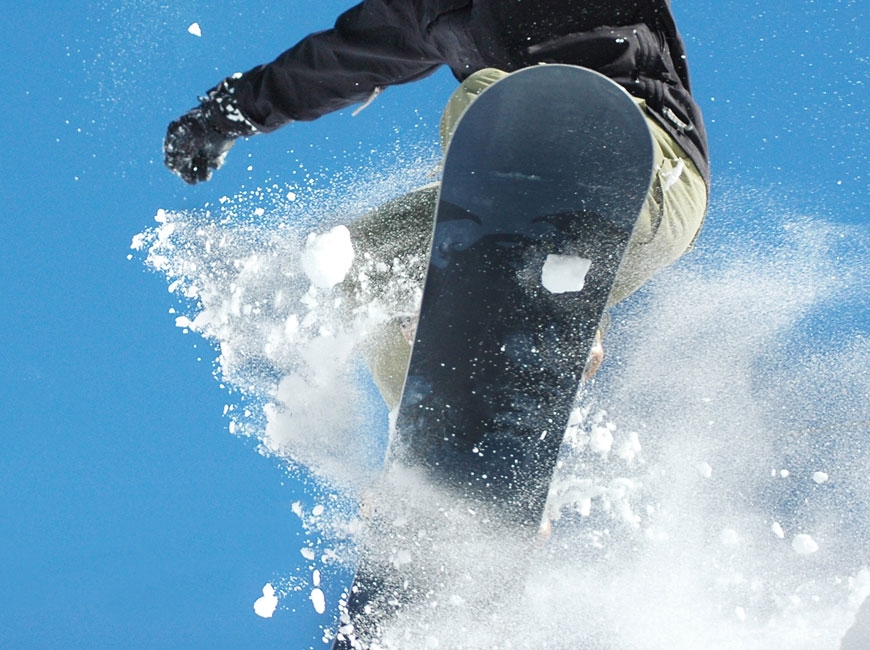 I started snowboarding when I was 15. Even though neither of my parents were athletes, especially skiers or snowboarders, I joined my flock of teenage friends and braved the mountain to learn this popular winter sport. We lived a mere 15 miles from Wolf Ridge and I knew, even then, it would be silly not to take advantage of the proximity. Not everyone gets to grow up close to ski resort.
My first time on a snowboard, I fell a million times. It was a painfully endless day. I almost gave up, but a more experienced friend told me that everyone falls repeatedly on the first day and that improvement was sure to come on day two. I went back the second day. My friend was right. Improvement came each day. From then on, I had fun snowboarding all throughout the mountains in North Carolina, Canada and Colorado. I was never fearful, always ready to try a jump or a black diamond. I guess that's how the young are. Youth breeds invincibility.
Fast-forward many years. That young girl is now 41. She really wants her two young boys to learn how to snowboard since they too live near a ski resort, Cataloochee. It doesn't make sense for kids who live within miles of a ski resort to grow up not snowboarding or skiing. After a couple years in training mode, she and her boys, along with her boyfriend and his kids, went to Beech Mountain for a weekend getaway. On the final run of the final day, the 41-year-old fell and broke her right wrist. It was not the way she wanted to end the trip.
Trying to navigate the world as a writer and a mother and a very busy person with a broken wrist is very challenging. I cannot open jars or doors, wash my hair, use a bobby pin, put my pants on easily, walk the dog, carry groceries, and so on. I am suddenly grateful for particular things like a push start in my car and the fact that it's an automatic. I'm thankful for great kids and a boyfriend who have been very helpful through all of this. I'm also thankful that I can still type on a keyboard since writing is my career.
I have to admit I feel defeated. Old, brittle and defeated. As many times as I fell as a teenager and young adult, I never broke a bone or even worried about breaking a bone. Further, the fall that caused my broken wrist didn't even seem like that bad of a fall.
Breaking my first bone in my 40s was a wake-up call that I'm no longer full of youth, sprite and strong bones. I spoke with my orthopedic doctor who I know very well since my 12-year-old has broken two bones this year. Yes, it's been a rough year for us orthopedically. The doctor said I'm in a category with low bone density because I'm female, Caucasian and over 40. Moreover, my mom had severe osteoporosis so it's probably something I should be concerned about. The doctor suggested I begin taking a calcium/vitamin D blend and to possibly wear wrist guards when snowboarding in the future.
This past year has been bizarre in a number of ways, and the fact our family has had three broken bones is par for the course. I'm hoping things really do happen in threes. At least the third broken bone was mine and not my child's.
On the way home from Beech Mountain, I contemplated if I should ever strap into a snowboard again. It's really not advantageous to have broken bones at my age.
Last weekend was Super Bowl Sunday. I know a lot of people were pulling for Patrick Mahomes and the underdog team, but as I sat there in my 41-year-old body with a broken wrist, I felt myself rooting for the 43-year-old Tom Brady, even though I've never been a Patriots or Brady fan, per se. I thought, "If he can still suit up, play football and get tackled, then I can get back on the slopes and continue snowboarding."
It would be easy to quit. In fact, I have felt pretty depressed over the past week because I've been unable to carry on as usual. We had plans for a couple more snowboarding/ski weekend trips and days at Cataloochee, but I won't be able to participate in those. I had also just gotten back into shape as a runner and was about to register for a race, but I haven't run in over a week and won't be able to until my wrist is more stabilized.
At the end of the day, I'm still grateful. This injury could have been worse. Sometimes we stubborn humans need a reminder our bodies are fragile. They eventually start deteriorating like all good machines. While I won't let this injury keep me from the slopes indefinitely, I'm going to approach them with more caution and reserve. It's hard to accept getting older but being grumpy about it does nothing.
I'm learning each phase of life holds its own joys and challenges. Here's to aging with confidence and wisdom and to not letting a broken bone dampen my spirits.
(Susanna Shetley is a writer, editor and digital media specialist with The Smoky Mountain News, Smoky Mountain Living and Mountain South Media. This email address is being protected from spambots. You need JavaScript enabled to view it.)