Archived News
Cashiers rep fails to attend local meeting
Friday, December 27, 2019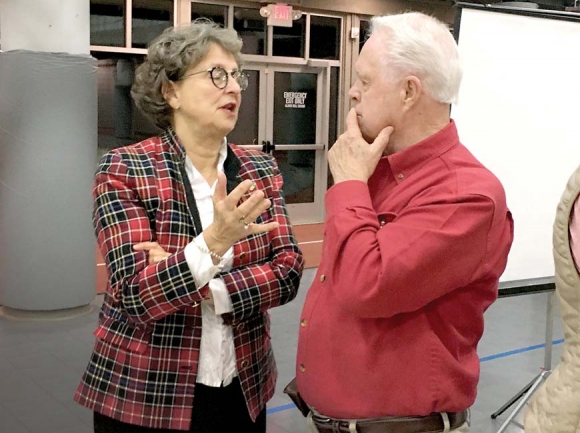 Commissioner Gayle Woody talks with Jackson County Republican Party Vice Chairman Ralph Slaughter following the Dec. 12 meeting. Nate Hadley photo
The Jackson County Commissioners traveled to Cashiers for their Dec. 12 meeting, but Commissioner Mickey Luker — who was elected to represent the Cashiers area — did not attend.
"When I saw Mickey's name, I thought, 'Oh goodness, Mickey's going to be with us,'" Ralph Slaughter, vice chairman for the Jackson County Republican Party, told commissioners during public comment that night, referring to the name plates displayed at each commissioner's seat. "Disappointing."
Luker has not attended a commissioners meeting in person since Aug. 20, and while he has often been counted present via speakerphone, he has not phoned in at all in the past month. Over the last two months, commissioners have held meetings on Nov. 7, Nov. 12, Nov. 25, Dec. 10, Dec. 12 and Dec. 17. Luker attended via speakerphone on Nov. 7 and Nov. 25 but was absent from the remaining four meetings — including the Dec. 12 meeting in his home district. He has not responded to multiple requests for comment spread over several months as to the reason for his continued absence.
"I'm not represented by my fourth district commissioner," Slaughter said.
Slaughter, along with other Cashiers-area residents, addressed commissioners in October requesting that they remove Luker from office through a little-used process called amotion, allowing the Jackson County Republican Party to replace him with a candidate of their choice. Commissioners declined to do so, in follow-up interviews saying that, while they would prefer Luker to be more involved, they don't believe his behavior has risen to a level that would warrant overturning the will of the voters who put him in office.
There is nothing in state law that requires elected officials to actually attend the meetings of the body they're elected to, so, while absences might be frowned upon, it's not illegal or otherwise a violation of the office. Slaughter would like to see that change.
"The only thing that can be done is there has to be a state law, because there is nothing now to remove a commissioner unless he has committed a felony," said Slaughter.
Getting state legislators to take that issue up could be a tough sell, however. Removing an elected person from office is serious business. The question is, how do you draw a line that protects against outrageous behavior by elected officials without disenfranchising voters?
Sen. Jim Davis, R-Franklin, said that he would "come down strongly" on the side of guarding against overturning the will of the people but that he's not ruling out some mechanism to ensure that people who are elected to a position actually show up to do the job. However, he would rather see that mechanism, whatever it may be, originate from the local level than from the state.
"I think that it ought to be difficult to overturn the will of the people, so I would be reluctant to be involved in that," he said. "I strongly feel that the voice of the citizens should be heard and should be difficult to overturn."
That said, "it's just foreign to me" that someone would run for office but fail to attend meetings once elected, Davis said.
"Frankly, I don't think it usually is a problem because when people run for office it's usually because they want to serve. They want to be there," said Rep. Kevin Corbin, R-Franklin. Corbin is running for Davis' seat in 2020, as Davis is leaving it to run for the Congressional seat Rep. Mark Meadows will be vacating.
Transylvania County has been dealing with a similar issue lately, according to a June 13 story from The Transylvania Times. Of the 18 meetings that occurred between that date and Dec. 3, 2018, Commissioner Will Cathey was absent, late or left early from 10 of them. In a Sept. 12 report, the paper said that the board members approved a motion for Chairman Mike Hawkins to investigate what options commissioners might have to work with if Cathey's absences continued.
Corbin said he would be willing to look into whether a legislative solution would be appropriate.
"I would be willing to look into it," he said. "I think it's something you'd have to be very careful about. It would be a little bit of a slippery slope when you start legislating how someone serves in an elected position."
It could be a hard line to draw. What if, for instance, an elected official is battling an illness that keeps him from attending in person for six months, but he's able to keep up with the issues remotely during that time? Should that person get a pass, while someone who misses the same number of meetings with a less compelling reason does not? And what should happen if someone fails to meet the standard? Could she actually be removed from office, and how would her successor be chosen?
It would also be difficult to make the argument that such a law should apply only to county commissioners and not to other elected officials.
"If there was a state law about serving in elected capacity, I think it would have to be uniform somewhat between other offices," said Corbin.
Rep. Joe Sam Queen, D-Waynesville, said that while he believes people who are elected to an office should "show up and serve," he doesn't see the issue as something that should become a legislative priority.
In this instance, however, there is a remedy — Luker's term ends next December.
"The voters will have a choice in November, and they'll straighten this out, I assure you," Queen said.
That choice will not involve Luker, who had not filed for re-election at the close of the filing period Dec. 20. Luker did not return a request for comment on this story.
WCU journalism student Nate Hadley contributed to this report.