Archived News
Animal shelter funding approved in Jackson
Monday, December 23, 2019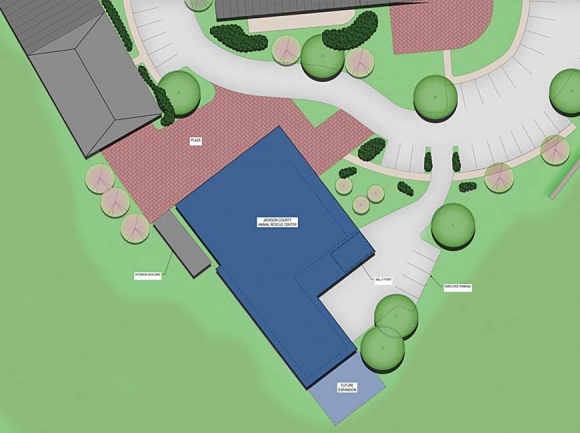 The new animal shelter (shown in blue) will replace the existing facility on Airport Road and be built on the site of the current Green Energy Park office. McMillan Pazdan Smith rendering
Funding for a new animal shelter in Jackson County has been approved following a Dec. 17 vote to OK $5.39 million in funding for the next phase of a project to redevelop the 19-acre property that is currently home to the Jackson County Green Energy Park.
The project ordinance outlines $3.97 million for construction, of which about $3 million would be used to build the animal shelter. The remaining funds will be used to build a parking area, remake the closed landfill into a park with walking trails and complete grading on the site. Rounding out the $5.39 million is $437,000 for architecture and engineering fees, $40,000 for engineering and permitting, $347,000 for furnishings and fixtures and $596,000 in contingency funds.
The ordinance does not include funding for a planned innovation center, which would be built by the county but operated by Western Carolina University as a maker's space and educational facility. A master plan presented in May estimated the cost of that building at $1.8 million, and commissioners plan to tackle that project at a later date.
County Manager Don Adams hopes to put the animal shelter project out to bid this spring, awarding the contract sometime in early summer for completion in summer 2021. The facility would replace the county's current animal shelter, a dilapidated building located on Airport Road in Cullowhee. The Green Energy Park makeover was first proposed by WCU in 2017 as a way to use the property more effectively while allowing WCU and the county to enhance one another's missions.
Commissioners have supported the vision since it was first floated but have made it clear that realizing it in a cost-effective manner is important. The initial proposal outlined a multi-phase project that would cost $12 million, but since then the estimated price tag has fallen to $7.56 million.
However, the $3 million animal shelter budget was still too high for Commissioner Boyce Deitz, who was the only commissioner to vote against the project. Commissioner Mickey Luker was not present for the vote, with the remaining three members voting in favor.
"I'm very much for this. I'm very much for this. I'm very much for this," said Deitz. "But I think it's outrageously high, and I can't vote for it. It would be hypocritical of me when there's so many things I see that sure needs a lot of money spent on in this county."
Deitz has made it clear since planning began that keeping animal shelter costs low is a priority of his.
"I'm going to have a problem myself if we start talking about $3 million to build an animal shelter," he said during a February budget meeting.
The other three commissioners agreed that the $5.39 million project ordinance was a big one. However, they said Dec. 17, the spending is necessary.
"We desperately need a new animal rescue center in our county, and it not only serves the animals, but it serves the people of our community," said Commissioner Gayle Woody. "I can remember when I was a little girl, wild dogs would just run around and some of them were very dangerous. The fact is that we have such a great staff caring for our animals and the citizens to provide safety, and things are not going to get any cheaper. So I feel that I'm going to vote in favor of this."
Commissioner Ron Mau said he'd done some research in the past week into the per-square-foot cost various architecture firms recommend for animal shelter projects and was surprised to see that they were quite high — some as high as $475 per square foot. Even including furnishings, design work, contingency and other additional costs, the approved plan will come out to $350 per square foot. When considering only the estimated construction costs without contingency, it's $273.40.
"At least we are in the ballpark or below what folks are saying it should be," said Mau.
Chairman Brian McMahan signaled his support by bringing the proposal to a vote.
"I don't normally make a lot of motions, but I make a motion that we approve the project ordinance," he said.
Before construction can begin on the animal shelter project, the county will need to relocate the staffed recycling center that currently operates at the back of the property. In August, commissioners approved $325,000 to purchase 3.67 acres along Haywood Road, where they planned to house the recycling center. However, Dillsboro's town board came out strongly in opposition to the proposed location, fearing that it would hurt tourism.
Commissioners were sympathetic to those concerns and voted during a Nov. 7 meeting to terminate the contract on the land.
"There was a misunderstanding. We worked to clarify and understand each other and we have reached a resolution that I feel very good about, and I hope the town board of Dillsboro will feel the same," Woody said Nov. 7.
The county has not yet identified an alternative recycling center location.