Archived News
Not so super? Out-of-state money influences small-town elections
Wednesday, December 04, 2019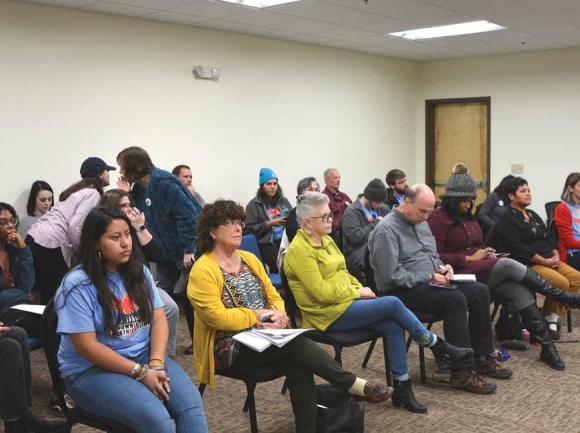 Members of Down Home North Carolina await the provisional vote tally at the Jackson County Board of Elections Nov. 15. Cory Vaillancourt photo
Super PACs are starting to make a big-time impact on small-town Western North Carolina politics, and not everyone thinks that's a super idea.
Luther Jones, a Sylva resident who came up short in his bid for a commission seat last month, said he wants to keep outside money out of local politics, but it may be too late for that.
Down Home North Carolina, a nonprofit with a progressive Super PAC and local chapters in Alamance, Haywood and Jackson counties, endorsed and worked on behalf of five WNC municipal candidates in the Nov. 5 General Election.
Four of them won, and the fifth — a Down Home staff organizer — lost a tiebreaking coin flip.
Jones' gripes may sound like sour grapes, but he's also filed a complaint with the N.C. State Board of Elections alleging improper coordination between the Super PAC and the organizer-turned-candidate, Carrie McBane.
As it turns out, Jones' gripes may have some validity, at least the ones about "big outside money." Although it bills itself as a local grassroots nonpartisan organization, financial disclosures show Down Home isn't nearly as "homey" as it seems, given that well over 99 percent of its funding comes from just three liberal PACs based in Chicago, Palo Alto, California, and Washington, D.C.
Regardless of Jones' complaint, it now seems as though Super PACs like Down Home — backed by deep pockets and bolstered by a winning track record — are here to stay.
"What I'm looking at," Jones said, "is the end of what you could call the 'volunteer' who wants to serve in local government, in the local community. When money's coming in from outside, you're no longer talking about local government. You're talking about being an adjunct of something that's far more wide-ranging."
According to records filed with the North Carolina State Board of Elections, Down Home North Carolina was incorporated in Greensboro on April 25, 2018, as an independent expenditure political action committee, or I.E. PAC.
While your regular garden variety PACs are most often a candidate's committee, or a political party, or a trade/union/professional association that has the goal of supporting or opposing one or more candidates or political parties, I.E. PACs are slightly different.
In common parlance they're called Super PACs, according to the NCSBE, and they differ from other PACs in that they're prohibited from making contributions, "directly or indirectly, to candidates or to political committees that make contributions to candidates."
They're also forbidden from coordinating directly — "directly" being the operative word — with candidates. That means they spend the bulk of their money on creating and paying for mailers or advertisements, or for the labor involved in voter contact activities like knocking on doors, or for the overhead associated with such activities, like office expenses, computers, clipboards and consumables.
A few days after Down Home filed its paperwork that April, the group collected $74 in aggregated contributions.
Aggregated contributions are defined as contributions from individuals who have given $50 or less during the election. The names, addresses, phone numbers and occupations of these small-dollar donors needn't be reported until they contribute more than $50 during the election. Such contributions are usually collected as membership dues or at minor group events, like rallies, parties or meetings.
A few days after that, Down Home recorded a $100 contribution from Dana Courtney of Graham, N.C., which is just east of Burlington.
That contribution is significant because to date, it's the only non-aggregate contribution from an individual that Down Home has ever received, and also the only itemized contribution from a person or entity located within Down Home's home state of North Carolina, according to NCSBE records as of Nov. 30.
Because Down Home was incorporated near the middle of the second quarter of 2018, its first state finance report was filed in July of that year. Along with the $74 in aggregate contributions and the $100 from Courtney, there was only one other contribution listed on the group's report — $5,000 from a PAC based in Chicago called People's Action.
Founded in Chicago in 2016, People's Action is a PAC with a mission "to ignite a movement of millions that captures the rising demand for change in our society," according to its website. Issues the group supports include various green economy initiatives, housing justice, Medicare for all and free college for all.
A 2016 year-end Federal Elections Commission report shows People's Action spent $10,802, all to oppose then-candidate Donald Trump. The group's 2018 report listed $32,195 in indirect expenditures on behalf of Iowa Democratic Congresswoman Cindy Axne, California Democratic Congresswoman Katherine Porter, and Betsy Londrigan, an Illinois Democrat who lost her race for Congress that year.
Despite its humble roots and meager $5,174 second quarter fundraising, during the third quarter of 2018, Down Home would go on to collect a series of substantial five-figure donations.
The first was a $50,000 contribution on July 18 from the Green Advocacy Project, a Palo Alto, California-based I.E. PAC that supports various renewable energy policies.
That was followed in late September and early October by two separate $10,000 donations from the Future Now Fund, a D.C.-based PAC formed to support legislative candidates. In 2018, the Fund spent almost $2.4 million in elections across the country.
As legislative elections drew near, records show that Down Home logged a trio of transactions from People's Action — in-kind contributions of $12,406 on Oct. 26, $18,753 on Oct. 29 and $24,094 on Nov. 8.
Along with another $73 in aggregate contributions on Oct. 17, records also show that throughout 2018, Down Home reimbursed several vendors for flyers, handbills, mailers, print advertisements and stamps.
Those payments must list the specific candidates the expenditures are meant to support, or oppose. Down Home opposed only one candidate, then-Rep. Mike Clampitt, a Republican from Bryson City.
The group spent more than $22,000 in support of Democratic legislative candidates Rhonda Cole Schandevel (lost to Rep. Michele Presnell, R-Burnsville), Erica McAdoo (lost to Rep. Steven Ross, R-Alamance), as well as local-level Alamance County Commission candidates Bob Byrd and Kristen Powers, both of whom lost.
Not counting the more than $55,000 worth of in-kind contributions made by People's Action, of the $75,247 Down Home raised in 2018 only the $100 check from Courtney comes from an individual anywhere near "home," rather than an out-of-state PAC hundreds or thousands of miles away.
When 2019's municipal election season began in earnest, Down Home still had $52,853 in cash on hand from 2018 per an Oct. 28 NCSBE report, the group's most recent.
To that cash balance Down Home added on June 10 another $25 in aggregate contributions, and another contribution from the Green Advocacy Project, this time for $55,000, bringing its cash balance to more than $105,000 as of Oct. 28.
That was just seven days before the Nov. 5 General Election, which featured municipal contests across the state, including in Sylva and Waynesville.
Although finance reports for activity during and after that seven-day period aren't due until late January, Down Home did make formal endorsements of several candidates and posted an impressive win record.
Down Home North Carolina's Carrie McBane came within a coin toss of victory. Cory Vaillancourt photo
In Waynesville, both endorsed aldermanic candidates won their races. Incumbent Alderman Jon Feichter was widely seen as a lock for re-election and finished a strong second to upstart Chuck Dickson. Anthony Sutton had run before and lost and was less of a lock, but still edged out Joey Reece by 1.02 percent to claim the fourth and final seat.
In Sylva, all three endorsed candidates would have won if the tie-breaking coin flip had gone Carrie McBane's way.
On Election Day, incumbent David Nestler led the ticket by a wide margin and was followed by fellow incumbent Greg McPherson. Both were endorsed by Down Home, as was Carrie McBane, who's listed on Down Home's website as the group's Western Chapter organizer.
Even before Jackson County Elections Chairman Kirk Stephens tossed the coin into the air on Nov. 15, Down Home found itself at the center of controversy.
"I was just bummed about the whole big outside money thing. That could just spiral out of control. If there was another group that was similar to Down Home it could have gotten really ugly, so I hope we can preserve our little election and keep it free of the big outside money," Benjamin Guiney, the candidate on the right side of the coin flip, told SMN shortly after Election Day. "I thought that was a little over the top, having paid canvassers and also full-page ads in The Smoky Mountain News as well as The Sylva Herald. I thought that was a little much for a local municipal election."
On Nov. 13, The Sylva Herald reported that Luther Jones, who with 72 votes finished well behind McBane and Guiney's Election Day tally of 106 votes, had filed a complaint with the NCSBE.
Jones was careful to note that he has nothing against the members of Down Home, who — unlike their funding — are mostly regional or local and in many cases have lived their entire lives in the area. Jones also says he agrees with the majority of Down Home's policy positions, like on the issues of a living wage and expanding Medicaid.
He does, per his complaint, find it "highly disturbing" that McBane was endorsed by and supported by the same Super PAC he alleges pays her salary.
"That is completely false," McBane said Nov. 15. "The organization that pays me is called Alliance for a Just Society."
The Seattle-based Alliance for a Just Society is a 501(c)(3) nonprofit, meaning it cannot engage directly or indirectly in support of or opposition to any campaign or candidate, so it engages mostly in policy advocacy and organizing.
Alliance for a Just Society is a legacy organization of the People's Action Institute, another 501(c)(3) that serves as the policy arm of the 501(c)(4) PAC People's Action.
According to People's Action disclosures filed on Oct. 24 and Nov. 28, 2018, its $12,406 and $24,094 in-kind contributions to Down Home were divvied up into 57 individual payments to contractors in amounts ranging from $16 to $3,475 including payments of $390, $180, $62 and $264 to Carrie McBane.
At issue is whether or not that's considered "coordination."
By law, Super PACs like Down Home aren't allowed to coordinate with or make direct contributions to candidates, and both Feichter and Sutton told SMN before the election they hadn't received any. Down Home staffer Chelsea Hoglen, of Haywood County, said her group's work is more important than money.
"This isn't about getting more money into politics," Hoglen said hours after McBane's loss. "We also didn't want to buy candidates. We wanted to work on behalf of our values and our values go much further than elections, so we see elections as a tool in our tool belt. Rather than just write a check for that tool, we want to use that tool to build our power."
Hoglen did, however, explain what candidates can expect from a Down Home endorsement.
"Our endorsement support looked like helping to get the word out about their candidacy using our platforms like our social media platform, as well as hiring four independent contractors to do canvasing and knock on doors and talk about all of our candidates and the Down Home mission," she said. "We are a nonpartisan group of course. So we were explaining why we endorse these candidates to community members. We knocked on over 3,000 doors across Haywood and Jackson counties during this election."
Nicole Visnesky, a Down Home member from Cullowhee, explained how the group's endorsement process worked.
"We invited the different candidates to come and talk to us and we asked some questions related to things that were important to us, like town beautification, putting in beeper sounds for people who are seeing-impaired, and then they had the opportunity to take a stance or not take a stance," said Visnesky. "After we interviewed all the candidates, we came together as a group and we were able to vote on who we wanted to endorse based on their answers to their questions."
McBane was one of those candidates, but Hoglen said she didn't get any special treatment from the group of which she's a member.
"From nuts to bolts, this whole process was member led, so the questions that the members came up with were actually based off of a platform that they created," she said. "The members themselves did create that platform. It was then also voted on by the collective membership. There was a small group that did the interviews and brought back the results to our collective membership and all of the members got to vote."
For her part, McBane said both she and Down Home were well aware of the lines, and never crossed them.
"I was told explicitly that I would not be included in any conversations, any phone calls, any meetings that had to do with campaign strategy," she said. "And I was not. We all made very sure that I was separated from that. My campaign included me knocking on doors, me making phone calls, me talking to the community. Nobody else helped me. I actually was supposed to have volunteers and they couldn't end up helping me. So it was just me."
Jones said he didn't have a timeline for when the NCSBE might investigate or resolve his complaint.