Archived Opinion
Learning to relish the meaningful moments
Wednesday, November 13, 2019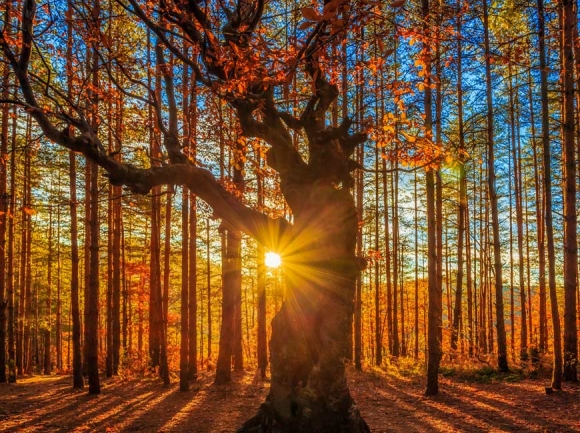 As fall draws to a close, and the leaves turn brown to pile up on the sidewalk instead of in the trees, the cycles existing all around us become more obvious, more visible.
My personal stressors in life are those everyone young person faces: finding employment, making enough money, trying to figure out what I will do with my life. A few nights ago, I had a dream about my grandmother, my father's mother. She was young again in my dream (and alive) and had long, beautiful, curling blonde hair. The rest of the dream is a blur, but I remember being in awe of her beauty. As I woke up, I relished the opportunity to have been with her for a few moments.
Thinking about her in real life took my mind full circle back to my stressors, but in a more positive way. I remember Betty Jean as one of the happiest people I've ever encountered. When I was a shy, unsure young girl, her energy always took me by surprise. But if I know one thing about her for sure it is that she was full to the brim as long as she could sit, smoke a cigarette, enjoy a drink and talk with the people she loved. Her family and closest friends. As I've grown, I find myself to value the exact same thing. It seemed like every time we went to her house in Fayetteville, the schedule was the same. She would feed us a hearty and delicious meal as soon as we walked in the door, Aunt Wanda (my grandmother's best friend) would arrive soon after, and then we would stay there at the dinner table, drinking and talking and laughing for hours. The grownups even longer after the kids went to bed.
So in the middle of the job hunt, stressing about money, and what to do with my life, I lay in bed that morning, reminded of her joy at the things that really mattered in life. A woman who came from a dirt poor background, went through three marriages and raised three boys as she remained mostly rooted in the class from which she came — this woman reminded me that while I am (and probably should be) stressing about things like work and money, the more important parts are already in place. The ones that make a person truly happy. Even though her earth cycle is complete, she is still bringing me back down to earth.
That same day I had a meeting with the priest at St. Margaret's Catholic Church in Maggie Valley. A whole new sort of cycle will begin this June, when my sister gets married. We are trying hard for her to be able to be married in the church we grew up in, to retain a piece of her roots and her home as she moves forward with my new brother to create her own family.
After that meeting I went for a run. On a brisk, colorful fall day, thoughts of each of my grandparents who have passed crossed my mind. Betty Jean in the dream. Lee Ann, as my father carried her limp body out of her own kitchen. That sunny morning after breakfast, a childhood friend of my mom and aunt had come over to the house so everyone could meet his newborn baby. My mother's mom held him as we sat around her small kitchen table and cooed over him. The same table that had brought family together my whole life. Suddenly my grandma began to cough and the father took the baby safely back into his arms. She kept on and kept on coughing until it had gone on a moment too long. The air of the room changed to distress in an instant as she began to cough blood and choke on it, only making the coughing worse. Panic took hold of everyone, even the newborn as he began to cry and scream.
Eventually my father scooped her frail body into his arms and whisked her to the car. Later he said that she never made it to the car. I've always wondered at that. On the walkway beneath the trees, the sunlight, and the birds, to feel a mother die in your arms. Did she become heavier, lighter? Did the connection we feel between two live bodies making contact suddenly dissipate? Did the sun stop, for just an instant, filtering through the heavy foliage of early August above? Did the birds go quiet? I would never ask him. Feelings like that can scarcely be put into words.
And I thought of James Cajero. A man who made his way from Spain to the United States alone at just 14 years old. The man who served as a Green Beret in Vietnam, and that Betty Jean would eventually marry. His earth cycle was completed exactly one year ago today. I remember that my mother was his absolute favorite person in his later life, especially after my grandmother died.
His speech and mobility were failing due to the effects of Agent Orange and strokes. She was one of the few who would still sit and talk with him even when she couldn't understand him. She would take him out in his wheelchair for a walk around the neighborhood, to be in the sun and hear the earth for at least a few moments. Despite his severe diabetes she would bring him treats and cook him meals to stock his freezer for weeks. When it seemed like all we could do was protect him from his failing body she made sure that he was happy, that he could truly enjoy the rest of his time here.
These cycles are all around us. Long and short. We intercept those of others at different times, in different ways. Sometimes only for an instant, to experience love or learn something we otherwise could have missed. And sometimes for longer, sometimes forever.
One of the many gifts we receive from these ancient mountains is the constant reminder that cycles are natural, continual, and all around us. People come and go, from our own lives, and from this earth. Fall, Betty Jean, Lee Ann, James, Megan's upcoming wedding — these are the cycles at this moment reminding me to hold onto the ones we love. That this is what truly matters in life. It isn't only about what you can accomplish, the money you can make, the house you can build. It's also about the connections we make, getting to sit down with the people you love, relish in good conversation, and if you're lucky enough, good food and good wine.
(Hannah McLeod is regular contributor to The Smoky Mountain News who lives in Haywood County. This email address is being protected from spambots. You need JavaScript enabled to view it.)