Archived News
Drought arrives in Western North Carolina
Thursday, September 26, 2019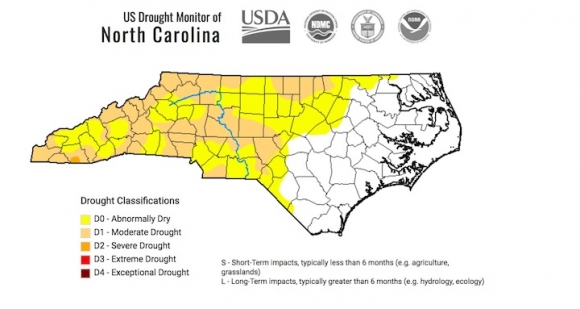 The N.C. Drought Monitor's newest drought map was released today.
A ban on backcountry fires in the Great Smoky Mountains National Park was announced today following the release of a new drought map showing that 45 counties in central and western North Carolina are experiencing moderate drought.
Moderate drought is the first category of four drought classifications, which progress from moderate to severe to extreme to exceptional. Before entering drought conditions, an area can be classified as abnormally dry. Another 22 counties are categorized as abnormally dry, with a small area of southern Macon County in severe drought.
"While Hurricane Dorian left heavy rainfall along the coast, almost none fell west of Interstate 95," said Klaus Albertin, chairman of the N.C. Drought Management Advisory Council. "Water supplies, agriculture, fire threat and streamflows statewide are all beginning to reflect the lack of precipitation. Fall is the driest season in North Carolina so conditions may continue to worsen before they improve."
In the past 20 years, there have been only two other Septembers — 2005 and 2010 — as dry as this one in the southern Piedmont, according to the N.C. State Climate Office's Corey Davis.
The backcountry fire ban in the Smokies went into effect today due to a dramatic increase in the potential for wildfires, and it will remain in effect until further notice.
"The park is experiencing abnormally dry and moderate drought conditions throughout the park," said Superintendent Cassius Cash. "With little rain and hot, dry conditions predicted over the next week, it is imperative that we reduce the risk of human-caused wildfires."

The fire restriction applies only to campers using the park's 100 backcountry sites and shelters. It does not affect campers at the park's nine developed frontcountry campgrounds or picnickers using fire grills at picnic areas. Fires at developed areas must be confined to designated fire rings and grills. All visitors are asked to take precautions to help reduce the risk of wildfires by extinguishing frontcountry fires by mixing water with embers in fire rings and grills. Use of backpacking stoves with pre-packaged compressed gas canisters is still permitted at backcountry campsites.

Backpackers should be aware that drought conditions also affect the availability of water at springs at backcountry campsites and shelters throughout the park. At some locations where there is a running spring, it can take more than five minutes to fill a quart-sized bottle. Many of the springs in the higher elevations are running significantly slower than normal at this time and the following backcountry campsites are currently known to be without water: 5, 16, 26, and Mollies Ridge Shelter. This list is expected to grow as the drought conditions continue.
Backpackers are encouraged to carefully consider their itinerary and carry extra water for those sites that are not located along major water sources.
A current drought map is available at www.ncdrought.org. The map is updated every Thursday by the U.S. Drought Monitor. To contact the Smokies' backcountry office, call 865...
.