Living Well
Chic new Pilates studio open in Waynesville
Wednesday, September 25, 2019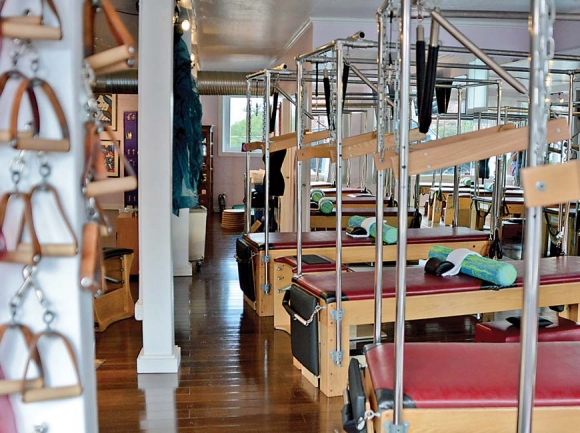 Nikki Perkovich's Pilates studio features a video link to her other studio, in Miami. Cory Vaillancourt photo
You don't have to be a famous athlete or entertainer to take Pilates classes from Nikki Perkovich, but if you do, you just may find yourself training with some of them.
Perkovich was born in the United States, but left at an early age for Italy, where she married and spent 22 years of her life. When that chapter was over, she returned — to Miami — and opened up what was then the largest Pilates studio in the world.
"I bought a 6,000-square-foot building, and I was in there for almost 15 years on the corner of Coral Way and 17th Street," she said. "I had a giant 50-by-50 foot room. I had 18 tables in one room."
Perkovich had been trained in Pilates, a system of movement designed to increase flexibility, build strength and improve balance, by a disciple of Joseph Pilates himself.
"It's one muscle group of your body leveraging another muscle group. So it's you against you. It can be your triceps against your hamstrings. It can be your biceps against your quads," she said. "In the same room, I'll have a strapping 19-year-old 160-pound guy working the same little spring as an 85-year-old woman, doing the same movement and everyone is suffering to their potentiality because it's their body against their body."
It was in Miami where she in turn trained golfers, racecar drivers and performers like Madonna and Gloria Estefan, but when she wanted to downsize, her clients didn't want her to leave.
"People come to me with knee pain, and back pain because my specialty is really pain. My clients were all very upset, because I have clients that I've been training for 20 years," she said. "They said, 'Don't leave us! Don't leave me by myself!'"
As she searched for a new building, she took the advice of her daughter, visited Waynesville, and like many others, decided to stay.
"I wanted to come out of the city because I lived in the country in Italy and I love the country," said Perkovich.
She moved her studio into a smaller space in Miami, and brought about half of her equipment to her new location on Depot Street, where she's been since opening this past March as Sanctuary7.
But she's hasn't exactly left Miami, despite living in Haywood County full-time.
"I hooked up all this streaming stuff. I mean, it was not easy to do because nobody's really doing it," said Perkovich. "So I teach from here to there."
Cameras mounted in her Depot Street location transmit video to Miami, and vice versa. Waynesville clients can see themselves on one side of the split-screen, and can also see their Miami classmates as well.
"I teach between three and four classes a day, and I have teachers in Miami that are in the room and then I'm here with all the girls and guys in Waynesville," Perkovich said. "Actually, the people in Waynesville are making friends with people in Miami. I go down there sometimes and when I go down there and my daughter who runs that studio comes up here, so we swap. And so she'll teach up here and I'll be down there."