Archived Reading Room
'Any Other Place' provides lessons in living
Wednesday, August 28, 2019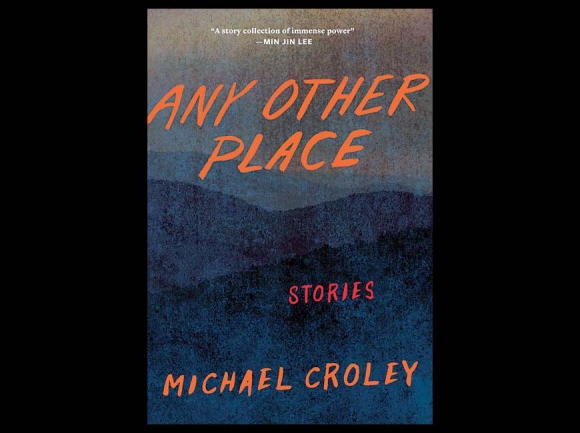 Literature at its best is a fast-track course in human nature. From Shakespeare we can, if we are attentive, learn more about the human heart than from years of living. The same can be said for reading such writers as Jane Austen, William Faulkner, Marilynne Robinson, John Gardner, and scores of others. We pour ourselves a cup of tea, sit in a chair, open a book, and find ourselves caught up in the emotions and thoughts of strangers who as we read become our familiars. From them we can deepen our knowledge of love and death, of triumph and disaster, of how it feels to wake in the morning with the taste of defeat in our mouth or to slip into sleep at night knowing that we have just met the person we are meant to marry.
Welcome to Fordyce, Kentucky.
In Any Other Place (Blair/Carolina Wren Press, 2019, 229 pages), Michael Croley offers readers 13 stories, most of them set in the fictitious town of Fordyce, that drop us into the lives of men, women, and children struggling with the consequences of love, loss, and catastrophe.
Nearly all these stories present characters confronted with trials of love. In "Passings in the Night," a young man must work out his relationship with his father after his mother dies. "There was no one left to work out the silence between him and his father. There was no interpreter left to relay messages. Who would tell both men that they loved each other?"
In "The Beginning of a Storm," James, whose wife has left him and has fallen in love with another man, accepts at last that "she was through with him and the world shifted in ways he never thought it might."
Like Michael Croley himself, Wren Asher of "Slope" is a Korean-American. Asher has fallen deeply in love with a woman he meets while working an internship in Washington, D.C. Though American, Hannah lives in Paris, and though she sleeps with Asher, she also has a boyfriend in Paris. Croley captures perfectly the emotions passing back and forth between these two, the yearnings and dreams that may remain only stardust.
Loss and regret also imbue some of these stories. In "Two Strangers," J.D. has promised his best childhood friend, Burl, that he will take care of his daughter, Carly Ray, should Burl die. When that death occurs, J.D. must give up his work and a woman with whom he is falling in love to return to Kentucky to see after the young girl. After J.D. gets drunk and explodes from the pressure of his new obligations, Carly Ray is devastated. The two reconcile, though after he carries her to bed, "she opens her eyes to me but doesn't say anything, and we stay like that for more than a moment. Two strangers staring at each other."
In "The World's Fair," based around the Knoxville Fair of 1982, a woman with two children recollects what happened 12 years earlier when she became pregnant in high school. Her father learned of the pregnancy from her mother, came to the school cafeteria, and dragged Maggie outside. Here is a scene from that confrontation which should give readers a feel for Croley's style:
"Don't," he hissed. "There's no good explanation for it. You get out of my house tonight," he said.
"Daddy," she said again, hearing the weakness and pity of it in her own ears. "Please," she said.
But he had already opened the door to the truck and slammed it shut. She stood in the light-falling rain, holding her arm. She walked toward him and tapped on the window, but he refused to look at her and put the vehicle in gear. She saw he was crying, his hand still on the shifter, but he would not turn to her. "Daddy," she tried again, and this time the sobs and cries flew out, and when she called for him a last time the word was a broken thing split apart by her emotion.
Acts of violence also serve as catalysts in Any Other Place. In "Larger Than the Sea," which takes place during the Japanese occupation of Korea during World War II, two Japanese soldiers beat a fisherman nearly to death. His wife saves his life and that of their infant by offering herself to them. The fisherman tells the reader: "I held our child close to me, pressed her soft cheek into my rough beard, careful to avoid the cuts and bruises. 'We love you so much,' I whispered. "Your mother's love is larger than the sea.'"
"Siler, Kentucky, 1970" finds Cheeks Mahan engaged in a deadly battle with Riley Lawson, a man who beats his wife, Mahan's daughter, when drunk.
Natural disasters also challenge these characters. "Solid Ground" opens with the narrator, Mrs. Anderson, standing on her front porch when a sinkhole in the road swallows up a pretty young woman in her car. In "Washed Away," heavy rains in the hills cause an impoundment filled with sludge and waste from mining operations to break, inundating the valley below, tearing away cars and houses. Caught up in this flood are Robert and his Korean-born wife Shin. They have grown apart — Shin is unhappy living in the community, and feels disconnected from her husband and her Korean upbringing — but she eventually reflects that "the hardest days of our lives might still be ahead of us, but I also felt with him beside me, with us moving to Fordyce, that the flood, no matter how ugly and devastating, was going to be a salvation of sorts."
In "Since The Accident," Emma, who despite her husband's wishes for children has secretly resumed her birth control, comes to this realization: "But when you love someone you find a way, she tells herself, to make things right and make them believe whatever they have to in order to spare them pain."
In Any Other Place, as in life, some of the people make things right and some don't.
Highly recommend.
Jeff Minick is a writer and teacher. This email address is being protected from spambots. You need JavaScript enabled to view it..