Archived News
Region gathers to find recovery solutions
Wednesday, August 28, 2019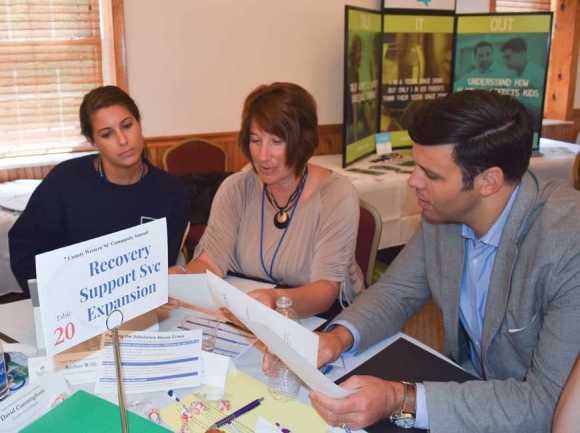 Graham County Health Educator Amber Williams, (from left) Graham County Health Director Beth Booth and Canton Mayor Zeb Smathers take on the issue of transitional housing for people in recovery during the 7 County Summit in Bryson City. Jessi Stone photo
More than 150 leaders from Cherokee, Clay, Graham, Haywood, Jackson, Macon and Swain counties in North Carolina gathered Aug. 16 in Bryson CIty for the 7 County Western North Carolina Community Summit to discuss strategies about how to collectively create better cooperation in their efforts to encourage lifelong recovery for those suffering from substance use abuse and dependence.
More than a dozen different disciplines representing prevention, treatment and recovery support providers, law enforcement, faith community, recovery fellowships, business, government, research, foundations, community coalitions, families, drug courts, and education were present to hear from leaders in the substance use disorder field, network with old and new friends, and create plans of action when they return to their respective homes and communities.
Tom Edwards, one of the founders of the Recovery Alliance Initiative felt that this 7 County Summit was a success as it's attendees left Bryson City very excited about the knowledge they gained and the relationships they forged.
"This was truly a community coming together to discuss and collaborate on action plans for solutions to the SUD crisis in their counties, and the enthusiasm and excitement was evident the entire day. These attendees look forward to forging new partnerships to provide for greater opportunities for recovery services in their communities."
Several projects which were begun at the Summit include development of prevention education curriculums specific to this region to be presented in high schools throughout the seven counties, expansion of peer support specialists in all seven counties, development of recovery court to be expanded into the seven counties, expansion of post-treatment transitional housing in these counties, harm reduction training for the far western counties, and utilization of a sequential mapping process to map out the continuum of recovery.
The work that began at the 7 County WNC Community Summit will continue through in-person and video conferencing, as well as through work groups on the Recovery Alliance website, www.RecoveryAll.org where projects are documented, measured and reported out to the Recovery Alliance Initiative community as well as yearly at the NC Recovery Alliance State Summit.