Archived News
Shining Rock suspends board operations pending training session
Wednesday, August 21, 2019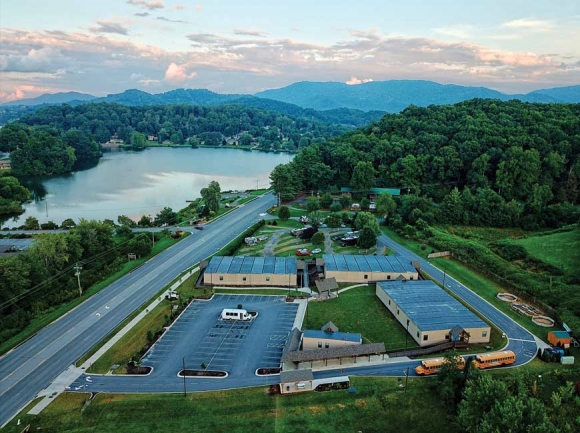 Shining Rock's Aug. 21 board meeting has been cancelled. A Shot Above photo
Shining Rock Classical Academy has a history of transparency problems, but after an Aug. 19 meeting with representatives of local media, it looks like the taxpayer-funded school's unelected board is finally going to do something about it.
"It's just, I think, honestly just time for a little bit of a reset on some things to be quite honest," said Shining Rock Head of School Joshua Morgan.
Morgan was speaking in an on-the-record meeting with Smoky Mountain News Publisher Scott McLeod, Mountaineer Publisher Jonathan Key and Mountaineer Editor Vicki Hyatt. Shining Rock's attorney David Hostettler was also present, as was North Carolina Press Association attorney Mike Tadych via FaceTime. Shining Rock School Board Chairman Michelle Haynes was also present.
Shining Rock has faced withering public criticism after stories from both outlets detailed a laundry list of improper board procedures – from holding illegal meetings, violating public notice requirements and abusing closed-session statutes to ignoring interview requests, stonewalling public records requests and threatening to charge for public records in violation of state law.
The school — and some of its supporters — have called the presentation of these facts examples of "media bias," as well as the reporting of the school's poor academic performance scores and revolving door in the head of school position.
The most recent of those stories involves a communications policy that didn't meet Shining Rock's own board policies and an ill-fated building project that came after absolutely no public mention in any prior meeting, but violations at the school go back to before it even opened its doors to students in 2015.
"We're here because a free press promotes accountability," Morgan said. "You have shown light on the fact that there were procedures that needed to be installed and we fully intend to do that. We're not functioning as a board until they are in place."
As a consequence of that scrutiny, Shining Rock has cancelled its previously scheduled Aug. 21 regular board meeting and also decided to suspend all other board meetings — except in case of absolute necessity or emergency — until after a Sept. 15 retreat in which the proper functions of a public body's governing board will be discussed.
"That is agenda item number one, because it has to be right," Morgan said. "There's no need to do business before we get into that, but that's agenda item number one, is get this training to our board to, to our stakeholders, because it has to be right."
Hostettler admitted the school had made some errors, among them not taking accurate meeting notes.
"That's why we've taken the step that we've taken over the past couple of weeks," said Morgan. "We've suspended what we do as a board until we are properly trained on this topic, open meetings and how that needs to work and how that disclosure of scheduling needs to work and how committee meetings need to work."
A public records request filed by SMN on Aug. 7 asked for meeting minutes and financial documents related to the building project, as well as the particulars of Hostettler's compensation agreement.
That request was acknowledged on Aug. 12 with the caveat that no documents would be produced until fees were paid for their production, despite state statute prohibiting such fees in almost all instances of public record production.
SMN requested a copy of the board's document production policy as well as a fee schedule, but like the documents themselves, that still hasn't been delivered as of press time on Aug. 20.