Archived Opinion
She comes with the hummingbirds
Wednesday, August 14, 2019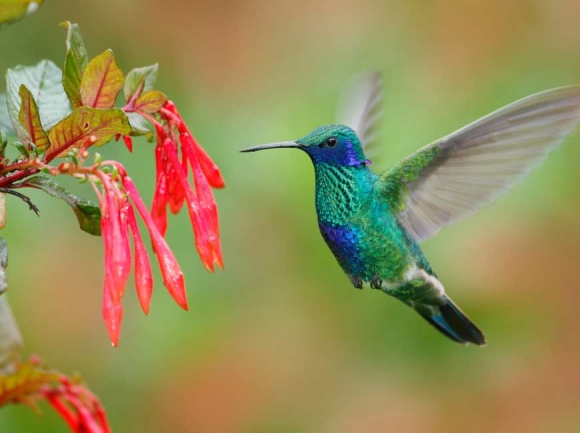 Wed., Aug.14, marks the third anniversary of my mom's passing. During those early weeks and months after she slipped into the great mystery, I wrote a lot about grief. This column and my blog became healing outlets. Kind, compassionate words from friends, readers and even complete strangers held me up during those early days following her death.
My mom loved hummingbirds. She and my dad would diligently change out their feeders to make sure the water was deliciously fresh and sweet. She awaited their return year after year and loved watching them flutter around and drink. When my boys were toddlers, she would hold their tiny hands, walking among the flowers and waiting for the hummingbirds to come.
After her death, someone told me she would visit in some way, but I'd have to stay alert, be open to the possibility of her spirit communicating with me. Not long after, I was sitting on the porch at my old house, yearning to message her about my boys' first day of school. I even considered sending her phone a text even though I knew a response was not possible.
As I sat in the quiet, a hummingbird came and hovered right in front of me. It felt surreal. There was no feeder on the porch, nor was it a place hummingbirds frequented. I knew right then it was my mom's spirit.
I've lived in my new house for almost two years and not once has a hummingbird visited. Admittedly, my mind and heart have been preoccupied with many highs and lows of life. I worried it was my fault, that I wasn't being alert enough to her spirit.
This past Christmas, my boyfriend took my boys shopping to get a gift for me. One of their gifts was a hummingbird feeder. When spring came, we hung it up and filled it with sugar water. For months, nothing happened.
Then one day recently, I had an emotional week. I was sitting alone on my porch, trying to hear God whispers or my own internal voice or really anything to calm my restless heart.
As I sat there, I began to hear the signature sound of a hummingbird's wings. I looked over at the bright red feeder and there was a hummingbird searching for sweet water. I smiled, knowing. It wasn't an accident or coincidence.
After I saw that first hummingbird, my dad and I had the following text exchange.
Me: "Guess what came and visited me today for the first time ever on my Maggie Valley porch? A hummingbird … God knew I needed a little of mom's love this week."
Dad: "Oh, I know how special that is. I've had two at the feeder almost every day. One came over to check me out. Really close. I had that Brenda feeling. So hard to believe it's been three years and gallons of tears since she went out to sea. It's still so tough. I love you."
My dad, sister and I are all struggling without her. We cope in our own ways. If you've lost someone who is a cornerstone in your world, you know the feeling.
Other people have kept me going since her death. It's been my sweet boys, my thoughtful boyfriend, colleagues, family, readers, pastors, mentors and friends. It's true that when someone is really down, other people, good people, swoop in to catch the fallen.
I'm going to conclude with my own quote from a blog post dated Aug. 26, 2016. It still rings true today, three years later.
"The funny thing about grief is that it's nothing like you think. Along with the darkness comes light. Along with the sadness comes love. Along with the loneliness comes friendship. Along with the solitude comes a new self-awareness. Along with the heartache comes strength.
"I wouldn't wish grief on anyone, and I know my personal journey with grief is far from over, but the compassion of others and surprise glimpses of God's grace have kept me afloat when I feel like drowning.
"And for that, I will be forever grateful."
(Susanna Shetley is a writer, editor and sales executive for The Smoky Mountain News, Smoky Mountain Living and Mountain South Media. This email address is being protected from spambots. You need JavaScript enabled to view it.)