Archived News
Haywood lands tax credits for historic hospital redevelopment
Wednesday, August 14, 2019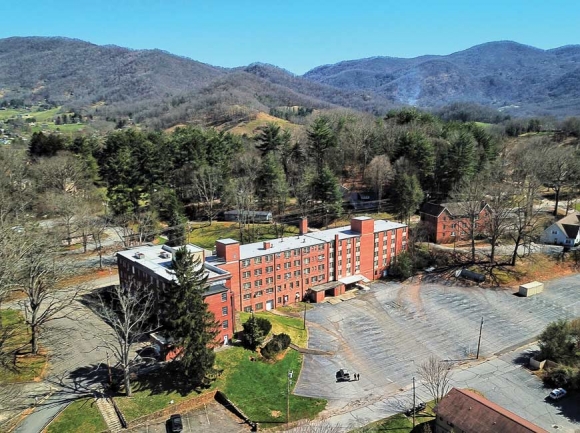 Waynesville's Historic Haywood Hospital is now slated for redevelopment. A Shot Above photo
After narrowly losing out in each of the past three years, developers have finally been awarded tax credits that will make redevelopment of the county-owned Historic Haywood County Hospital into 54 residential units financially feasible.
"I'm glad for the community," said Haywood County Board of Commissioners Chairman Kevin Ensley. "It's more workforce and affordable housing, mainly helping seniors and veterans."
Built in 1927, the hospital's decline began when its last patients were discharged 50 years later, in 1977. Since then, it's been used for a variety of purposes, including as the brief home of the county Department of Social Services and as the current home of Haywood County Schools' central administration offices.
Last December, Haywood Commissioners granted Landmark Asset Services a $225,000 purchase option on the 3-acre plot, contingent on receiving tax credits awarded each year by the North Carolina Housing Finance Agency after a highly competitive application process.
A month later, the Town of Waynesville added some extra influence to the application by designating the hospital and adjoining parcels as a redevelopment area. That allowed Landmark's application to compete in two separate funding streams.
County Program Administrator David Francis said the application was selected from the new, smaller pool brought about by Waynesville's redevelopment designation.
Ensley said he was also glad the county would no longer have to spend $7,000 a month keeping the building secure, but the tax credit award consequently kicks off a chain of events that have yet to be fully delineated.
The property will now transfer to Landmark, which has said it would honor the lease of the existing tenant, Haywood County Schools. The lease runs through the end of 2020 but HCS administration has expressed a desire to vacate their dilapidated digs as soon as possible.
The former Central Elementary School in Waynesville has been a constant target of speculation since its closure was announced in early 2016, but Ensley said he's not too keen on sending HCS administration to the vacant Joy Lane building.
"Moving there would be a short term fix," he said. "They've told us that Central will probably have to be turned back into an elementary school."
Hazelwood and Junaluska elementary schools are projected to be at or near capacity this coming school year, and with one new multi-unit apartment complex off Plott Creek coming online and another apartment complex planned for the former Bi-Lo site in Waynesville, student populations are expected to grow.
Dramatically lower enrollment totals at the county's only public charter school, Shining Rock Classical Academy, could also play a role in that.
"We're going to work with [Haywood County Schools] to be sure their needs are met," Ensley said. "We are their funding source, so we have to make provisions for them."
In February of this year, HCS Superintendent Dr. Bill Nolte told commissioners that projected capital needs over the next few decades justified a new facility that would consolidate several existing facilities — including central administration — into one. That facility would cost at least $13 million and require five acres of land, according to Nolte.
A new facility like that would also take years to plan and execute — starting with a period of public discussion over the justification of the expenditure, followed by public board votes to proceed, followed by public presentation of contracts awarded to private contractors for pre-construction reports, followed by public board votes to accept those reports, to acquire the property and to proceed with a construction process that would likely take more than a year if not two.
Ensley said the historic hospital and HCS' now-impending move would be discussed in open session at the next regular meeting of commissioners, which will be held at 5:30 p.m. on Monday, Aug. 19, in the Historic Haywood Courthouse in Waynesville.