Archived Arts & Entertainment
This must be the place: 'Cause no one knows me like you anymore, as long forgotten as a debt I owe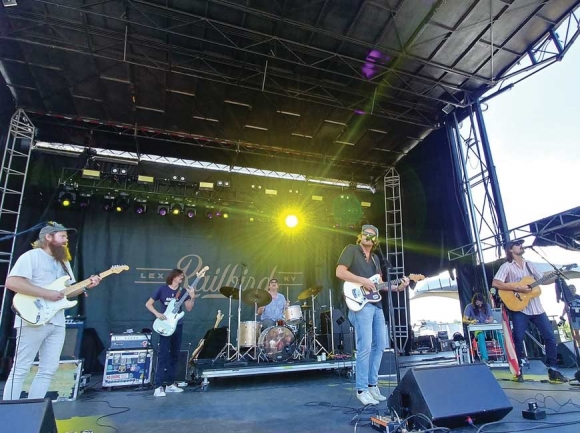 Futurebirds at Railbird. (photo: Garret K. Woodward)
It's around midnight, early Tuesday morning. Just sitting here, thinking. Finally getting around to drinking a cold beer on a recliner in an apartment that I've barely called home this spring and summer.
Along the drive back to Western North Carolina from Lexington, Kentucky, this afternoon from the inaugural Railbird Festival this weekend, I realized the gathering was my 16th festival since mid-March, and fifth festival feature I've written for Rolling Stone (11th article for them since December).
Sheesh. It has been a whirlwind, to say the least. And I have about another six or so festivals before the leaves change color, too. My life these days (and most days) is a blur of highways, gas stations, concerts and endless interactions. And, honestly, I wouldn't change a single thing about it all.
I spent most of the final day of Railbird with my boys in Futurebirds, a raucous Athens, Georgia, rock band I've had the utmost respect and support for, and for over a decade now since we met in 2009. We just drank beers, laughed and roamed around the festival grounds, always in conversation that mused about life and music, nothing and everything.
And I think of all those faces we ran into throughout the weekend, all these music industry folks I call dear friends, some of which family, including the 'Birds. Heck, I see these folks more than my own family, and tenfold.
Sometimes I forget to take a moment and sincerely be aware of my surroundings, how the scene unfolding before me is what I've always wanted, personally and professionally. But, I made sure at Railbird to remember the sights and sounds I was lucky enough to immerse myself in — side stage for the 'Birds early Sunday afternoon and Tyler Childers as the sun fell behind the tree line later on, the wild late-night showcase by The Wooks at The Burl in downtown Lexington earlier in the weekend.
But, it's all a give and take, you know? I've been out here rambling and writing since I was 21 years old. Now, 34. Thirteen years. Hundreds of articles. Thousands of interviews. Where does the time go, eh?
Feels like just yesterday I was living in a studio apartment in Eastern Idaho as a 22-year-old wet-behind-the-ears journalist covering planning and zoning board meetings and rodeos in the Wild West. That was back in 2008.
It was only a year or so later when my former girlfriend and I were on spring break and randomly wandered into The Jinx, an infamous dive bar and music venue in Savannah, Georgia. I was a young writer looking for a story to cover. Seeing the name "Futurebirds" in the music listings, I thought it was a cool moniker. So, we went.
A decade later, there I am with the 'Birds saluting each other over a frosty beverage backstage at Railbird in Kentucky. The girl is gone, so is that old truck of mine, too. And the 'Birds have known and experienced all of that, as well. All of us chose this industry, this lifestyle many years ago. We had the internal conversation early on — hell or high water, this is what we wanted to do with our lives.
With that give and take, comes the sheer volume of people, places and things I miss while on the road, in the midst of the melodic madness. Besides my actual family being some 1,100 miles from me, my southern "family" of friends and colleagues I barely even see anymore.
That notion alone really hits home when I'm scrolling Facebook or Instagram and come across another birthday party, anniversary, backyard barbeque or swimming hole occasion — all photos of people I love and adore, and yet I'm once again missing from the image.
The road, the show, the interview, the after-party: it's always been part of my life, at least for as long as I can remember. And I've learned over the years how to proper navigate it, to make sure my deadlines are met and, most importantly, that the work is of quality and integrity — always evolving, always wandering.
Several of the conversations I found myself in at Railbird revolved around "this is our lives" and how we accept it for what it is, and to make sure to check in with everyone and everything from time-to-time. But, also to immerse oneself in our dreams blossoming in real time. I've never taken any of this for granted, even in times of chaos and confusion.
As I've gotten older, I see and appreciate the opportunities and challenges presented before me. We all do, all of us in the organized madness that is the music industry. My gratitude remains, and is a cup runneth over. We're all in this together. And we remain to fight another day — onstage and on the road.
Life is beautiful, grasp for it, y'all.
Hot picks
1 The 15th Annual Franklin Area Folk Festival, "A Celebration of Appalachian Heritage," will be held from 10 a.m. to 4 p.m. Saturday, Aug. 17, at Cowee School Arts & Heritage Center.
2 Nantahala Brewing (Sylva) will host Captain Midnight Band (waterbed rock) at 8 p.m. Thursday, Aug. 15.
3 The "An Appalachian Evening" summer concert series will continue with Salt & Light at 7:30 p.m. Saturday, Aug. 17, at the Stecoah Valley Center in Robbinsville.
4 The REACH bingo fundraiser will be held at 6:30 p.m. Friday, Aug. 16, at the Maggie Valley Pavilion.
5 The Concerts on the Creek summer music series continues with Mama Danger (folk/newgrass) at 7 p.m. Friday, Aug. 16, at Bridge Park in Sylva.