Archived News
Shining Rock continues to struggle with transparency
Wednesday, August 07, 2019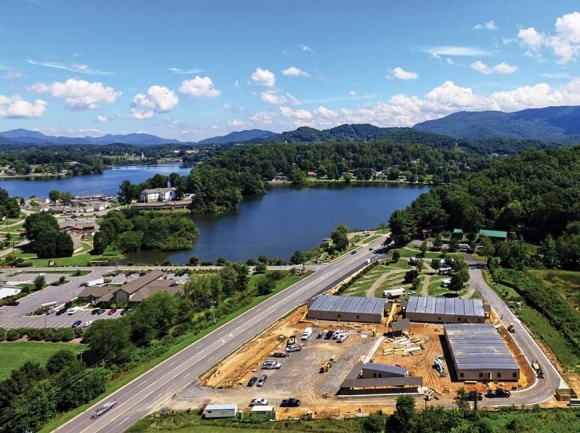 Shining Rock's plans to leave its current location off Dellwood Road, shown here under construction in 2016, have been suspended. A Shot Above photo
Editor's note: This is the seventh in a series of stories on Haywood County's public charter school, Shining Rock Classical Academy, which has been beset by a host of academic and organizational problems since opening in 2015.
Since 2015, Haywood County's first public charter school, Shining Rock Classical Academy, has used more than $2.75 million in local taxpayer money to educate children to a level far below the county average, and also below the state average.
Not only that, but the troubled school has had three directors in less than four school years — the first of which resigned without explanation, the second of which was fired for sexual harassment, and the current, Joshua Morgan, who was accused of multiple instances of improperly disciplining students while serving as interim head, though he was cleared of all allegations after an investigation by the school's own board-appointed attorney.
The school's self-appointed board of directors has also repeatedly violated state laws pertaining to public meeting notice requirements as well as closed session justifications and procedures.
A flurry of emails to Shining Rock from The Smoky Mountain News asking questions on a variety of topics in the public interest have gone unanswered since at least mid-May.
All that being said, during a meeting held the night of Thursday, Aug. 1, the board introduced a lengthy "electronic communications policy" that violates Shining Rock's own board policies. During the very same Aug. 1 meeting, the board held a three-hour closed session to discuss "facilities," even though that is not a recognized reason to enter into a closed session under state statute.
In both cases, the communications policy and the closed session for "facilities," documents relating to the agenda items weren't generally made available for public viewing or comment, except upon special request by those with foreknowledge of the existence of those documents mere days or even hours before a potential vote by the board.
Without violating any state law, Shining Rock Classical Academy's board provided only the bare minimum of transparency, but now the communications policy has been tabled and the property acquisition has been suspended indefinitely after local media outlets questioned the board's process.
Communication breakdown
At 1:55 p.m. Monday, July 29, Shining Rock sent out notice of a special-called meeting to be held three days later at 6:30 p.m. on Thursday, Aug. 1.
The school appears to have complied with state sunshine laws mandating public notice of the meeting, which it has repeatedly failed to do in the past.
Despite the meeting's agenda being included with the meeting notice, none of the supporting documents were included — like the proposed electronic communications policy.
Around 20 minutes later, The Smoky Mountain News requested a copy of the policy, which wasn't delivered by Shining Rock until more than 24 hours after that, or about 50 hours prior to the meeting.
The proposed policy wasn't posted anywhere on Shining Rock's website, meaning that unless a member of the public specifically requested it in time for the meeting, and had it delivered in time like SMN did, they'd have no opportunity to review it or give the board any feedback before the board voted on it.
First, the proposed policy says it must be followed not only by students, employees and the school community "at all times," but also by alumni. That means students who no longer attend the school will purportedly be subject to the conditions within the proposed policy.
Those conditions include not contributing to rumors or gossip and not discussing "any concerns related to other students, families, or staff."
The proposed policy also states that by "posting a comment or other material to Shining Rock sites as outlined above, users give Shining Rock the irrevocable right and license to exercise all copyright, publicity and moral rights with respect to any content provided, which includes using the submission for any purpose in any form and on any media, including but not limited to: displaying, modifying, reproducing, distributing, creating other works from, and publishing your submission."
That's right — Shining Rock claims "irrevocable" copyright privileges for videos, photos, phrases or anything else posted to its media channels, which can then be repurposed in any way the school sees fit, with no mention of permission from or compensation to its creator.
Students, however, "may not under any circumstances create digital video recordings of Shining Rock community members either on campus or at off-campus events for online publication or distribution without consent."
Students are also prohibited from publishing "disparaging or harassing remarks or media about Shining Rock community members," although who defines what "disparaging" or "harassing" actually means isn't noted in the proposed policy.
Regardless, the proposed policy gives Shining Rock the right to remove comments "whether or not they violate this Policy," making the argument over what, exactly, is disparaging or harassing a moot argument altogether.
Meanwhile, staff members are "encouraged to develop positive media stories for publication" by submitting "final drafts of media releases with appropriate photos" to Shining Rock's public relations email address.
Staff members are also directed to "respond to email, voicemail, verbal and handwritten requests within 24 hours during the work week" because, as the proposed policy states, the "positive perception of [Shining Rock] within the community of Haywood County and the larger community of the State of North Carolina largely depends upon the timeliness and quality of the communications from [Shining Rock] employees, students, parents and community stakeholders."
It's not clear if that policy applies to requests from the media, but at least one segment of the proposed policy is aimed squarely at journalists.
"It is understood that from time to time, the media will make requests for information and documentation," reads the proposed policy. "All communication with members of the media, including representatives for print, television, radio and electronic media outlets, will be conducted during public comment sections of board meetings or in written form through an email address designated for media communications."
Shining Rock has failed to respond to the last half-dozen emails sent by SMN over the last two months, but it's the "public comment" section of the policy that is perhaps most troubling.
As UNC School of Government Professor Frayda Bluestein writes in respected local government blog Coates' Canons, " … it is important to note that even when the law requires public bodies to allow public comment, there is no general requirement for the public body to respond, even when directly questioned by a member of the public."
SEE ALSO: Shining Rock Classical Academy timeline
That's exactly what happened the night of Aug. 1, when The Smoky Mountain News took advantage of the meeting's public comment session to ask Shining Rock Board Chair Michelle Haynes several questions pertaining to the proposed communications policy.
"Our public comment session is just that," Haynes answered during the meeting. "You can comment publicly for two minutes, and we do not do a Q & A with the board during that time."
When questioned as to how media outlets are supposed to communicate with the board during the public comment sessions of board meetings if the board refuses to answer questions posed of it, Haynes answered, "The public comment session is for public comment."
After a motion was made to consider the proposed policy — opening it up for board discussion — Shining Rock Board Member Jason Moody cited unnamed North Carolina General Statutes as prohibiting such a Q & A session like the one that had just occurred, and the one proposed in the policy.
"The board is not allowed to respond to people during the open session part of a board meeting," Moody responded. "That's straight out of the General Statutes … we have to take public comment, but we are not allowed to respond to questions at that point in time."
Moody's incorrect about that, according to the widely-cited Bluestein, who currently serves as the David M. Lawrence Distinguished Professor of Public Law and Government and has been at UNC since 1991.
"There is no statute that prohibits board members from engaging with the public during the public comment period," she wrote. "Many boards have adopted policies to not engage, but there is no law that requires [a policy of non-engagement]."
Shining Rock's own board handbook, available on the school's website, contains just such a policy, which reads " … as the Board of Directors conducts business in its monthly meeting, it must refrain from engaging in discussion with the audience."
What's still not clear is who drafted the electronic communications policy to include the "public comment" stipulation in direct opposition to the board's own policies laid out in its handbook, or why the stipulation was even included in the first place, but the board decided to table the proposed policy anyway.
Building a mystery
The attempts by Shining Rock Classical Academy to obscure its doings from the general public aren't new, and didn't end with the ill-conceived electronic communications policy, either.
Shelby Harrell with The Mountaineer reported in a story Aug. 5 that only hours before the Aug. 1 SRCA meeting, the school had filed a "thick packet" of documents with the Town of Waynesville outlining a plan to build a new K-8 school on a 15.93-acre parcel bordered to the west by Russ Avenue, and to the north by Jule Noland Drive.
That was news to The Mountaineer, as well as to The Smoky Mountain News, because no discussion about the specific project, its cost or its justification had ever been conducted by the taxpayer-funded school's board during the various public meetings attended by representatives of both media outlets over the preceding months and years.
As with the electronic communications policy, no one in the media or in the public would know the documents filed by Shining Rock on Aug. 1 were coming. Even if they did, they'd have almost no time to analyze them or conduct additional reporting, or basic fact-finding, or even query the board in any meaningful way as to its intent before the board would consider taking action to move forward with the plan.
Later in that same Aug. 1 meeting, the board went into a three-hour closed session anyway, as it indicated it would on the pre-published agenda. Per N.C.G.S. 143-318.11(c), "Every motion to close a meeting shall cite one or more of the permissible purposes listed in subsection (a) of this section."
The board indeed made a motion, but the reason cited in the motion is not recognized by N.C. law; both the meeting agenda and Board Member Anna Eason's motion cited N.C.G.S 143-318.11(a)5 as the reason to go into closed session, for "facilities."
Nowhere in the closed session laws outlined in 143-318.11a(5) does the word "facilities" appear.
That section of the law plainly states that its purpose is "to establish, or to instruct the public body's staff or negotiating agents concerning the position to be taken by or on behalf of the public body in negotiating (i) the price and other material terms of a contract or proposed contract for the acquisition of real property by purchase, option, exchange, or lease; or (ii) the amount of compensation and other material terms of an employment contract or proposed employment contract."
Two other people — school construction contractor Chip Harp and local Wells Fargo financial advisor Larry East — were also present during some or all of the closed session.
Even if the closed session was correctly cited, that particular justification for the closed session is only properly used to establish the body's negotiating position — perhaps, the price it wishes to pay, or other material terms — in real estate acquisition, or in employment contracts.
Since by admission the closed session wasn't about establishing the body's position in an employment negotiation, it must have been about property acquisition, right?
It's hard to say — Harrell reported in her Aug. 5 story that The Mountaineer had asked for "all minutes related to discussion of the proposed plan," but that Shining Rock board members said they didn't have any.
"The Mountaineer has regularly covered all Shining Rock Classical Academy board meetings and retreats since the school opened more than four years ago," reads Harrell's story. "It is unclear how the Shining Rock board got this far along in the planning process without a single discussion at a public board meeting."
After three hours, the Aug. 1 closed session concluded with the board taking no action, however Board Chair Michelle Haynes told those assembled that she'd likely call another special meeting for the following Monday, Aug. 5.
On Saturday, Aug. 3, she did just that by emailing the agenda, which included another call for a closed session per N.C.G.S 143-318.11(a)5 — this time omitting all mention of the word "facilities."
But when the meeting commenced on Aug. 5, board members voted to adjust the agenda and omitted the closed session.
Under the next agenda item, labeled only "new business," Head of School Joshua Morgan — who was not listed on the agenda — took the opportunity to give an update on the first day of school, which had concluded earlier in the day.
"The enrollment that we have right now, it looks like it's 304," Morgan told the board. "I don't know if we're going to have a lot of movement off that number one way or the other."
SEE ALSO: Shining Rock enrollment drops dramatically
That number is far below the enrollment totals for the prior three years and will diminish the amount of per-student taxpayer monies that go to the school this year.
After Morgan concluded his report on an otherwise spotless first day of school, Board Secretary Melanie Norman made a motion, saying that since the current facility clearly meets the needs of the dwindling student population, the board should suspend any further discussions relating to new facilities.
Past coverage: Shining Rock Classical Academy
That motion passed unanimously, but not before some reassurances by the board that it was the right thing to do.
"We have, what, 302?" asked Board Member Mike Mehaffey, who walked into the meeting late and had missed the closed session vote and Morgan's presentation, but did arrive in time for discussion on the motion. "Last year we had close to 400, so we definitely have the capacity for our enrollment this year."
The land upon which Shining Rock Classical Academy sits is currently leased from the Lake Junaluska Assembly.
"This is not our forever home here," said Haynes of the school's modular units, paid for with a $2.9 million loan from Forest City-based charter school consulting outfit Challenge Foundation Properties at 7 percent interest, according to public records sent to SMN in May. "We want a permanent campus, and we want to expand, and we want to [also offer a] high school, but I think at our enrollment, this is where we need to stay."
Questions regarding the lower enrollment totals and their possible implications for the school's budget were emailed to Shining Rock's board members Aug. 5. As of press time, no reply was received.