Archived News
Forced to Fight: Law enforcement grapples with opioids in Appalachia
Wednesday, August 07, 2019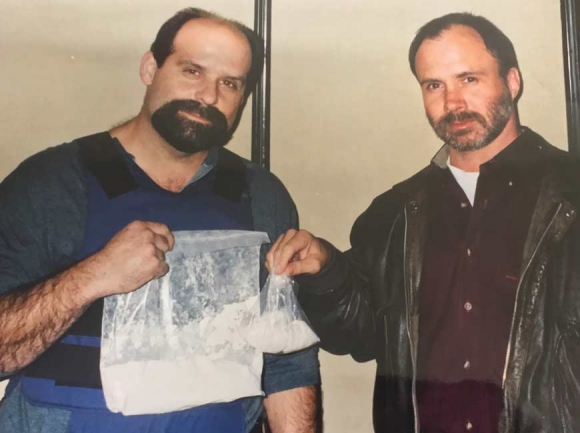 DEA Agent Joel Reece (right) poses in 1998 with what may have been the largest undercover heroin buy in Tennessee history at the time – nearly a pound. Donated photo
After a routine surgery, Haywood County native Clayton Suggs ended up hooked on opioids until on the first day alone in his new apartment after a year of sobriety, his addiction eventually cost him his life.
Addiction is a slippery slope easy to slide down, but difficult to surmount — especially in the face of the millions and millions of pills flooding nearly every county in the nation, according to a pill tracking database first published July 16 by The Washington Post.
Suggs was forced to fight a battle he couldn't win. Like Suggs, the nation's law enforcement agencies are fighting that same battle from a different perspective, and fighting just about as hard as Suggs did.
"You've got to have enforcement, because you're going to save a few. You've got to have treatment, because you're going to save a few. But we always ignore prevention," said retired DEA Agent and Waynesville native Joel Reece. "We've probably lost the better part of a generation. We can treat until the cows come home, but we've already lost the better part of a generation."
Joel Reece has spent the better part of his life in law enforcement, specifically drug enforcement. He became a Waynesville police officer, like his father, in 1978.
"It wasn't too bad," he said of local drug activity at the time. "It was normal traffic stuff, DUIs, burglaries. Drugs were starting, but it was mostly weed and a little coke then. It wasn't nearly the things we've got today."
Reece said he had always wanted to work narcotics after seeing a few friends' lives "ruined" by drugs, but while spending the next 12 years with the State Highway Patrol, he likewise didn't come across major drug activity often.
That all changed in 1990, when he joined the U.S Drug Enforcement Agency as a special agent in Texas.
"We had heroin when I was in San Antonio. It was black tar. Ugly, stinky, nasty. I didn't like working it," he said. "They put it in balloons, carry it in their mouths or who knows where. It was an issue, but it was basically just confined to the real, real hard-core inner city, and you couldn't work it. You're not going to get an undercover in there."
It also had a very low social impact, so it wasn't really a huge problem for most people. When Reece transferred to the DEA's Nashville office in 1998, the illegal drug market was beginning to evolve.
"When I got there, meth had just come east," he said. "Nobody was prepared for that, because nobody was trained."
Right around that time, meth production, distribution and usage began to spike, especially in rural Appalachia.
"Tennessee got hit very hard," said Reece. "North Carolina, I suspect, got hit harder than they knew, but there just wasn't anybody working it over here at that time, that early on."
Labs, he said, were popping up everywhere in Tennessee, especially in places like White County and Crossville, between Nashville and Knoxville.
"One year, I think it would have been around 2000, we were in over 200 labs in a year," Reece said. "For whatever reason, the mountains just attract meth people. We would leave in the lab truck literally to go hit one, and by the time we got in somebody was calling about another. You'd debrief some of the crooks, they tell you about another one. We'd get home a lot of times with the sun coming up. 'Good times' is probably a little odd to say, but, it was good times."
Cocaine was still an issue, but heroin and pills weren't really on anybody in Tennessee's radar — yet. At least, until Reece and his colleagues made what was at that time likely the largest undercover heroin purchase in Tennessee history.
"Nobody had seen it there before," he said.
After four years in Nashville, Reece moved further east to Knoxville, in 2006, where he said heroin and opioid pill dealers were starting to become more and more common.
"It had begun to raise its head a little," he said, "but they were still small time. Coke was still king, and crack was still a huge problem. But it wasn't really raising anybody's antenna yet."
Although a small town, Knoxville's proximity to one of the country's major drug trafficking capitals made East Tennessee one of the most drug-addled regions in the country by 2006.
"Atlanta, Georgia is as important as any city in the United States for the cartels," he said. "Anywhere. If you don't have the money to buy it, they will front it to you. Up to a kilo. We had 10 and 20-pound seizures, in Chattanooga, a lot of them headed this way. Nowadays, you don't go out and get a case of beer and beat your chest after a 10-pound seizure."
In 2006, Reece was called to DEA headquarters in Washington, D.C., where he directed a section responsible for a $21 million global drug intercept program, and also engaged in some classified work.
From there he was sent west, to the DEA's New Orleans division, which encompasses parts of several nearby states. Based in Jackson, Mississippi, Reece directed all DEA operations in that state from 2008 through 2011.
"While we were there, you kept seeing all the stuff about South Florida, the pill mills," he said.
"Pill mills" are pharmacies or physicians' offices where addicts know they can score a prescription or a large amount of pills without too many questions being asked of them. At the time, Florida was known as one of the best places for a pill addict to travel to or to live, because of the existence of multiple major mills.
Reece's supervisor, the special agent in charge of the New Orleans division, allowed him to establish the first tactical diversion squad.
"It was the very first way the DEA decided to combat the diversion of pharmaceuticals," he said. "They took DEA agents — DEA diversion agents who are not gun-toters but know this business — along with some analysts and some local people, and made a task force. All they worked were diversion cases — pill mills. Bad docs. Bad pharmacies."
What Reece and his colleagues found was shocking.
"We actually sent undercovers in, and from the time you walked in the door till the time you walked out the back with prescription in hand," he said, "it was like 5 to 7 minutes. Hundred bucks. Cash."
That, Reece said, was when he knew that opioid addiction was a bigger problem than it had been in the past.
"We are now full-blown in this whole thing by then," he said. "The cat was out of the bag."
Just as America's opioid problem was becoming a bona fide epidemic around 2011, Joel Reece's time with the DEA had to come to an end.
"Mandatory retirement at age 57," he said. "If it wasn't for that, I'd probably still be there."
Back in Tennessee, he spent the next two years as the manager of a special investigations unit for health insurer Blue Cross Blue Shield of Tennessee, directing all health care fraud investigations. But in 2014, he returned to the drug enforcement field as the deputy director and Tennessee state coordinator of a program called HIDTA.
"HIDTA" stands for High Intensity Drug Trafficking Area, and according to the DEA is a program that was created by Congress with the Anti-Drug Abuse Act of 1988. HIDTA "provides assistance to federal, state, local and tribal law enforcement agencies operating in areas determined to be critical drug-trafficking regions of the United States."
Not every part of the United States has a HIDTA, but by 2018 there were almost 30 of them across the country — from California to Chicago, Alaska to Appalachia, and everywhere in between.
"One of the prerequisites [for establishment of a HIDTA] is that you have to have an issue that is specific to your area that's not everywhere else but affects other places," he said.
Reece was part of the Appalachian HIDTA, which runs through what The Washington Post calls "the opioid belt" of America — from central West Virginia through the Virginia panhandle down to eastern Kentucky and East Tennessee. At the time, Reece said, the lion's share of domestic marijuana cultivation took place there.
"Through the years, it morphed into a poly-drug HIDTA, and now it's basically an opioid HIDTA, because that's the epicenter of the whole thing," he said. "That's where it's the worst."
The Appalachian HIDTA was recognized as the top HIDTA in the nation in 2015, but Reece left for retirement in 2017. When he did, he didn't leave behind the lessons a life in law enforcement taught him.
"HIDTA is prohibited by statute from engaging in treatment programs, but we could do prevention things," he said. Among the Appalachia HIDTA's seven funded task forces was a program targeting neonatal abstinence syndrome, or NAS.
NAS occurs when a child is born after being exposed to drugs or alcohol in utero. Opiates are one of the surest ways to give an infant NAS, which can cause premature birth, seizures and birth defects. After birth, NAS babies can suffer from drug withdrawal symptoms including tremors, vomiting, diarrhea and dehydration due to excessive perspiration.
"East Tennessee was specifically one of the worst places in the country for NAS babies," said Reece. "Children's Hospital in Knoxville was known as the go-to place in the country because they were the experts. Because they had so many."
The Appalachia HIDTA's multi-media campaign — billboards, radio, television — was called "No More NAS."
"The first year we did it, NAS baby births in Tennessee dropped 15 percent," he said. "Now, can you take full credit for that? No, but in this battle, you really have to take your victories in small doses. You're not going to save the world. You're going to have to take them in small doses. And for every baby we save, that's one we won't have to deal with for the next 40, 50 years."
Reece is understandably pro-prevention and remains active even in retirement, giving presentations to Haywood County students on behalf of locally based anti-drug program Drugs in our Midst. He teaches them about the dangers of both opioids and meth.
"There is not a family, probably, in this county that doesn't either have a family member or know somebody that struggles with this stuff," he said. "And that's crazy."
Just as the nation's drug problems have morphed over Reece's 40-year law enforcement career, they're continuing to evolve even today and will do so well into the future.
"We are not going to outwork, out-distribute, out-manage the cartels," he said. "It's not gonna happen. What they do — they've done it since I was a baby agent — they wait for a user base to get established, and if it doesn't get established quick enough, they'll establish it. Once the user base gets big enough, the cartel comes in with a better product, and sells it cheaper."
The cartel business model, coupled with local, state and national efforts to rein in pill prescribers, could hold some ominous implications in the future.
"It will get so tight with pills, you could walk in with your arm half cut off, and they'll give you an aspirin. So, what's going to take its place? Heroin," he said. "We've already got an addicted generation, but we haven't seen heroin here like we're going to see. Pills are going to be hard to come by."
With heroin will come other, more dangerous substances like the fentanyl that killed Clayton Suggs before he could even put the sheets on his bed the first day in his new apartment.
"You know how much fentanyl it takes to kill you? Cover Abe Lincoln's beard on a penny," Reece said. "That'll kill any human being."
While working in Knoxville, Reece and the DEA seized several industrial pill presses.
"They'll get fentanyl, because it's cheaper. It's all coming from Mexico, a little bit from China, if it's mailed. They'll get a little fentanyl, add some other inert ingredients of some kind, put it in a pill press, and press it to make it look like an oxycodone, or a Percocet, or whatever," he said. "Then you buy it on the black market, on the street, and you take it because you think that's what it is. Well, suppose the guy who was pressing it put a little too much fentanyl in there? They're not in a lab setting with white coats, they're probably half-drunk or high themselves. And then boom, you're done."
One such instance Reece cited occurred in Huntington, West Virginia, where a bad batch caused a rash of overdoses, right in the middle of The Post's opioid belt.
"It used to be, we'd publicize that kind of thing," he said. "Now we don't, because if you publicize that, we found the addicts would go to it, because they think it's better dope. Some of this stuff, it doesn't have a logical answer to it."
There may be few logical answers in the nation's battle with opioids, but there remains one sure-fire conclusion — even with treatment, with enforcement and with prevention education, the DEA agents and law enforcement officers following in Reece's footsteps will be forced to fight, well into the future.
Delve into the data
The Washington Post's searchable database of prescription pill distribution information is available online. Although it can be accessed with a free trial account, purchasing a subscription helps support ambitious journalistic endeavors like those of The Post, which led to a federal court's release of the data cited in this story.
www.washingtonpost.com/graphics/2019/investigations/dea-pain-pill-database