Archived Arts & Entertainment
The rebel and the rose: Becky Buller to play 'An Appalachian Evening'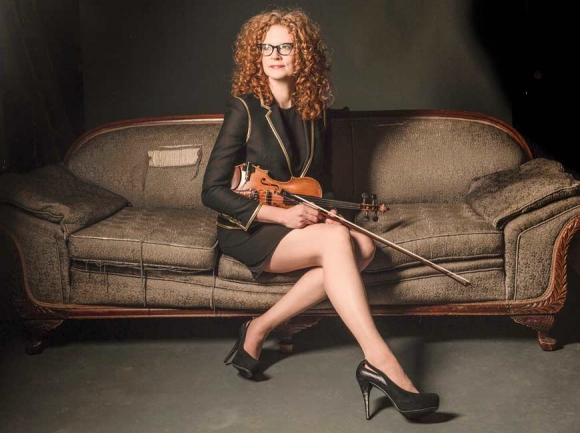 Becky Buller.
In bluegrass, there are pioneers and there are pillars — Becky Buller is both.
A beloved singer/fiddler, the Minnesota native left the Midwest as a teenager for Southern Appalachia, all in search of that "high, lonesome sound." And in her lifelong quest to immerse herself in bluegrass music, Buller has become a legend in her own right.
A two-time Grammy-winning songwriter and eight-time International Bluegrass Music Association (IBMA) recipient, Buller has broken down musical and societal barriers. In 2016, she became the first performer in the long history of the IBMAs to win in both the vocal and instrumental categories — of which, she became the first female to win "Fiddle Player of the Year."
Last year, Buller teamed up with an array of incredibly talented female musicians to form the First Ladies of Bluegrass, each member also being the first women to win an IBMA award in their respective instrumental categories — Alison Brown (banjo, 1991), Sierra Hull (mandolin, 2016), Missy Raines (bass, 1998) and Molly Tuttle (guitar, 2017).
And yet, residing at the core of her music, is simply someone who was captivated early on by the sights and sounds solely unique to bluegrass and its rich, vibrant scene. She remains as enamored by, curious about, and an important part of the history of bluegrass — past, present, future.
Smoky Mountain News: In the last few years, a lot of females are not only getting recognized by the IBMAs, but also finally winning the big awards. What are your thoughts on this current landscape?
Becky Buller: I love it. There's so much great music being made out there. And it's exciting to see new faces popping up amongst the awards. You know, everybody is deserving. I think it's easier now for folks to get the word out and [IBMA] members understand the voting process more, which is all helping get these new folks in there.
It's great to see women making such an incredible showing amongst the nominees over the last several years. But, there have been great women all along in bluegrass music. It's so incredible to be part of this wave. I think it's easier now to have your own band and do your own thing. And I'm grateful to be part of the First Ladies of Bluegrass.
SMN: What inspired you to dive into the genre of bluegrass?
BB: Well, I grew up playing the music with my family. They had a band called Prairie Grass. It was my mom and dad, and another couple, which was Gordy and Roxy Shultz. And I wanted to sing with them. They said, "you have to play something, because everybody in bluegrass plays something." So, they didn't have a fiddle. I literally picked up the fiddle so I could sing in their band.
And I've always approached the fiddle in how it works backing up songs. But, I've always been more interested in singing and songwriting, and I've used the fiddle to get me there to do what I wanted to do. When I was 16, I heard about East Tennessee State University (Johnson City) and the bluegrass program — I made up my mind and that was what I was going to do.
SMN: What is it about bluegrass that attracts you to that sound and presence?
BB: I guess it's the authenticity of it. You can write about anything. I love that I can sing a song about moonshining and turn around and sing a gospel song, then turn around and sing a murder ballad — that's OK in bluegrass music, they welcome all of it. I love the story songs, I love writing them and learning them.
SMN: Then, I would surmise that you never stop learning, ever. There's always another rabbit hole to go down…
BB: Exactly. There's always somebody else to be inspired by. I think it was Pablo Casals, the cellist, who in his 90s was asked, "Why do you still practice?" He said, "Well, I just keep thinking I'll get better." And that's where I'm at, too. I want to keep learning and growing — as a musician, person, and entertainer.
Editor's Note: If you would like to listen to the entire audio stream of this conversation, go to YouTube and search: "Becky Buller Garret K. Woodward."
Want to go?
The "An Appalachian Evening" summer concert series will continue with Becky Buller at 7:30 p.m. Saturday, Aug. 10, at the Stecoah Valley Center in Robbinsville.
Other acts in the series will include: Salt & Light (Aug. 17), The Kruger Brothers (Aug. 24) and Wayne Henderson & Helen White (Aug. 31).
As well, the Fall Harvest Festival will feature bluegrass legends The Gibson Brothers at 7:30 p.m. Saturday, Oct. 19, at the Stecoah Valley Center.
For more information and/or to purchase tickets, click on www.stecoahvalleycenter.com. All concerts begin at 7:30 p.m. in the air-conditioned Lynn L. Shields Auditorium.