Archived News
Updated relocation list released for N.C. 107 project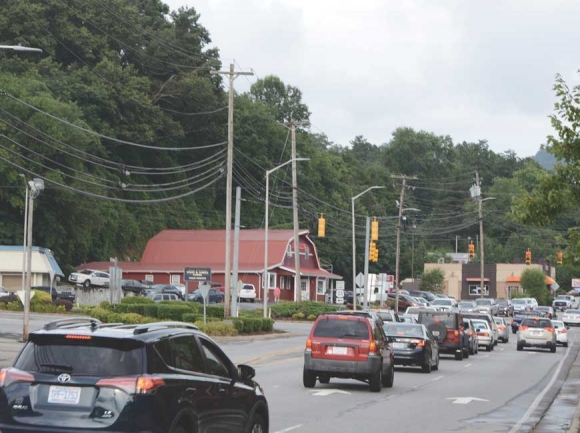 CORRECTION: Due to inaccurate information presented at the July 23 government meeting when the road project was discussed, the number of businesses slated for relocation in the story is incorrect. The project will require relocation of businesses located on 39 parcels of property, but the total number of businesses on those parcels is 55. The list of businesses included with the story names all 55 businesses.
The number of businesses to be displaced by the upcoming N.C. 107 project in Sylva could be fewer than the 54 named in last spring's preliminary plans, but the cost and duration of the project will be greater than initially expected, according to an update N.C. Department of Transportation Division Engineer Brian Burch gave to an assemblage of Jackson County's elected leaders last week.
The 25 percent complete plans released last year listed 54 businesses, one nonprofit and five residences as slated for relocation as a result of the project. The current list, meanwhile, includes 39 businesses and five residences, with an estimated 186 parcels to be impacted in some way by the road project.
The total estimated cost of right-of-way acquisition is $49.7 million — more than three times the $14.6 million estimated in the initial plans released in March 2017 and slightly more than the updated cost of $47.6 million included in last year's 25 percent plans. The current estimate does not account for utilities.
Neither does the relocation list. The DOT has finished the 65 percent plans but has not yet incorporated utility needs into those plans. Burch told elected officials that it's likely more than 39 businesses will ultimately be relocated, but the businesses on the current list are unlikely to be taken off it.
"We don't want to give people false hope, but those that are already on the list, we wouldn't expect that to change at all," he said.
In addition to the $49.7 million for right-of-way, the project will demand an estimated $40 million for the construction phase, said Burch. Most projects these days are coming in 10 to 15 percent over the estimated cost, so the actual price tag will likely be around $50 million.
Right-of-way acquisition will begin on Jan. 6, 2020, and businesses set for relocation will be notified by the first of February, said Burch. The construction let date is Dec. 20, 2022. Construction typically begins six to eight weeks after the let date, so construction should start around February 2023, said Burch. That phase will take about 3.5 years.
"Our goal is to continue business on 107, so do you feel like DOT is going to take measures to ensure that our businesses are still able to function and stay afloat?" asked Sylva Commissioner Mary Gelbaugh.
Yes, Burch replied, due to an emphasis on night work.
"Ideally we will do most of it at night," he said. "Some of it will have to be during the day. While there may not be construction activities going on, there will be barrels and drums and curb cuts, pipe cuts, that will be out there, but we will keep access to the businesses. We're required to do that."
The DOT finished its construction management plan in 2015, and will start out by building bulbouts for U-turns, go down the south side of the project and then flip to come back up the north side through town.
The project will not bring all utilities underground, as discussed earlier on as a possible method of reducing right-of-way needs, because the estimated cost of doing so "exceeded any budget we would have," said Burch.
Local leaders are trying to get ahead of the expected project impacts, Jackson County Economic Development Director Rich Price told the audience in a follow-up presentation. In the fall of last year an N.C. 107 resource committee formed to assemble information about the project and develop a resource kit for businesses that might be impacted.
"We want to be the conduit to be able to provide that information to those businesses when we have it," said Price.
The group, which includes representatives from the county, Sylva, Dillsboro, the Southwestern Commission, the Jackson County Chamber of Commerce and small business resource centers at Southwestern Community College and Western Carolina University, will try to identify types of impacts, financial resources for businesses, available buildings or sites and legal resources, as well as develop an outreach plan.
The list
An updated list of businesses slated for relocation has been developed by the N.C. Department of Transportation. The list is based on plans that do not yet include utility needs, so it could grow. However, businesses that are on the list are unlikely to be taken off it. The list includes 39 businesses that employ a combined 189 people.
• Wholesale Supply Group (seven employees)
• Plumbing/Electrical Supplies (five)
• Speedy's Pizza (eight)
• Valero Gas Station & Convenience Store (four)
• Rite Aid Pharmacy (10)
• Saints European Skin Care Clinic & Spa (four)
• O'Malley's Pub & Grill (seven)
• Green's Auto Sales & Service (two)
• Comprehensive Automotive Services (four)
• Caplinger Chiropractic (two)
• Fountain of Living Water Penecostal Church
• No Name Cigar Store (two)
• Carolina Custom Ink (two)
• Michael James Studios (one)
• Liberty Tax Service (three)
• Chinese Healing Arts (one)
• Community Alternatives of N.C. (two)
• Gary H. Miller, Attorney-at-Law (two)
• Mountain Energy Gas & Convenience Store (four)
• DQ Grill & Chill (six)
• Little Caesar's (six)
• Game On (two)
• Eagle Tax Breaks (two)
• Wendy's (eight)
• Mesquite Grill (five)
• HomeStar Mortgage Lender (one)
• Edward Jones (three)
• N.C. License Plate Agency (three)
• Smokey Mountain Cabinetry (two)
• Shed's Hunting Supply (three)
• Blossman Propane Gas (six)
• Cody's Hot Spot Gas & Convenience Store (four)
• N.C. Mountain Real Estate LLC (two)
• Clemmons Cleaning LLC (three)
• Southern Style Salon (two)
• Reflectionz Vinyl Graphics (two)
• Don's Barber Shop (one)
• Mattress By Appointment (one)
• Half-Past Home Cooking (six)
• Enmarket Gas & Convenience Store (five)
• Lofquist & Associates (two)
• Tattoos & Piercings (one)
• Hair to Please Salon & Tanning (one)
• Ryan's Steakhouse (nine)
• Jackson County Veterinary Associates (three)
• University Vapor (two)
• Alien Fix (two)
• Laser Wash Express (one)
• Bryson Farm Supply (five)
• Main Street Brew (four)
• Law Office of Nathan Earwood (two)
• Jackson County Farm Bureau (four)
• Sylva Chiropractic Services (two)
• Dr. Holbert Lang, Dentist (three)
• McDonald Family Dentistry (five)