Archived News
A look at Jackson's proposed budget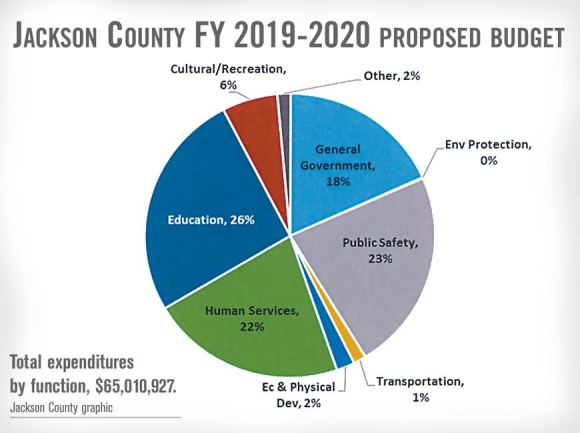 Jackson County's proposed budget for 2019-2020 won't require an increase from the current property tax rate of 0.38 cents per $100 of value, and at $65 million it clocks in at 0.78 percent higher than the 2018-19 approved budget and 2.01 percent lower than the amended 2018-19 budget.
Education accounts for the largest share of the proposed spending, at 26 percent, followed by public safety at 23 percent, human services at 22 percent and general government at 18 percent. However, noted County Manager Don Adams in his presentation to commissioners May 21, much of the spending in the human services sector is reimbursed from other sources.
Goals in the recommended budget include:
• Homeless shelter funding will be $130,000, but a manager is still needed. The current manager for the county's cold-weather shelter will not be continuing in the new budget year. The proposed budget would fund those services at a similar level to that provided in the current budget year, but commissioners will have to participate in ongoing conversations to determine which entity should manage the services. One group, HERE in Jackson County, responded to a request for proposals earlier this year, and commissioners are in conversation with that organization to determine if the partnership would be a good fit. The shelter typically opens in November.
• Build new parks in Whittier and Dillsboro. The budget includes $750,000 for new parks, with Whittier as the priority. However, it's not certain those funds will be spent entirely in the next budget year, as contractors are currently quite busy. There's no guarantee the county will be able to get someone to do the work immediately.
• Get to work on facilities improvement. In the coming budget year, schematic design for the proposed Animal Rescue Center at the Green Energy Park will be done, and project construction will begin. Schematic design for the Jackson County Justice Center is expected to begin at the end of the fiscal year.
• Continue efforts to establish career pathways for county workers. All employees will receive a one-step pay increase this year, for a total price tag of $411,000. Some position titles and pay grades will be adjusted to improve retention and ensure employees in various positions have an opportunity to advance.
• Add new positions. New positions will include three new public works employees, a new front office person for animal control and a new Seniors Health Insurance Information Program counselor. Two part-time positions in the Parks and Recreation Department and the Green Energy Park will become full-time, and a new line item will be created in the sheriff's office allowing the sheriff to hire law enforcement officers on a part-time basis.
• Expand Tourism Development Authority staffing. The Tourism Development Authority wants to add a new sales and marketing manager position, which will be funded through occupancy tax revenues rather than through property taxes. The position will work to bring in overnight visits during the shoulder seasons, when they're most needed, TDA director Nick Breedlove told commissioners. The typical staff for a county Jackson's size includes five to six people, he said, but as of now he is the TDA's only employee. Over the coming years he plans to look at some of the contracted work the TDA pays for and consider bringing some of those tasks in-house.
• Improve safety at Fairview Youth Complex. The baseball park at Smoky Mountain High School has some acute needs, but the budget proposal for this year promises only $50,000 to address electrical issues on the property that have caused a safety concern. There may also be an opportunity this year to look at addressing issues with the concession stand, said Adams, but with contractors as busy as they are in the current economy, it seems unlikely that the county could finish the entire job in the upcoming fiscal year even if it tried.
• Employee insurance fees will rise. Hospital and dental contributions will increase by 23.11 percent for employees.
• Code enforcement fees will increase. Base fees will increase by 60 percent for light commercial, 20 percent for large commercial and 17 percent for new single-family structures. Inspectors are having to provide more inspections under those base fees, so the department director felt it was appropriate to raise the rates, said Adams.
• Fund capital maintenance at Southwestern Community College. The proposed budget includes $431,000 for capital outlay at SCC. Costs would include HVAC replacement in Founders Hall, vehicle repair, forklift purchase, bridge installation, carpeting at Holt Library and re-roofing gazebos.
Be heard
A public hearing on the proposed budget will be held at 6 p.m. Tuesday, June 4, in Room A201 of the Jackson County Justice and Administration Building. Anybody is welcome to speak for three minutes or less on any aspect of the budget.
Two work sessions will be held between the budget hearing and the budget adoption scheduled for June 18. Those work sessions will be 1 p.m. Thursday, June 6, and 1 p.m. Tuesday, June 11.
To view the entire budget and budget message, visit www.jacksonnc.org/finance-department.