Archived Outdoors
Make way for elk (and trout): Haywood, Jackson counties seek designation as state's elk and trout capitals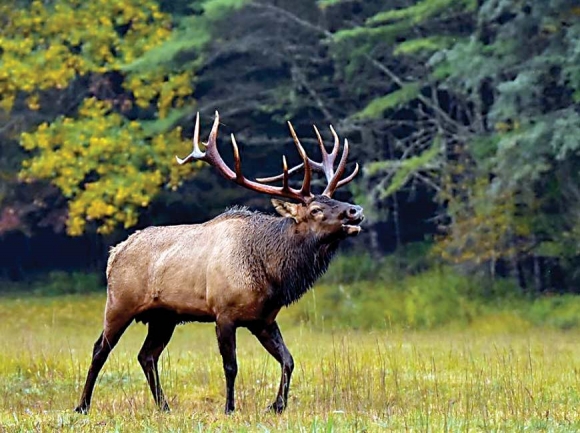 The reintroduced elk have caused a surge in visitation to Cataloochee Valley over the last 18 years. @lookout_photo Photo
If you want to see an elk, the Elk Capital of North Carolina would probably be a good place to look. Pretty soon, that could mean a trip to Haywood County.
"I think it's a wonderful opportunity to promote unique things in our area, our national parks and our beautiful mountains in general," said Rep. Joe Sam Queen, D-Waynesville. "It's a way to use really a symbol of North Carolina to promote our region."
Queen, along with Rep. Michele Presnell, R-Burnsville, has introduced a bill in the General Assembly that would officially designate Haywood County as the elk capital of North Carolina. The bill was filed April 9, referred to the Committee on Wildlife Resources April 10 and reported favorable from that committee May 2. It's now sitting in the Committee on State and Local Government. If favorable, it will be scheduled for a vote.
Queen said he's optimistic the bill will pass the House this week and go to the Senate ahead of the crossover deadline May 9.
"We're looking forward to moving it across the divide this week and on to the Senate for the next few weeks, and hopefully we'll get it to you," he said.
If successful, the title would spur Haywood's ability to market itself as a destination for wildlife viewing and to better tell the story of the elk's extirpation, reintroduction and resurgence.
"I actually think it will be a very strong message for us to put out for a number of reasons," said Lynn Collins, executive director of the Haywood County Tourism Development Authority. "I think it will create more awareness for us, for the elk and consequently I think that will make people want to see them."
Elk were reintroduced to North Carolina in 2001 after 300 years of absence from the state, with the initial herd of 52 released in the Cataloochee Valley area of the Great Smoky Mountains National Park — Cataloochee is located in Haywood County — multiplying to now include an estimated 150 animals living in Cataloochee, Cherokee, Harmon's Den and Maggie Valley. Visitation to Cataloochee exploded after the reintroduction, rising from 65,400 visitors per year in 2000 to nearly 100,000 in 2018.
Wildlife viewing is certainly a driver for visitation to Western North Carolina and to Haywood County in particular. According to a market research report that Magellan Strategy Group prepared for the TDA in August 2018, 82 percent of 792 survey respondents said that they would like or like a great deal new attractions in the area focused on wildlife-related activities. When asked to pick a favorite among the 10 choices given, 18 percent chose the wildlife option, just below the 19 percent that selected the number one pick, outdoor recreation activities.
However, in the same report just 5 percent of 389 respondents said they viewed elk on their recent trip to the Smokies.
Building awareness is key.
"Even people in surrounding areas don't realize what we have available," said Collins.
The N.C. Wildlife Resources Commission stocks more fish in Jackson County each year than in any other county, releasing more than 92,000 fish to Jackson's 4,600 miles of waterways. File photo
The TDA has already been working on elk-related marketing, even without the Elk Capital designation. An elk is prominently featured in the organization's logo, and Collins' staff is currently working hard to organize the inaugural Smoky Mountain Elk Fest, which will be held Sept. 13-15 at the Maggie Valley Festival Grounds.
Before Haywood County could pursue the Elk Capital designation, however, it first had to consult with the reigning Elk Capital titleholder, Maggie Valley.
"They had the designation but they weren't really using it, where the county sees it as they want to take it more seriously and move forward," said Queen. "Maggie's going to be part of that for sure, but I think it makes it a stronger designation from leaving a city to becoming a county designation."
After all, said Queen, the elk don't confine themselves to city limits.
"They do wander about," he said.
Maggie's title was not claimed through an act of law, as Haywood's will be should it pass.
"This is where the elk were reintroduced, so rightfully so we feel like Haywood County should be the elk capital of North Carolina, and if we didn't claim it someone else would," Collins said.
Haywood County isn't the only county in Western North Carolina seeking legislative action to formalize the importance of its non-human residents.
On April 1, Sen. Jim Davis, R-Franklin, filed a bill to declare Jackson County the Trout Capital of North Carolina. The bill touts Jackson's "longest contiguous stretch" of N.C. Mountain Heritage Trout Waters, status as the location of one of the three largest rainbow trout ever caught in North Carolina, and claim as home to the nation's first fly fishing trail, among other attributes.
Jackson County has been trying to claim the Trout Capital title for years, with county commissioners passing a resolution giving itself the title in 2016 as a bill to the same effect worked its way through the legislature. Then-Rep. Mike Clampitt, R-Bryson City, had introduced the bill on the House side in February 2017, and it passed 112-0 on April 20 of that year. However, when it traveled to the Senate it was referred to the Committee on Rules and Operations of the Senate but never received a vote.
Julie Spiro, director of the Jackson County Chamber of Commerce, has spearheaded efforts to gain Jackson the designation.
"Receiving the designation will serve as an enhancement to our existing successful WNC Fly Fishing Trail, now in it's 11th year, and would further complement the branded tourism efforts county-wide," said Spiro. "We partner with the Jackson County TDA to market a variety of fishing experiences for anglers of all abilities with our map and trail, Mountain Heritage Trout Waters, professional guide services and weekly fishing reports. We feel that the designation would be attractive for the entire western region of N.C., as it would only continue to build upon the outdoor recreational offerings and natural resources that are here."
Sylva's Hook, Line and Drinker Festival celebrating the fishing and craft beer scenes will be held for the third year running on Saturday, May 18, at Bridge Park. The free festival features fishing guides, fishing vendors, live music, food trucks, kids activities, craft beer vendors and a pre-festival walk/run at the Jackson County Greenway.
The Jakson County TDA also worked to federally trademark the "Trout Capital" term, an effort at which it was successful. The county's trout-related amenities are espoused on the website created for that purpose, www.nctroutcapital.com.
"It's an incredibly valuable tourism product for us to market," said Jackson County TDA Director Nick Breedlove. "It drives thousands of visitors here a year."