Archived News
The tears of these poor men: Victims of Cowee Tunnel disaster deserve recognition
Wednesday, April 24, 2019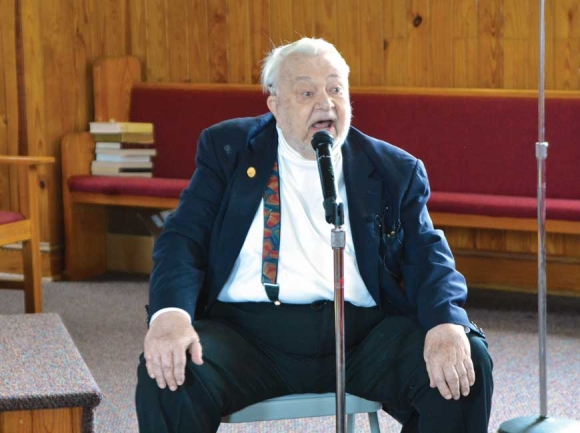 Writer, historian and storyteller Gary Carden speaks to the Jackson County Branch of the NAACP on April 11. Cory Vaillancourt photo
In a region as rich in local lore as this, it may seem like every story's been told to death, including that of the infamous Cowee Tunnel disaster.
North Carolina, though, is also home to the old-world tradition of telling stories through song and has an ample supply of musicians like Balsam Range frontman Buddy Melton and his buddies, Haywood native Milan Miller and Piedmont bassist Mark W. Winchester, who on their 2010 album Songs From Jackson County relate the incident about as well as anyone else ever could.
Anderson Drake was a convict back in 1883
A two-timin' felon with a shady disposition and a troublesome history
Every morning he crossed the Tuckasegee River with a boatload of other inmates
Spent his days on a chain gang building railroads for the state
That much is true — after the Civil War, convict labor was utilized by all manner of industry, including the Western North Carolina Railroad.
Under grueling conditions, convicts like Drake — African-Americans likely not fully deserving of a chain gang sentence — laid miles and miles of railroad track. They were fed well to keep them healthy and working, but other than that, they were little more than easily disposable pieces of state-owned property.
Now the task at hand was digging out a tunnel through the Cowee mountainside
Every swing of the hammer brought him a little closer to the other side
Inch by inch just chipping away through 836 feet
But it never seemed fast enough for the warden 'cuz he had a schedule to keep
Just up from the Tuckasegee River, about 2 miles west of Dillsboro in Jackson County, a 30-man chain gang was working in the area. They slept, chained together, in a boxcar-like shed that was locked each night. In the morning, they were walked down to the river to begin their workday.
The evening before, rain, snow and slush fell from the skies, some of it pooling up in the bottom of the boat. As it sloshed around, the inmates became alarmed, thinking the boat was about to sink. The convicts, still chained together, weren't from the mountains, so they had little experience in fording its sometimes-raging rivers.
On a dreary dark mornin' five days after Christmas the river had overrun
Still the prisoners headed out across the water cuz the work had to be done
They were almost there when trouble came, 10 feet from the bank
The boat capsized, water rushed in, and a few seconds later it sank
Each time one man went overboard, the chains that bound them together in life also bound them together in what was surely a terrifying and painful death.
Nineteen men shackled together met their maker on that day
no they never stood a chance on the icy water as they were swept away
Anderson Drake had saved himself when he heard somebody shout
He jumped back in to the Tuckasegee River and helped the guard get out
As the story goes, Drake rescued a guard named Fleet Foster, but as night fell, Foster discovered he was missing his wallet. Upon searching Drake's belongings, Foster found his wallet. Drake was given 30 lashes with a cat o' nine tails, and another 30 years on the chain gang.
Whether or not Drake did steal Foster's wallet will never be known. Perhaps he did. Perhaps he was framed. Perhaps it was all a big misunderstanding. Either way, Melton's haunting refrain provides the epitaph the 19 deceased chain gang laborers never received.
Cowee Tunnel
They say that you're cursed to this day
Cowee Tunnel
Thanks to old Anderson Drake
Gary Carden's great-great grandfather first came to Western North Carolina from Tennessee looking for work. His family's been here ever since, and Carden, accordingly, has spent most of his 80 years collecting the songs and the stories of this place. He says the Cowee Tunnel disaster is something he's grown up always knowing.
"It was always there. I never questioned the local historians, and right away, it was, 'Gee whiz, 19 men drowned there,' and as far as I knew they were felons all — and dangerous — and they were indeed buried on top of the tunnel and that's what they tell these tourists on the railroad," said Carden.
The Great Smoky Mountains Railroad runs regularly from Dillsboro to Bryson City, and passes through the tunnel with carloads of sightseers.
"They go through the tunnel and say, 'Ladies and gentlemen, there're 19 prisoners buried on top of this tunnel, and this moisture that you see coming down the walls are the tears of those poor men,' and I believed that," he said.
As Carden tells it, 30 prisoners and several guards boarded the boat, utilizing a cable strung across the river to pull themselves across to the work site. The precipitation that had pooled in the boat worried the prisoners, who suspected a hole. As they crowded to one end of the boat, away from the water, it tipped over.
"It scared the hell out of those guys," said Carden. "They got up and began to retreat from it, and the guards tried to force them back and the consequences were that they capsized the boat. When the boat capsized they went zoop, zoop, zoop, zoop, because they were chained together. Every time one went he pulled the next one, and they pulled them all into the river."
Some 10 or 11 were swept downriver and survived, albeit wet and cold, among them Drake. The rest, 19 of them, never had a chance, manacled as they were.
Drake, though, turned around and jumped right back in to the raging Tuckasegee and pulled Foster out.
"It looked like he was a hero until Fleet Foster found he was missing his pocketbook, and he claimed to have gone back to where Drake slept and found his pocketbook. Had 30 bucks in it," Carden said. "He called the men into the yard and gave [Drake] 30 lashes and sentenced him to additional 30 years. So much for rewarding good deeds. That story smacks of all kinds of rotten folklore, and it's probably not true."
The story of their deaths, though, is completely true.
"Well, they left them in the river for at least one day. The river was up, and the water was rough, and they had trouble retrieving them. So they stayed in there one whole day," said Carden. "The next day, they got them out and laid them on the bank and one newspaper gave an account of seeing the bodies laid out, rigor mortis, frozen stiff. They were beginning to pick them up and put them in a sled and he didn't know what they did with them after that, but they put them in the sled and they stacked them in just like cordwood."
This is where Carden's research deviates from the official storyline — the 19 men weren't dragged across the river, and up the mountain, to be buried atop the tunnel.
"I found an old lady who lives across the river, her name's Sutton, and when I made a reference to the convicts that were buried on the top of the tunnel according to tradition and popular myth she says, 'Why t'ain't no such thing, they's buried behind my house.'"
Carden says despite a shotgun-wielding neighbor, he and another man were able to locate — through the use of dowsing rods, no less — three trenches right where the woman said they'd be. He attributes the misunderstanding to the attitudes of the day, which dictated the prisoners should be buried as quickly as possible, and never mentioned again.
"No monument, no marker and no attempt to notify anybody," he said of the ultimate end of the 19 men. "Of course, this was an age when all of those prisoners where unable to read and write, so they couldn't send a postcard and no one could write them. When they arrested them, they vanished. There was not a trace of them left. Somewhere, there was a mother saying, 'What happened to Roger?' And she died never knowing."
Enrique Gomez, Ph.D. and president of the Jackson NAACP, would like to see the victims at Cowee memorialized. Cory Vaillancourt photo
Carden related the story of the Cowee Tunnel disaster to the Jackson Branch of the NAACP at Liberty Baptist Church in Sylva April 11; few had heard it before, but a few had.
"I think it has to do with the whole area and I think everybody living in the area needs to be aware of what has happened," said Selma Sparks, a native New Yorker and African-American who's lived in Franklin for more than a decade. "Some of the history of this area is fascinating, and I think they need to know it, and need to recognize what this means today. I think it needs to be spread further."
Much of the Cowee Tunnel disaster is entangled in the so-called "black codes" of a post-Reconstruction South where African-Americans were routinely denied due process and regularly convicted of petty crimes through a far lower standard of proof than applied to whites. It's entirely feasible that many of the convicts on that chain gang didn't deserve to be there at all.
Even if they did, said Sparks, they didn't deserve to be treated in death the same way they were treated in life — marginalized and without a second thought given to their common humanity. Mothers, fathers, sisters, brothers and children were left only to wonder, as Carden said, what happened to Roger.
Carden said that several years ago, he advanced the idea of memorializing the men through a play, but had a hard time getting it produced.
"That would be a good way to do it," said Sparks. "To make people aware of what happened, and why Black Lives Matter is so important, because for much of the history of this country, black lives did not matter."
Carden also appealed to then-Chancellor of Western Carolina University David Belcher for help.
"When I told him about this, he immediately started calling department heads. He got the English department, the history department, he called the sociology department, called forensics, he told them all, 'I've got a project. I want you people to organize yourself into a crew who will help Gary with this project, to immortalize, or moralize, or acknowledge the existence of these 19 dead men," said Carden. "And he meant it. He was very much given to it."
Sadly, Belcher's battle with brain cancer, to which he ultimately succumbed in 2018, interfered with that effort.
Still, Carden wants to see something materialize to commemorate the men and their tragic death.
"I'd like to see some kind of memorial, and I'd like to see it in downtown Dillsboro," he said. "I don't want it buried up there on top of the hill. Nobody's going to climb that hill to read a little plaque. We need an acknowledgement down in Dillsboro, right there where the railroad is, so it is appropriate and something that acknowledges that these men died in what actually turned out to be a shameful incident of railroad corruption."
Sparks also thinks a monument would be a fitting way to remember the men.
"That would make people aware of them, something to let it be known that their lives did matter," she said. "They tell me a 15-year-old was part of that chain gang, and these were men who were arrested for misdemeanors and they were probably very small because black men were arrested — if you looked at a white woman you could be arrested, you could be hanged — so these are things that are important and I think everybody, including the black population here and around the country, needs to know about these things."
Marie Cochran, also an African-American, made the trip from Georgia to listen to Carden's presentation in Sylva.
"I came to hear Gary because I was part of that early task force, the early group working on documenting the story of the Cowee Tunnel and the inmates that lost their lives in that drowning," Cochran said. "Being an artist myself, we can sense the urgency of a story that's a hundred years old needing to be acknowledged, but it takes time. It takes time for people to see the importance of something, and to see the best way of bringing a story to light. I have lots of optimism because that desire has never died."
She likes the idea of a play as well, but to her it's a larger issue that still has roots in systemic racism.
"It's a disconcerting story that goes beyond this specific issue to the legacy of slavery that's continuing to devalue people who are deemed to be powerless, who don't have a voice," she said. "People who find themselves in the prison system are very often seen as no longer of value in one way, but then their labor is used to make other people wealthy. So I think as people hear this story, it's more than just Western North Carolina folklore."
Dr. Enrique Gomez is a physics professor at Western Carolina University, and has also served as the president of the Jackson Branch of the NAACP for several years now.
"The work of the NAACP historically and at the present time is to bring stories forward, so that they inform our choices, inform our policy and inform the stories we tell about each other about who we are as a nation," said Gomez. "Ultimately, what we need to do is converge into a much more important story, a much more inclusive story that tells about all the different Americas that there are, and all the communities that make up this nation."
Gomez admits the incident was an accident, with no one really at fault; however, what happened in the Tuckasegee River that cold December day is really only a symptom of a larger problem in society — then, and now.
"We want to tell a much more complicated story about the region," he said. "You have convicts that essentially lost their lives. What Carden came and stressed in his research is that these were men that were imprisoned by petty offenses and they were brought here from their homes as cheap labor — essentially, as slave labor."
Like Carden, Cochran and Sparks, Gomez would like to see some recognition of the men beyond the stories circulated by tour guides or musicians like Buddy Melton.
"Certainly a memorial would be wonderful, but the thing about this is that memorials at the end should be conversations that help tell deeper stories about who we are as a people," he said. "Something that will advance the conversation about how we should treat each other and everybody in our community from this point forward — knowing that we need to be mindful of each other, treat each other with respect, and with the dignity that corresponds to being an American citizen and a human being."