Archived News
Health building contract approved in Jackson
Wednesday, April 24, 2019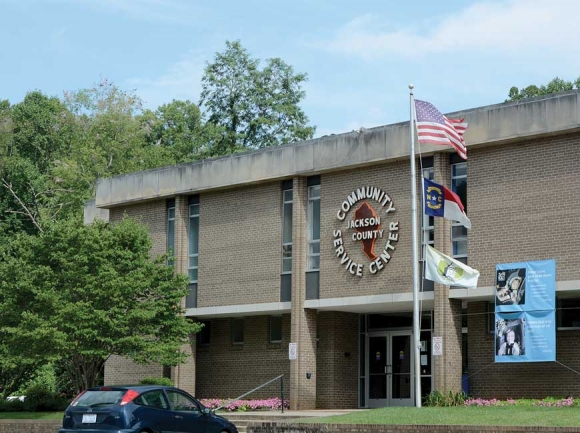 Renovations are overdue at the Community Services Building in Sylva, constructed in the 1960s. Holly Kays photo
Work will soon begin on renovations to the Community Services Building in Sylva — which houses the Jackson County Health Department — following commissioners' unanimous vote April 16 to accept a bid on the project from Western Builders of Sylva and approve a project ordinance.
"It's a great day as a local politician that we can approve a bid to a local company and use local people," said Commissioner Mickey Luker. "A lot of that money is spent right back into our community."
The contract amount totals $6,101,000, the lowest of the five bids the county received on the project, with companies hailing from Hickory, Asheville, Flat Rock, Canton and Dillsboro. Architect Brandon Benzene said that the five bids reflected "healthy bid participation" and that the numbers were all fairly close, which is a good sign.
"A lot of people are busy now, and it's good to see this kind of coverage," he said.
The $6.1 million low bid represents a 15.12 percent increase over the $5.3 million the county had planned to spend on construction. In total, the project is expected to cost the county $7.95 million, a figure that includes other costs such as architecture and engineering fees, furnishings and technology for the renovated building, and costs for the temporary space the health department is occupying while the project takes place. The $7.95 million is 13.56 percent higher than the placeholder number of $7 million the county had used when planning the project in 2017.
County Manager Don Adams said that the capital expenditure plan should still be workable even with the cost increase.
"I think we're still within the ballpark of unencumbered monies and getting things accomplished, but obviously we'll just have to work things out as they come to us," he said. "I believe we do still have the capacity to move forward with this project."
Adams did ask commissioners to consider expanding the project budget slightly beyond the $7.95 million, as that amount allows for only 5 percent contingency funding. Adams said that was a low figure in his experience and that he'd recommend upping it to 7 percent, a $120,000 increase.
However, commissioners opted to leave it at 5 percent, saying that they could always approve additional funding later if it proved necessary.
"There might not be the need for a bigger contingency," said Commissioner Ron Mau. "I don't have a problem with approving this now the way it's written."
Construction is expected to take one year to complete, meaning that the renovated building should be ready in late spring of 2020. That timing works out well given that the county's lease on temporary health department facilities at 154 Medical Loop Road will end in June 2020.