Archived News
Jackson jail death caused by hanging, autopsy says
Wednesday, April 10, 2019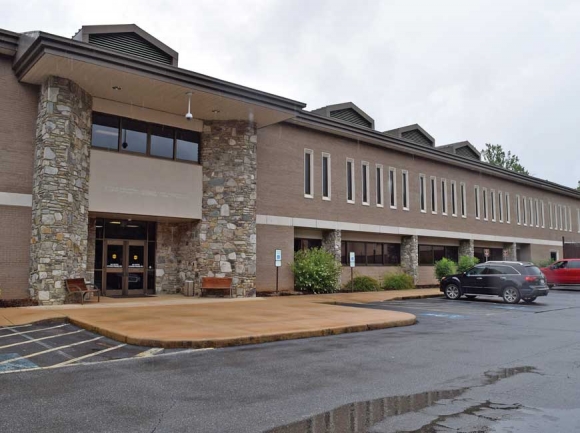 An autopsy has been completed on a woman who died in county custody Jan. 18. File photo
Hanging was the cause of death for a woman who died Jan. 18 while in custody of the Jackson County Sheriff's Department, according to documents provided by the N.C. Office of the Chief Medical Examiner.
Melissa Middleton Rice, 49, was found hanging by a phone cord in the Jackson County Detention Center Jan. 16, the autopsy said, prior to the 7:10 p.m. 911 call in which a detention officer told dispatch that an inmate had collapsed and was not responding. Rice was taken to Harris Regional Hospital in Sylva and then transferred to Mission Hospital in Asheville for further evaluation. Her family was told that the injuries were "non-survivable," and she was made do not resuscitate, the medical examiner's report of investigation said.
Rice was pronounced dead at 1:05 p.m. Jan. 18.
The day that she hung herself, Rice was arrested for trespassing at her ex-husband's home in Cashiers. Following a 9:09 a.m. 911 call, an officer was dispatched to the scene and arrested Rice on 10 charges. The charges included breaking and entering, simple assault, larceny of a motor vehicle, burning personal property and assault on a government official, among others. She was booked at 1:32 p.m.
According to the medical examiner's report of investigation, Rice was taken to the emergency room for evaluation and treatment of a hand injury. Afterward, she was taken to the attorney/booking room in the detention center. It was while she was there, waiting for the magistrate, that she hanged herself with a phone cord, just outside clear range of the monitoring camera, the report said.
By the time she was found, the report said, "she had probably severe anoxic brain injury with organ dysfunction of the respiratory, renal, neurological, immune, heme and GI systems."
Jackson County Sheriff Chip Hall said he could not comment on the documents because Rice's death is under investigation by the State Bureau of Investigation. Hall had requested the investigation, something that SBI Special Agent Kelly Oaks said in a January interview is typical when a person is injured or dies in custody.
"It's an open investigation. I wouldn't have a comment. It would be improper for me to comment on it," said Hall.
Anjanette Grube, public information director for the SBI, said that the bureau has completed its investigation, which now goes to District Attorney Ashley Welch, who will determine whether any criminal charges should result from the incident.
State law mandates that detention officers lay eyes on inmates at least twice per hour, with four checks per hour required for inmates who are suicidal, mentally ill, intoxicated, violent or displaying erratic behavior. According to the report of investigation, Rice's medical history did not include alcoholism, substance abuse, depression, smoking or seizure disorder. While events show that she was suicidal, it's unknown whether she was displaying signs of that condition that would have triggered the more frequent checks.
Hall said department policy is that inmates must be accompanied by an officer if they're being moved from one facility to another, but that if they're contained in, for example, a magistrate's office, the twice-per-hour observation rule would apply.
Jail logs obtained by The Smoky Mountain News in February showed that detention officers did check the pods and booking area twice per hour during the time Rice was in custody.
Rice's death marked the third suicide in five years to occur in the Jackson County Detention Center. Charles "Chuckie" Moose died on Nov. 21, 2014, and Steve Ross died on March 13, 2015. In those instances, visual checks were not performed as required by law, with gaps as large as 106 minutes. The SBI investigated Ross's death, though not Moose's, and Welch declined to file charges.