Archived News
Commissioners pause on Cashiers sidewalk vote
Wednesday, April 03, 2019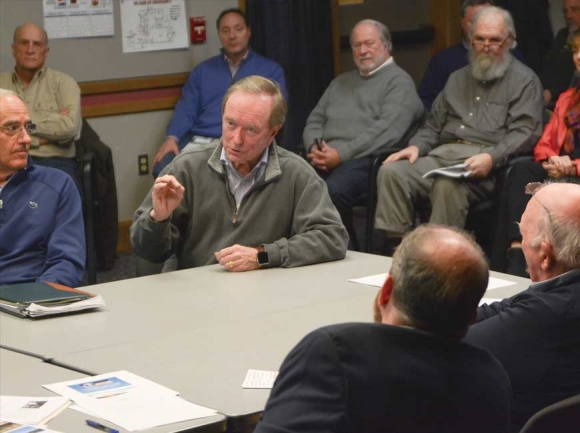 Paul Robshaw, of Vision Cashiers, makes his case to commissioners March 7. Holly Kays photo
The Jackson County Commissioners tabled a vote March 19 that would have given a nonprofit group in Cashiers the go-ahead to get sidewalks built in that community.
Commissioners met with Vision Cashiers in a special-called work session Thursday, March 7, in Cashiers, during which Vision Cashiers co-founder Paul Robshaw laid out the group's ambitious vision for their community.
The group's goals include expanding broadband, preventing crime, creating a health resources park, building new workforce housing, preserving natural resources, supporting workforce development and improving pedestrian safety. Vision Cashiers has made tangible progress toward some of these goals, including sketching out a plan for a workforce housing project and a way to fund it, purchasing property that could one day house a health park and discussing a cost-share approach to installing last-mile fiber for broadband.
But pedestrian safety — and, specifically, sidewalks — is the most immediate issue the group is working on.
"What we're trying to do is create sidewalks and pathways and greenways and make Cashiers into a walkable community," Robshaw said March 7.
The group has mapped out where sidewalks do and don't exist in the community's main loop, which includes U.S. 64, N.C. 107 and Frank Allen Road. Long term, they want to fill in the gaps on that route and also extend sidewalks out to High Hampton Inn on N.C. 107.
The first step in achieving that goal would be to get permission from property owners to build the sidewalks. Property owners would pay for part of the construction cost, and Vision Cashiers would raise money to cover the remainder.
But before it can approach the owners, Vision Cashiers needs to finish working with the N.C. Department of Transportation to get final approval for construction. And before DOT will put in the work required to get that done, said Robshaw, it needs to know whether the county will be willing to take over maintenance and ownership of the sidewalks once they're built.
"We really need your support," said Robshaw. "We're not asking for your money."
If the county won't agree to take on the sidewalks after construction, Robshaw said, Vision Cashiers will have to drop the project.
"We're not going to go to the owners and say, 'You're going to have liability, you're going to have maintenance,' so we're not going to do it if the county doesn't take over maintenance," he said.
During the March 7 meeting, commissioners seemed warm to the idea.
"I think more and more people are starting to realize how important sidewalks are, me being one of them," said Commissioner Boyce Deitz. "I live on Skyland Drive, and you saw very few people walking along the side of the road 10 years ago."
Now, he said, there are people walking to work, even pushing strollers, as cars whizz by. It's an issue that's gained some traction lately, with the town of Sylva planning to invest more than $100,000 to have them built on Skyland Drive.
"It's something for safety if nothing else," Deitz said. "I'm all for this plan."
Chairman Brian McMahan pointed out that, while it's something of an "uncharted territory" for a county to get involved with sidewalk ownership — typically, sidewalks are a municipal asset — Jackson County recognizes that sidewalks are valuable and that very little of the county's territory falls within a municipal area.
"We recognize in Jackson County that being mobile from a pedestrian standpoint is very important, and there's a lot of great benefits," he said. "That's why we have tried to enhance additional greenway opportunities. We recognize that sidewalks can be part of a greenway. We can provide safe access for folks to move from one point to the other in a safe way. It's a good thing to have sidewalks."
But as commissioners prepared to vote March 19 on whether or not they'd be willing to take over sidewalk maintenance in Cashiers, doubts surfaced.
Deitz asked staff to explain just what "maintenance" might entail.
County Manager Don Adams replied that it would include fixing cracks and replacing any broken sections. Planning Director Michael Poston added that maintenance could also include clearing any fallen trees or dealing with grass and weeds overrunning the concrete. County Attorney Heather Baker added that her understanding is that the county would also be responsible for snow removal.
"That's why we want to take these so slow because it's a labor issue as well as a cost," she said.
"I wanted us to consciously know that we are going into what I coined as the 'sidewalk business,'" Adams added.
Once the county accumulates a certain number of linear feet of sidewalk, those assets will require enough maintenance that the county's maintenance department might need some dedicated positions to provide it.
Commissioner Gayle Woody balked at the mention of county-provided snow removal, stating her belief that the owners of the properties where the sidewalks are located should be responsible for clearing snow.
All of that culiminated in McMahan's suggestion that the board avoid voting on anything that day and take some time to hash out exactly what it would be agreeing to.
"You get into a lot of money and a lot of responsibility," said Deitz. "So I think we need to better define what we're going to do, Mr. Chairman."
Commissioners voted unanimously to table the decision for further discussion at a work session planned for 1 p.m. Tuesday, April 9, at the Jackson County Justice and Administration Building. More information about Vision Cashiers is available at www.visioncashiers.com.