Archived News
Split vote establishes health, social services boards in Jackson
Wednesday, March 27, 2019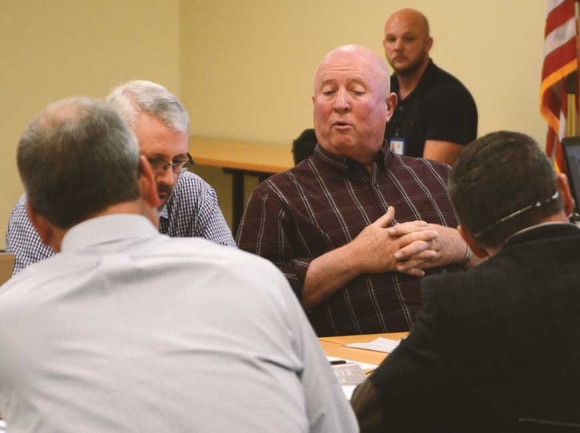 Commissioner Boyce Deitz speaks during a 2017 work session on the possibility of consolidating the county's health and social services departments. Holly Kays photo
In a mirror image of a vote taken seven months ago, the Jackson County Board of Commissioners has voted to reinstate independent boards to oversee its health and social services departments.
The change took place with a pair of votes at the March 19 commissioners' meeting, during which the board approved resolutions establishing a five-member board of social services and an 11-member board of health. Previously, commissioners had doubled as the health and DSS boards following an August 2018 vote — also 3-2, though at that time the board had a Republican majority — to abolish the board established that May to oversee the newly consolidated health and social services departments. The August vote also reversed the consolidation, splitting the department in two again.
Before consolidation — which was approved in January 2018 following a public hearing in which all 11 speakers stated their opposition and was enacted with the appointment of board members in May — the Board of Health met quarterly and the Board of Social Services met monthly. The consolidated board met monthly during its short existence, which commissioners brought to an end after the board's July vote to delay hiring a director until after the November elections. The consolidation issue was contentious, with Democratic candidates running on the promise that they would reverse it if they won a majority.
However, in the seven months after commissioners appointed themselves the health and social services boards, no independent meetings were scheduled to conduct health and social services department business, though commissioners did vote on various health department items in the course of their regularly scheduled meetings.
"Since the Board of Commissioners are our Board of Health, every Board of Commissioners meeting could be considered a Board of Health meeting because Health Department issues could come up at any meeting," said Health Director Shelley Carraway via email. "There are several required things to bring before the Board of Health that I will simply be bringing to the Board of Commissioners as the year goes on."
Commissioners completed Carraway's performance evaluation in December, for example, and on March 19 voted to allow Carraway to pursue a grant application. Since August the board has dealt with various other items from Carraway's department as part of its regular meetings.
Commissioners did not receive orientation training for their new roles as health and social services board members. For health boards, a comprehensive orientation is required within the first year of appointment, Carraway said. Because the governance structure seemed uncertain, that orientation did not happen as quickly as it normally would have. When the new health board is appointed, she said, those members will undergo an orientation to which commissioners will be invited as well.
Every vote related to the consolidation issue — and there have been many over the past two years — has featured lively and at times heated debate. The same was true March 19, but the conversation had an element of tiredness to it, with all present seeming aware that there were few things to say that hadn't already been said at some point.
"We've put too much time into this," said Commissioner Boyce Deitz. "We've wasted a lot of money or time going one way or another."
Commissioner Gayle Woody, who just joined the board in December and had not yet participated in any consolidation-related votes, read a three-page statement to make it clear where she stands. Woody said that she supported reinstating the boards for several reasons — because public hearings clearly showed that citizens wanted it to be that way, because in her eyes the stated reasons for consolidation did not add up and because she believes the experienced professionals appointed to these volunteer boards will be better equipped to make decisions than will commissioners.
"I take just as seriously any appointments I make to boards — who will then make decisions or recommendations — as I would making the decision myself, without the background, training and experience of appointees," she said. "I feel health professionals like doctors, RNs, pharmacists and veterinarians are best equipped to serve our citizens as volunteers on these boards. They are truly governing of the people, by the people and for the people."
"I don't think anybody is unaware of where I stand on this," responded Commissioner Ron Mau. "One, it was never about jobs. Two, never did anybody ever say it was anybody doing a poor job. I was always looking forward about streamlining the structure to be able to have better performance in the future."
With upcoming changes to Medicare and Medicaid, as well as new state laws regarding accountability for social services departments, Mau said, elected officials are a better choice to govern these departments.
"I can't imagine anybody doing a better job and being able to adjust when they have had experience in these fields," Woody responded. "Nobody knows what's going to happen with these changes. Nobody knows that."
But, Woody added before the vote, "I think we can agree to disagree."
The discussion concluded with Mau calling for a vote on the resolution establishing a social services board, joining fellow Republican Commissioner Mickey Luker in voting no. Democrats Woody, Deitz and Chairman Brian McMahan voted yes. The vote broke down the same way minutes later when the board voted to establish the board of health.
The resolutions created the boards but did not fill their seats, so commissioners will continue to oversee the departments in the meantime. Commissioners are responsible for appointing all board of health members and two of the five board of social services members. Two more social services board members are chosen by the N.C. Social Services Commission, and the four appointed members together pick the fifth member.