Archived News
Indoor pool survey coming to Jackson
Wednesday, March 27, 2019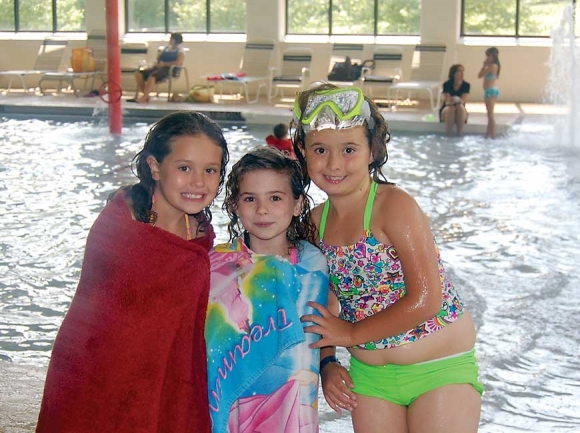 Waynesville town residents have long enjoyed a public indoor pool. Jackson commissioners are contemplating asking voters if they would pay higher taxes to have such an amenity in Cullowhee. SMN photo
Jackson County residents will likely be asked to participate in a survey this spring gauging their support for an indoor pool at the Cullowhee Recreation Center.
In 2013, an update to the county's recreation master plan showed overwhelming support for a pool — 86.4 percent of 638 respondents in that survey felt that a centrally located indoor swimming pool was "important" or "extremely important" — but the 2013 survey did not dig into whether that 86.4 percent would be willing to pay higher taxes as a result. It did ask respondents whether they would support funding for a pool — 86 percent said they would — but the question didn't specify whether funding above and beyond current taxes would be required.
"If I was thinking 'support funding for' I might think, 'Sure, I want some of our general fund to be used for a pool,' but that's not really what we're asking," said Commissioner Gayle Woody during a March 12 work session where the upcoming survey was discussed. "We want to know if they're willing to pay more taxes. If you own property, are you willing to pay a higher tax so we can support a pool? I feel that's a real key question."
Building a pool would cost millions, and ongoing operational and maintenance costs would be significant. If the public wants a pool, the county will need to take out a bond to pay for its construction and raise taxes to pay the debt service and account for ongoing costs.
Based on estimates from a 2015 report Ames, Iowa, had done to look at costs and maintenance for various types of indoor pools, Commissioner Ron Mau estimated a property tax increase of 1.5 to 2.5 cents per $100 of value would be needed to build the structure on a 20-year loan and cover operating expenses.
Planning the survey
Commissioners are hoping to get a question on the November 2020 ballot asking voters to approve a bond referendum for the pool. That's still a ways off, but the ball has to start rolling now in order to make it happen. The county needs to request that the question be added to the ballot about five months in advance of the election and requires an additional six months or so beforehand to conduct the studies necessary to determine just how much it would cost to build and operate the pool — that number will inform the size of the bond requested.
Because the county is limited in the language that can appear on the ballot — the question can't say specifically what the bond will fund — it will also need time to inform voters about the facts surrounding the question they'll see at the polling place.
While three commissioners favor a survey as a first step to the referendum process, the remaining two don't feel the same way.
"If people don't want to have their taxes raised, the ultimate survey is at the ballot box, and that's where that gets answered," Mau said.
"What if you did a survey and just hypothetically, what if 90 percent of the people said, 'No, I don't want to see a tax increase?'" responded Chairman Brian McMahan. "Would you then want to move forward with putting it on the referendum to have them tell you that again?"
"The way you answer that question is to put it on the ballot," Mau replied.
Commissioners then went on to talk about the particulars of the survey — how surveys should be distributed, what should be asked. Commissioner Boyce Deitz stressed that the county should take pains to distribute the survey to people representing a diversity of geography and interest within the community. They shouldn't just be asking rec center members, for instance. Woody pointed out that folks at the senior center would likely have relevant opinions to share, since a pool could be useful for therapy and low-impact exercise.
McMahan said that the survey questions should allow the county to build a picture of who each respondent is. For instance, he said, the survey should definitely ask whether the respondent owns property in Jackson County, because property owners would the ones most affected by a tax increase.
"I think we ought to look strongly at how we question that and I think we ought to look strongly at who's asked," said Deitz.
County Manager Don Adams told commissioners he would start working on survey questions and bring them for review to the commissioners' next work session, slated for 1 p.m. Tuesday, April 9. Then the survey can be deployed for the month of May with results available in June. It will be done in-house at no cost to the county.
Debating the process
Mau still wasn't convinced that the survey was a good idea, questioning whether the other commissioners were trying to avoid putting the question on the ballot.
"Are we trying to survey to find out if it's going to pass or not, or are we going to put it on the ballot and find out what happens?" he asked. "I'm confused. I don't get doing a survey for something we're talking about putting on the referendum when we already have all the data we have. Do you want it to go to referendum?"
"We don't have all the data we need," replied Woody.
"There's two sitting there that says, yes, put it on the ballot, and there's three sitting here right now that need to have their mind made up, so if it takes a survey for one of us to side with you, I think you want to support the survey," McMahan told Mau.
"This is kind of like the health department that got designed by Ron Smith 10 years ago and then by Odell (Thompson) and then by Ron Smith again," said Mau. "We keep doing things multiple times."
Mau compiled a timeline of discussions surrounding the indoor pool, which began in 1991 when an indoor aquatic center was first included in a parks and recreation master plan. The pool continued to appear in master plan updates in 2005 and 2013, as well as in a county comprehensive plan approved in 2017.
"We don't have all the data that we need," Woody reiterated. "We don't."
This is the county's second attempt to get a pool bond referendum on the ballot. The board sitting in 2017 and 2018 considered the issue, in October 2017 instructing Adams to look for an architectural and engineering firm to do some pre-design work and figure out how much the pool might cost. But when the contract came up for a vote in December 2017, commissioners voted to table it, having second thoughts about the fact that funding the study would lock them into locating any future pool at Cullowhee.
The issue returned to the agenda for Jan. 29, 2018, and once again commissioners voted to table it, effectively killing the effort for the 2018 ballot, which was when commissioners had hoped to hold the referendum. In both votes, Deitz, McMahan and then-Commissioner Charles Elders voted to table, with Mau and Commissioner Mickey Luker opposing the move.
It appears that commissioners have come to agree that the pool should be built in Cullowhee, if at all. McMahan told the board that the recreation master plan mentioned Cullowhee, and Woody stated her support for the Cullowhee location. Michael Hopkins, assistant director for Jackson County Parks and Recreation, said that the recreation center in Cullowhee was designed with a pool expansion in mind.
"The Cullowhee site has millions of dollars in advantage over other sites," said Mau.