Archived Arts & Entertainment
Bringing the word to the people: Frank Stasio of 'The State of Things'
Wednesday, March 13, 2019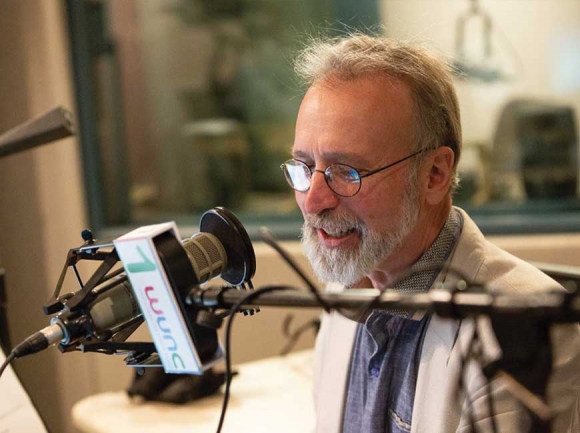 Frank Stasio at the WUNC studios. Ben McKeown photo
In terms of journalism and media in North Carolina, very few names are as recognizable as that of Frank Stasio. Host of the WUNC (North Carolina Public Radio) weekday program "The State of Things" (based out of the American Tobacco Historic District in Durham), Stasio and his platform have become a beacon of light for politics, culture, history and societal dialogue across the Tar Heel State.
On a recent visit to Western North Carolina, Stasio swung into the studios of Blue Ridge Public Radio (BPR) in downtown Asheville for a pair of on-air programs, and also to meet the people and see the places that make up the natural and artistic beauty of our own backyard.
It's all in an effort to give a face to his signature voice, a move many journalists — near and far — are also aiming to do nowadays, a conscious decision to get more involved in our communities, to sincerely and genuinely ask what more can, well, be asked from us as journalists, and also from the general public, too.
Following a live episode of "The State of Things" last Thursday at BPR, Stasio sat down with The Smoky Mountain News to catch up about not only where we're at as a society, but also what underreported issue is currently of the utmost importance in our state.
Smoky Mountain News: In the digital age of fake news and social media, what has remained the professional and social responsibility of a journalist, and what has changed, in this landscape?
Frank Stasio: I mean, there's a long answer to that. But, the short answer is that you're always reflecting some form of truth. But, there's a foundation under your question, which is — every fact doesn't always add up to truth. And yet, we're always responsible for reporting the truth as we knew it fact-by-fact. Was it 2018 or 2017? Was it March or February? Those facts matter. Getting those wrong is a mistake, and if you do it deliberately it's unethical. To that extent — making sure facts are objectively true and verifiable as reported — that's always been our responsibility. But, storytelling is much deeper and more complicated than that. Storytelling is always about using facts in service of a larger image, to create a story, and that story is going to be received in many different ways. And that's where the subjectivity — both of the storyteller and the listener — is important. Journalists have always had a responsibility for understanding how stories work and how their facts are going to work to serve a certain set of images.
SMN: So, how do we navigate that now?
FS: Because we speak truth to power, this often leads people to think we're biased. If one party happens to control the apparatus, then it would look like you're "anti-that party" because your scrutiny, your gaze falls on them in the way they're conducting themselves. And it feels to somebody else thinks you're picking on them.
SMN: And they don't agree with you, so then "you must be wrong."
FS: Right, "you must be wrong" or you've got an ax to grind. "Why did you accuse this individual of holding a closed meeting? Because they're a member of 'that party,' you must have something against 'that party.'" Well, no, they're in power and they're responsible and accountable to us, and when they're not, we have to call them on it. So, what happens is that the people who like you say you're objective and the people who don't say you're biased. Every journalist needs to care about how it comes out. So, what do you do then? That's the big question. What do you do when you really care about how it comes out, but know that everybody out there has a right to their opinion and needs to have the best amount of information to form their own judgment, and that my deeply held opinions and passions might just be wrong and misplaced? All of that has to be brought to the table. My awareness of all of that and my deep respect for every listener out there, whether I vote the same way that they do or not. My respect for their ability to come up with a better answer than I have is what guides the way I put those facts together and shape the conversation of a story.
SMN: What is the most underreported topic in the state?
FS: I think the whittling away of democracy over the past eight years. In terms of the ways in which voting laws have changed that have actually repressed the vote. Gerrymandering. These things have been found by the courts to repress the vote, and when you repress the vote, you're limiting democracy. I think that's a very scary proposition, to see that we're willing to give up or whittle away at democratic institutions. You can't report on that enough — to raise the alarm that we're losing something very valuable, at least as the courts see it. And the courts have found that this is true. And that's democracy — if you take that away, and our chances are very slim for a good future.
Editor's Note: To listen to the entire conversation, visit www.youtube.com/smokymountainnews. To listen to "The State of Things" from WUNC (www.wunc.org) in Western North Carolina, tune into Blue Ridge Public Radio weekdays at noon by flipping the FM dial to 107.9 or 88.1 (Asheville), 101.5 (Brevard), 99.1 (Bryson City), 103.1 (Hendersonville), 90.5 (Mars Hill), 98.3 (Waynesville/Hazelwood) or stream it at www.bpr.org.