Archived Reading Room
Reading aloud is good medicine for all
Wednesday, February 20, 2019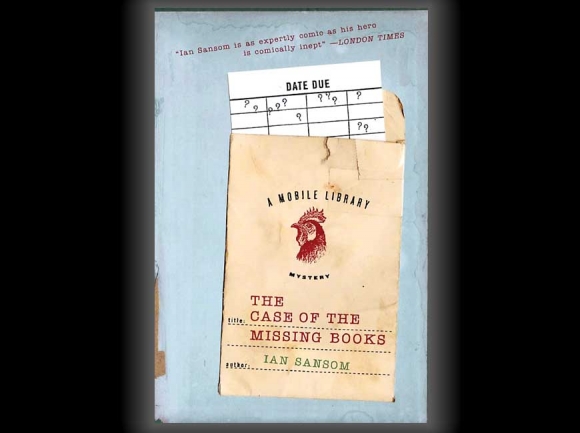 Here are two books about books, one aimed at amusement, the other at instruction. Or so they were written and published. Personally, I found them both amusing and instructive.
First up is Ian Sansom's The Case of the Missing Books: A Mobile Library Mystery (Harper, 2006, 329 pages.) Here Sansom introduces Israel Armstrong (that last name becomes more ironic and hilarious as the story progresses), a passionate bibliophile "who read Jack Kerouac before he was in his teens, and who by the age of sixteen had covered most of the great French and Russian authors, and who as a result had matured into an intelligent, shy, passionate, sensitive soul, full of dreams and ideas, a wide-ranging vocabulary, and just about no earthly good to anyone."
In this first novel of what has evolved into several Mobile Library Mysteries, Israel — he is half-Jewish — arrives in Northern Ireland from England in hopes of fulfilling his greatest ambition: to become a public librarian. For several years, he has worked various posts, most of them having to do with books, but has now won a position as head librarian in Tumdrum, a dreary, wet, backwater town sporting a collection of eccentrics who might upstage the Kardashians.
Unfortunately for Israel, the town council has just closed the library's doors, perhaps permanently, and he is given the task of refurbishing and operating a deathtrap of a bus as a bookmobile. In addition, all of the library's 15,000 volumes have disappeared from their shelves. Israel is ready to call it quits, but Linda Wei, Israel's direct superior, convinces him to stay at his post and track down the presumably stolen volumes.
Staying on the job proves a difficult proposition. Israel finds himself sleeping nights in an unheated chicken coop, punched or threatened several times for inadvertently insulting the locals, and stripped of all his possessions — his wallet, his cash and credit cards, even his clothes — in a series of comic misadventures. Meanwhile, his girlfriend back in England has cut him dead.
Eventually, of course, the town folk rally round Israel. Ted, a tough older Irishman in charge of the bus, lends a hand when Israel goes on an accidental drunk after throwing back a local bombshell ominously named The First and The Last. Though they quarrel, Linda Wei becomes one of his chief supporters, mostly, one suspects, to keep him from jumping ship and returning to England. Even George, the hard-nosed woman who has deposited him in the chick coop, warms toward the newcomer.
For those experiencing their own disasters, here is a story that should offer a few smiles. Ian Sansom brings a sharp wit, an eye for broad comedy, and a gift for language to this story of Israel Armstrong and his plague of woes and mishaps.
Here is a word-picture that should convey, in a long single paragraph, a fair snapshot both of Israel Armstrong and the gifts of his creator:
The drinks stood on the bar staring at Israel accusingly, like miserable little orphaned children waiting to be taken home, and the raven-haired barmaid and Elder and Sean were looking at him too, and Israel reckoned he'd probably toned up pretty well recently on all the whiskey he was drinking back at the farm, and so he smiled manfully at them all and steadied himself on the bar-stool and tipped back his head, and drank down the First and Last in one gulp — hoping to avoid the throat-scorching — and it worked, his throat was unscathed, and the on-lookers turned away to get on with their business … until suddenly the drink hit his stomach and Israel wished he'd sipped because it felt like something had ruptured or exploded down there, causing havoc, the fumes and the fall-out quickly working its way back up his throat, and once again robbing him of the powers of speech. The second Guinness was a great blessing though, and the third, and by the time Ted arrived Israel was four sheets to the wind, and was treating everyone at the bar to his favorite Jewish jokes.
•••
Today was not a banner day for your reviewer: gray skies, a butcher-blade February wind, an approaching deadline rewriting Latin lesson plans for a homeschool outfit, and a lingering cough. Feeling about as enthusiastic as a cat in the rain, I went upstairs to ask my daughter a question, whereupon her 2-year-old snatched up a book nearly as tall as himself, gripped me by the finger, and pulled me toward the door to my basement apartment, all the while saying "Book. Book."
For 15 minutes, I shoved my ugly mood aside and read to him from Jan Brett's Snow Treasury. He was unhappy when I carried him upstairs, put him to the floor, and told him I had to get back to work, but then spotted his brother playing Legos and toddled away, bobbing back and forth, as usual, like an old man after an evening of some serious drinking.
Which brings me to The Enchanted Hour: The Miraculous Power of Reading Aloud in the Age of Distraction (Harper, 2019, 279 pages). Here Meghan Cox Gurdon reminds us of the power and beauty of reading aloud in our Age of the Screen. In chapters like "Reading Together Strengthens the Bonds of Love," "Turbocharging Child Development with Picture Books," "Reading Aloud Furnishes the Mind," and more, Gurdon makes her case: "The time we spend reading aloud is like no other time. A miraculous alchemy takes place when one person reads to another, one that converts the ordinary stuff of life — a book, a voice, a place to sit, and a bit of time — into astonishing fuel for the heart, the mind, and the imagination."
Maybe my grandson felt some of that alchemy as I read aloud to him. Certainly some sort of magic was at work.
As Gurdon points out, the greatest recipients of reading aloud are the very young and the adolescent. Yet she also offers cases where reading books, stories, and poetry to others — our loved ones while on a car trip, the elderly, our friends — creates a bond of love and fuels our minds.
That quarter hour spent with my grandson, I realized later, shifted my mood for the day. For those few minutes, I stepped away from my mostly frivolous problems, and gave myself to a kid with some words and pictures about snow and winter.
Good medicine. I need to keep it in mind.
(Jeff Minick is a writer and teacher. This email address is being protected from spambots. You need JavaScript enabled to view it.)