Archived News
Jackson County chews on $12 million Green Energy Park campus proposal
Wednesday, February 20, 2019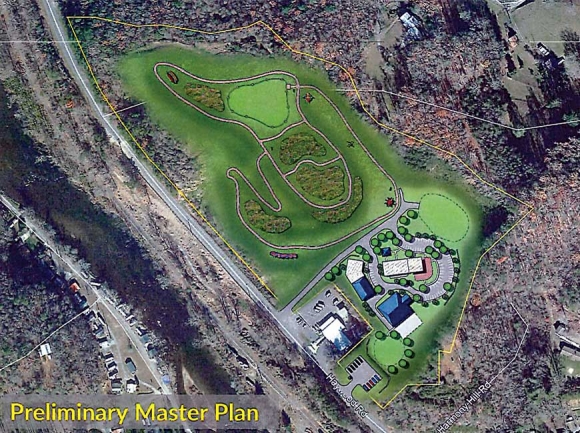 The master plan includes a walking path and dog park atop the old landfill and a new animal shelter and innovation center alongside the existing artisan studios. WithersRavenel graphic
Last week Jackson County commissioners got their first look at what a re-imagined Green Energy Park campus might cost, with the engineers at WithersRavenel offering a plan that would total $12 million over three phases.
As envisioned, the plan would transform the Green Energy Park — a facility in Dillsboro that houses glassblowing, blacksmithing and pottery studios fueled in part by methane gas from the old landfill next to it — into a multi-functional campus featuring a new animal shelter, innovation center to be operated by Western Carolina University, event space, walking path and dog park, in addition to existing artist studios.
"This is designed to have people interacting here," said County Manager Don Adams during the Feb. 12 work session when estimated costs were presented. "I can envision people picnicking here, people walking up here. Especially if we have the innovation center, there's a mix of different people coming in here interacting not only with the animal rescue center itself, but I believe it's going to expose our artisan base to a new population group."
The discussion originated with a concept WCU put forth last year proposing to partner with the county on the innovation center, which would be a place for students and community members to combine art with engineering and design to develop new creations, also hosting college, community and K-12 classes. The concept would have the county paying for the facility and the university funding staffing, supplies and operations at the innovation center.
"WCU is excited to partner with Jackson County as it develops the Green Energy Park," said Arthur Salido, Ph.D., who serves as WCU's executive director of community and economic engagement and innovation. "We understand development will occur in stages and we will work closely with the county to create learning opportunities for students and faculty and business-development resources for entrepreneurs and companies."
The county has long needed a new animal shelter as well, and university and county leaders thought that placing that facility on the same campus as the innovation center would help bring in more volunteers to help with the animals. The property's relative isolation from neighborhoods and urban areas was also a mark in its favor.
"It's hard to locate an area for an animal shelter, whether it be zoning or issues of that nature or trying to find the footprint itself," said Adams.
The proposed site includes a 17,000-square-foot concrete pad, with plenty of space to offer animals both indoor and outdoor enclosures as well as the potential for future building expansions if needed. Animal rescue volunteers present at the work session told commissioners that they were excited about the proposal but hoped the animal shelter would remain the priority.
"It would be amazing," said Pat Thomas, a longtime animal rescue volunteer who headed up a 2015 task force evaluating animal rescue needs for the county. "I'm trying to visualize what this would be for our community. The only thing I would ask is as you're evaluating the situation what the priorities are. The innovation center sounds great, but I just hope it doesn't take away from anything else."
Adams told commissioners that the total cost isn't set in stone — his goal in engaging WithersRavenel was to get a solid estimate for site preparation, with the costs of the buildings just loose placeholders. Costs outside of the buildings themselves are estimated to total roughly $5 million.
"If we wanted to proceed forward with a true final design, then a next step for me is an architect," Adams told commissioners.
An architect could give a true estimate of the cost to build, which could well be lower than the numbers included in the plan. The master plan uses $3.9 million as the estimate to construct the innovation center, a total based on $300 per square foot, but Adams believes that the building wouldn't cost anywhere near that much. The facility would basically require a combination of warehouse and classroom space unlikely to reach $300 per square foot, he said. The plan uses $3 million as the placeholder for the animal shelter.
"If we're going to get phases one, two and three then you've got to be willing to talk about the $7 or $8 million that's been presented," said Adams. "If that's out of the realm of conversation then we've really got to start over — $8.1 million gets us to the point of a pad ready for the innovation center."
Under the three-phased master plan, the project would begin with moving the staffed recycling center from the top of the 19-acre property down to a to-be-constructed pull-off from Haywood Road. Doing so would require moving the kilns from their existing location and building a retaining wall 50 to 60 feet high — an estimated cost of $1.5 million with a 20 percent contingency budget for a total of $1.8 million.
For the second phase, crews would demolish the existing greenhouse and the steel frame on the concrete pad. The animal shelter would then be built on the pad. An event plaza would be constructed, as well as a circular drive, parking and site preparation for the innovation center. The phase would come to an estimated $4.4 million, or $5.3 million including contingency.
The project would conclude with phase three, consisting of building the innovation center and installing a walking path, pollinator gardens and dog park atop the old landfill, a total of $4.2 million and $5 million including contingency. Of the $4.2 million base cost, the innovation center estimate comprises $3.9 million.
The report from WithersRavenel assures commissioners that the concept of a campus containing an innovation center, walking paths and animal shelter together with artisan studios is possible on the site proposed. The next question is whether commissioners want to commit funds to carry out that vision. They'll likely discuss their thoughts during a budget retreat planned for 1 p.m. Thursday, Feb. 21, at the N.C. Center for the Advancement of Teaching in Cullowhee.
"I think we need to take it and study it, think about it, ask questions, talk to folks in the community and get some reactions, and then we'll bring this back to our next budget work session and detail it even more," said Commission Chairman Brian McMahan.