Archived News
Jackson to re-examine health, DSS organization
Wednesday, January 23, 2019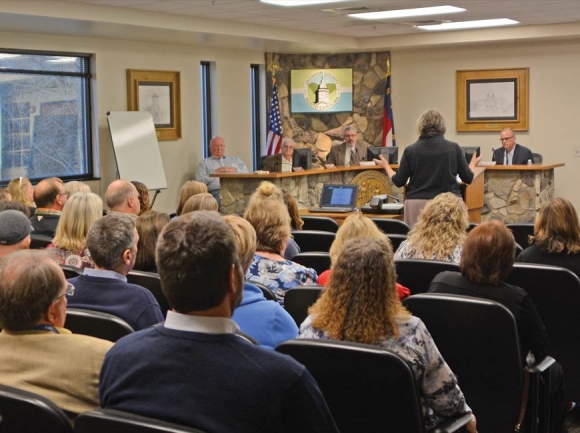 People speak out against consolidating the health department and the department of social services in Jackson County during a commissioner meeting last year. File photo
With the one-year anniversary of Jackson County's decision to consolidate its health and social services departments looming, commissioners are now talking about returning to the way things were before 2018.
"Something I felt very strongly about is moving us back to where we used to be with the two independent boards," said Chairman Brian McMahan during a Jan. 15 work session.
The vote to consolidate happened on Jan. 29, 2018, after a public hearing that drew 11 speakers who were unanimously opposed to the idea. At the time, the board had a 3-2 Republican majority — Republican commissioners Ron Mau, Mickey Luker and Charles Elders supported consolidation, saying that it would streamline oversight of the departments and allow for improved service delivery and monetary savings.
Democrats McMahan and Boyce Deitz, however, had consistently opposed the proposal, saying that the improved service delivery and savings the Republicans spoke of were unlikely to occur and that the whole thing was essentially a case of trying to fix what was never broken.
The new board that was appointed to oversee the consolidated department also had issues with the move, and when it voted in August to delay hiring a new director until after the November elections, the Republican majority voted to abolish the consolidated board, separate the departments once more and place commissioners as the new governing body.
The issue was a prominent feature of the 2018 election season, with Democrats pledging that they would reinstate the separate departments with their independent boards if they gained a majority, which they did — McMahan and Deitz retained their seats, and political newcomer Gayle Woody ousted Elders.
"I know we all recognize where we're at right now is where we don't want to stay with oversight of DSS and the Health Department as the county commission board being the oversight board," McMahan said Jan. 15.
"I agree," said Woody. "I think that's an important issue. Thank you."
McMahan asked county staff to start looking into what the process would be to bring the issue up again — what sorts of ordinances might have to be enacted, when public hearings may be required and related issues.
The two Republican commissioners in attendance, Mau and Luker, did not say anything during the discussion. However, over the past year they've maintained their support for a consolidated department — after the August vote to unconsolidated the departments and place commissioners as the governing board, Mau hinted that he saw that structure as a temporary solution, saying that "for now it's wait and see how this will work, and we'll move on from there."