Archived Opinion
My personal happiness project for 2019
Wednesday, January 02, 2019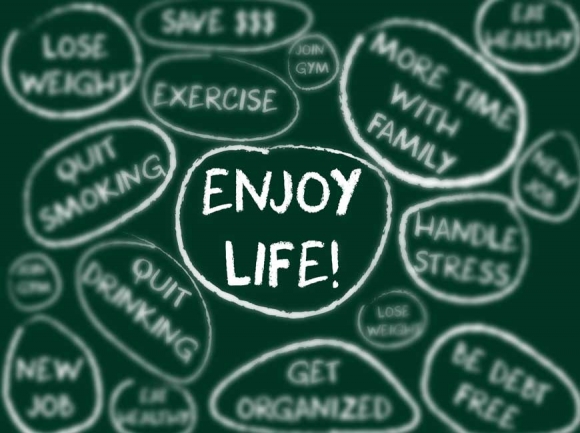 What is a New Year's resolution anyway? Just a statement we make aloud while toasting friends and family with a flute of champagne? Apparently, over 30 percent of Americans make resolutions with every intention of seeing them through, but only 8 percent actually succeed. A while back I gave up the tried and true ritual of resolutions. I rarely achieved mine, which always left me feeling guilty and defeated.
In 2016 and 2017, I remember making a statement on Dec. 31 like, "I hope this year is better than the last." It sounds like a pathetic goal but to be honest, life was pretty stressful during those years and my hope was truly to have a better year than the one before.
As I reflect, I can say that 2018 was a really good year for me. It feels like I'm finally emerging on the other side of a dark place. Dealing with my mom's death and my divorce at the same time was heartbreaking and lonely, but it certainly made me stronger as an individual and more grateful as a person.
Recently I've been thinking a lot about "happiness" and what the concept really means. What is happy? It's not the white-picket fence life we dream of as little girls. I had that life for a while and it didn't bring me true happiness. Happiness doesn't necessarily concern money or material items. People who have these things in abundance still are not happy. It's also not being thin and beautiful. Individuals who've been overweight for years finally shed those extra pounds only to realize being thin doesn't equate to being happy. Similarly, I know plenty of beautiful people who struggle with significant melancholy or feelings of isolation.
Several years ago, I read a book called The Happiness Project by Gretchen Rubin. As a lawyer turned writer, Rubin realized one day while riding a city bus that life was flying by at warp speed. She wasn't sure if she was embracing it enough or if she felt happy, despite a strong marriage, two healthy daughters and a career she loved. She decided to spend a year test-driving scientific research, the wisdom of the ages and lessons from pop culture about how to be happy.
When I initially read Rubin's book, I wasn't at a place to fully appreciate her wit, advice and innuendos. In fact, I remember feeling almost envious of her because I wasn't even at a good baseline state to undertake something like a happiness project. But now, I feel like I am.
Before embarking on her happiness project, Rubin researched the concept of happiness. She consulted books on great religious leaders, writers, artists and philosophers. She read scholarly journals and took copious notes. One interesting stat she offers is this: in the determination of a person's level of happiness, genetics accounts for about 50 percent; life circumstances such as religious affiliation, income, marital status, ethnicity, etc., accounts for 10 to 20 percent; and the remainder is a product of how a person thinks or acts.
After learning this, she concluded that while everything wasn't under our control, it was possible to bring oneself more happiness through action items or intentional changes in behavior. She decided to focus on one topic per month during a year's time; this gave her 12 slots to fill. She sat down one day and came up with 12 concepts or resolutions to focus on. They were vitality, marriage, work, parenthood, leisure, friendship, money, eternity, books, mindfulness, attitude and happiness.
She also came up with 12 commandments to help encourage her along the journey. These were:
Be Gretchen.
Let it go.
Act the way I want to feel.
Do it now.
Be polite and be fair.
Enjoy the process.
Spend out.
Identify the problem.
Lighten up.
Do what ought to be done.
No calculation.
There is only love.
Unlike Henry David Thoreau's move to Walden Pond or Elizabeth Gilbert's book Eat, Love, Pray, Rubin wasn't taking a huge, dramatic leap to find happiness. No, her goal was to work on the everyday, to nurture and bolster the relationships and skills she already had. Each month she assigned herself action items that corresponded with the monthly resolution. For instance in January, she focused on vitality but her action items were: go to sleep earlier; exercise better; toss, restore, organize; tackle a nagging task; and act more energetic. Not surprisingly, her project worked for her and the book has been an inspiration to many.
Your happiness project and mine would be different than Rubin's because hers is based on her personality, needs, likes, dislikes, etc. Just like ours would be based on our own wants, goals, needs and traits. Nevertheless, we could certainly use hers as a model or template to create our own.
I think most would agree that a little more "happiness" would make life more enjoyable. As we begin 2019, I look forward to a year of new memories and adventures, but I also plan to take action and create a life that feels manageable, relaxing and most importantly, happy.
(Susanna Barbee is an editor, writer and social media specialist for Mountain South Media, Smoky Mountain Living magazine and The Smoky Mountain News. This email address is being protected from spambots. You need JavaScript enabled to view it.)