Archived News
Sylva shakes up TWSA board
Wednesday, December 19, 2018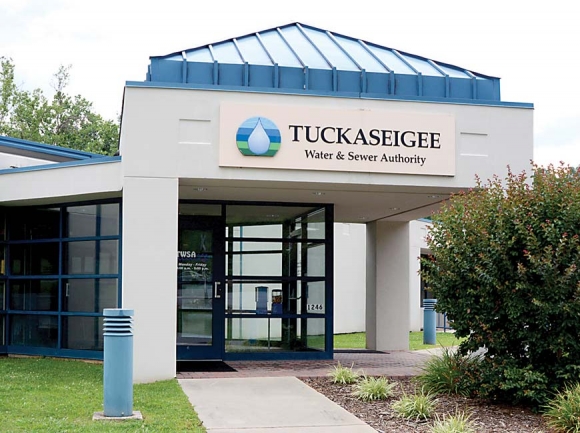 With three appointments, Sylva has the most representation on the Tuckaseigee Water and Sewer Authority Board. Jackson County has two appointments, Dillsboro and Webster each have one, and Western Carolina University has one non-voting member. Holly Kays photo
Sylva commissioners voted Dec. 13 to remove former mayor and longtime Tuckaseigee Water and Sewer Authority board member Brenda Oliver from TWSA, citing a desire for "fresh" and "out-of-the-box" ideas on the board.
At the meeting, commissioners said that the decision was not intended as a censure of Oliver, who, said Commissioner David Nestler, "has been an excellent representative for Sylva on that board." However, commissioners said, they wanted to see greater representation from the business community and overall change on a board that has met criticism from those who feel that TWSA has done more to impede economic development than to promote it.
The unusual move was brought on by another, more routine change to the TWSA board. Commissioner Harold Hensley's third term on TWSA expires Dec. 31, and because the authority's bylaws state that members can't serve more than three consecutive appointments, the town had already been planning to replace Hensley. Three people applied for the position — attorney Jeffrey Goss, restaurant owner Mick McCardle and woodworker Kirk Shufelt.
Moves at a meeting
Hensley wanted to see Town Manager Paige Dowling replace him on the board. Dowling did not fill out an application but said during a November board meeting that she would be willing to serve should commissioners ask her to.
"She's been born and bred in Sylva, and I think everybody knows from the job she's done with the town she'd do an excellent job with TWSA," said Hensley.
However, Hensley was the only commissioner who ultimately supported the move, with Commissioners Mary Gelbaugh, David Nestler, Greg McPherson and Barbara Hamilton voting against it.
"I agree you would make a great appointment to the TWSA board. However, I feel like your responsibilities for the Town of Sylva are full, especially in light of what's happening with (N.C.) 107 this year," Gelbaugh told Dowling at the meeting. "We're going to have a lot of other meetings for you. I feel like whenever there's a special issue at TWSA that requires your attention, you're going to show up, whether you're on the board or whether you're in the audience with public comments."
Nestler then said that he was "very pleased" that the town received three applications for appointment to a board that "can be kind of dense and boring at times," saying that he was especially impressed with McCardle and Goss — so much so that he hated to turn either of them away. That's when he suggested that the board appoint Goss to Hensley's seat but also remove Oliver from the board, replacing her with McCardle.
The suggestion required a series of motions to become effective. The board first voted to appoint Goss, an action that was recorded as a unanimous decision despite Hensley declining to raise his hand for or against. State law prevents board members from abstaining except in a very narrow set of circumstances, with a failure to vote counted as a yes.
However, Hensley was more vocal when Nestler moved to end Oliver's appointment. Her third term would have ended Dec. 31, 2019, after which she would have had to rotate off the board.
"Brenda has been an excellent representative for Sylva on that board and this is not due to any shortcoming of her," said Nestler. "It's really more because I think we need some enthusiastic, fresh, young ideas on this board."
"I disagree strongly with that," Hensley replied. "Brenda Oliver has put in 30 years with this town and she's appointed by this town to serve on this board. She ought to at least get the dignity to finish her term."
Further, Hensley said, Sylva should appoint somebody who lives in town limits. While McCardle owns Lulu's on Main downtown, he doesn't live in Sylva.
McPherson was the only other voting board member to comment before the vote.
"I agree with David (Nestler) in that we really need to have some people on this board that are business owners, that are looking out for businesses, especially with what's going to happen with 107. There's got to be some out-of-the-box new ideas," he said.
While Sossamon — who, as mayor, votes only in case of a tie — did not state her position on the move, she did voice support for Oliver.
"I also appreciate all the years that Brenda (Oliver) has given to this town," Sossamon said. "I've worked with her as a board member when she was mayor here and on Mountain Projects and other things."
The board voted to remove Oliver and then to appoint McCardle, with both votes following the same 4-1 breakdown — Hensley opposed, the remaining members in favor.
Discussion over email
Despite strong feelings on both sides of the issue, discussion of the TWSA changes was relatively limited during the Dec. 13 meeting, with only about 10 minutes elapsing from the time the board appointment was brought up for discussion to the time the meeting adjourned.
As it turns out, that's likely because commissioners had already made up their minds during an email exchange that Town Attorney Eric Ridenour conceded amounted to an illegal meeting (see sidebar).
Gelbaugh forwarded the email chain to The Smoky Mountain News and The Sylva Herald the next morning, saying that she thought reporters ought to have access to the messages.
The thread began with a four-paragraph message that Sossamon sent to board members on Monday, Dec. 10, reminding them of the upcoming vote on the TWSA appointment, its importance to the community, applications received and her preferences for the appointment.
"My choice would be Jeff Goss, since he would bring legal expertise and also a fresh view of TWSA. I feel he would be a good representative for Sylva. Also, I would say, that Paige (Dowling) would always be a good representative since she is very knowledgeable about the Town and TWSA policies," Sossamon wrote.
Nobody replied to the email until 9:45 p.m. Wednesday, Dec. 13, when Nestler wrote that he had "thought long and hard" about the appointment and spoken with both Goss and McCardle. While Nestler said he thought McCardle would be a "slightly better pick" — he owns a restaurant and experienced TWSA policies first-hand when he recently moved the business to a different location on Main Street — he thought both men were "excellent choices." The email was a reply all to members of the board and also included Dowling and Ridenour.
"Even though Brenda (Oliver)'s term is not up I think that we should reappoint her position," Nestler wrote. "After talking to these two it is very clear that they are eager to serve and would both offer up fresh ideas and opinions to the TWSA board. Brenda has not provided any input to any of the issues discussed at our meetings recently. Her role on that board is not as an engaged member and I think either one of these two new candidates would be a more vocal supporter of our community. I think her heart is in the right place but I think somebody with a little more enthusiasm for their opinion would better serve our town. So, my suggestion is that we not pick between Jeff and Mick but rather appoint them both."
The next morning at 9:02 a.m., Gelbaugh replied to the group that she liked Nestler's idea and would support him should he make the motion at the meeting scheduled for 5:30 p.m. that day.
"Mick (McCardle) and Jeff (Goss) will both be an asset for Sylva and I believe in light of the needed changes to policy regarding highway 107 this compromise is the best approach," she said.
At 3:12 p.m., Hensley told the group that he was "very much opposed" to the suggestion and reiterated his belief that Dowling should take over his seat.
"I strongly oppose your suggestion to replace former Mayor Brenda Oliver before her term is completed," Hensley wrote, addressing Nestler. "As to your comment concerning the fact that she does not have a lot of input during meetings, I would respond that because of her history with the Town of Sylva as a Commissioner and Mayor and her assistance when TWSA was established, she understands what is going on and does not need to be as vocal and ask so many questions as some I know."
Seven minutes later, Nestler replied that he "will gladly let you (Hensley) start the discussion off and state your opinion that you would like Paige to replace you on the board. You can obviously make whatever motion you would like. However, I will be making the motion that we appoint Jeff to take your vacant spot on the board and then Mick to take Brenda's spot."
McPherson provided the last response to the thread, at 3:51 p.m. writing that he would support appointing Goss and that he believed both Goss and McCardle "make excellent candidates as stewards of this complicated and frustrating system."
During a phone interview following the vote, Oliver said that she respected the board's decision to remove her.
"I serve at the pleasure of the board, so whatever they see fit of course I understand, so it is what it is," she said. "I just have enjoyed having the pleasure of serving on the board and I thank them for allowing me to do that."
Oliver is no stranger to town government, having served on the Sylva town board for 28 years before opting not to run for re-election in 2009. Of those 28 years, 17 were as the town's mayor — her tenure on the board included the time surrounding TWSA's formation in 1992. Having sat on the TWSA board for eight years, Oliver is currently serving as the board's vice-chair.
While Oliver gained appointment to TWSA three times in a row, two of those appointments have followed a split vote. She was initially appointed in 2011 following a unanimous vote, but the vote to reappoint her to a term starting in 2014 was split 4-1, with Gelbaugh opposed and Hensley, Hamilton, Sossamon and then-Commissioner Danny Allen in favor. Her reappointment in 2017 was even narrower, with Hensley, Gelbaugh and Hamilton in favor and McPherson and Nestler opposed.
While it's not typical to end a board member's service before their term is up, it's not unheard of. Following the 2016 elections that resulted in a Republican majority, the Jackson County Board of Commissioners decided in a party-line vote to remove TWSA member Joe Ward, a Democrat, from his position mid-term and appoint Republican Tom Sawyer. On Dec. 17 the county commission — now a Democratic majority — voted unanimously to reappoint Sawyer to a second term.
McCardle and Goss will take their seats on the board beginning in January.
Email thread deemed illegal meeting
Sylva commissioners violated the state's open meetings law when they participated in an email thread discussing the upcoming vote on appointments to the Tuckaseigee Water and Sewer Authority Board.
State law contains various provisions for scheduling, noticing and holding meetings, as well as a definition for what a meeting is. That definition includes "simultaneous communications by conference telephone or other electronic means of a majority of the members of a public body for the purpose of conducting hearings, participating in deliberations, or voting upon or otherwise transacting the public business."
"It constitutes a meeting and therefore it constitutes an illegal meeting," said Town Attorney Eric Ridenour of the emails. "We will strive to do better and be mindful of the difference between what things can be sent out as a whole between board members and what can't."
While individual board members can meet or otherwise converse privately about whatever they want to, it's illegal for a majority of the board — in this case, three or more members — to do so without noticing the conversation as an official meeting.
After realizing their mistake, board members were quick to apologize and promise that it wouldn't happen again. The town board is scheduled to hold a planning session on Thursday, Jan. 24, and will include a review of open meetings laws as part of that meeting.
"We need to apologize to the press and everybody else because that wasn't the right thing to do and our lawyer had informed us and reminded us," said Sossamon. "I think everybody knows that's not things that you do. That's sort of an illegal meeting when you send emails and reply and talk about things through an email. I apologize for any part I had in that."
Gelbaugh also conceded that it was "wrong to have done that," with Hensley saying that he questioned whether the discussion was legal after sending his email, which he dashed off "because I was so mad" about Nestler's proposal to remove Brenda Oliver from the TWSA board. Nestler, meanwhile, initially said his understanding was that the email thread was legal since they weren't taking a vote on anything. But after speaking with Ridenour, Nestler called SMN again to apologize for participating in what he now knew to be an illegal meeting.
"I certainly don't want to be part of a culture where that's OK," he said. "I'm really sorry I did that."
Hamilton was the only board member who didn't reply to the thread.
"I don't do that because we're not supposed to be doing that particular thing," she said.
However, Hamilton doesn't believe the other board members were trying to skirt the rules.
"I don't think it was intentional that they did it," she said. "I think it was a learning experience, kind of brought it home to them that we cannot be doing that. I think they really didn't honestly realize what they were doing."
The email thread was not the first time in recent months the board's adherence to open meetings laws has been questioned. In November the board released minutes of an October closed session meeting in which board members asked Ridenour about N.C. Department of Transportation compensation for property owners affected by the N.C. 107 project and regulations regarding protests at town meetings. While Ridenour contended that the discussion was allowed as a closed session under state law, Amanda Martin, attorney for the N.C. Press Association, said she thought that, "much of what happened should have been done in open session."
North Carolina's open meetings laws are online at bit.ly/2Bm9T3M.