Archived Outdoors
Hope for Scotts Creek: Report yields optimism for creek's restoration
Wednesday, December 12, 2018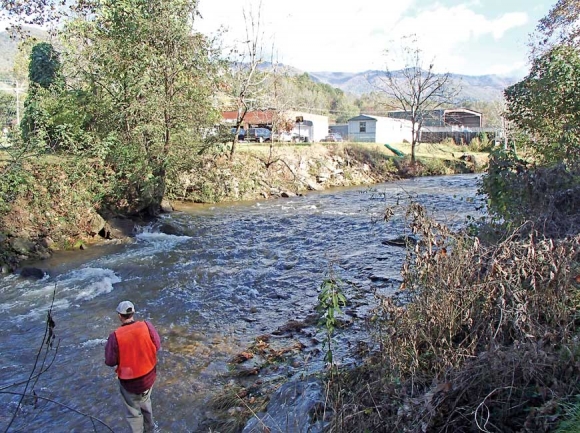 Walsh conducts sampling on Scotts Creek. Equinox photo
Sylva got some good news about the creek that runs straight through its heart at a Nov. 8 town meeting.
Scotts Creek has been on the state's list of impaired waterways since 2008, continually testing above acceptable levels for fecal coliform bacteria, a group that includes dangerous pathogens like E. coli. Aside from implications for the health of the aquatic ecosystem, high concentrations of such bacteria can make streams unsafe to boat, wade or otherwise recreate in.
The town board has been talking for years about ideas for cleaning up Scotts Creek, transforming it from an impaired waterway and gathering place for litter into an aesthetic and recreational centerpiece. In 2016, it landed a $63,000 grant from the Clean Water Management Trust Fund — combined with $21,250 from the town and $7,000 from Jackson County — to create a report evaluating the creek's status and developing a plan to improve it, and when Danvey Walsh of the Asheville-based consulting firm Equinox presented the results of that report during last month's meeting he had some encouraging words for commissioners.
"Do you ever see Scotts Creek being a recreational creek for boaters?" asked Commissioner Mary Gelbaugh.
"I think so. I really do," Walsh replied.
"Would you swim in Scotts Creek?" asked Commissioner David Nestler.
"I would. I waded all through it," said Walsh. "I was in there a lot."
A look at the creek
That's despite the fact that high fecal coliform counts have Scotts Creek still listed as an impaired waterway. But according to Walsh, fecal coliform tests capture a swath of bacteria that includes species that aren't harmful to humans.
"It would be good probably if the state would switch over to a standard that uses the EPA-recommended fecal indicator bacteria, which is E. coli," he said in a follow-up interview. "That is a better indicator of whether or not there could be pathogens in the water which are most likely to be harmful to human health."
The fecal coliform group contains species that are associated with decaying plant matter like leaves and grass clippings, as well as textile, pulp and paper mill wastes. While Jackson Paper's current operations aren't of the type that would support this species of bacteria, Walsh said, it's possible that they could have been in the past when Scotts Creek's fecal coliform counts were even higher than they are today.
Aside from the ambiguity of the fecal coliform test, Walsh's data from the past year of tromping through the water support a more positive view of Scotts Creek. One good indicator of a waterway's health is the number and type of aquatic critters that can be found there. Certain species are simply not tolerant of contaminated water — if the water isn't clean, they won't exist.
"If you have a pollution problem, generally you'll see low numbers of those," Walsh told the board. "We didn't. The biological index for Scotts Creek came back as good."
That would indicate that the water quality is also reasonably high, despite the creek's listing as impaired.
Actual water quality testing that Equinox performed as part of the study buoyed that assertion. Testing was done in accordance with N.C. Department of Environmental Quality standards at 17 locations along the 15-mile stretch designated as impaired. At each location, fecal coliform levels were tested on five days in a one-month period, with the a geometric mean — a sort of adjusted average — of those five readings serving as the number to be compared to the state standard.
At all 17 locations, average levels fell well below the limit of 200 fecal coliform colonies per 100 milliliters — the highest was a site located near the confluence with Fisher Creek, which yielded a geometric mean of 145 colonies per 100 milliliters. That said, some individual readings did come in over 200 — six of the 17 sites at least on reading greater than 200, though in all cases the a geometric mean of five came in lower.
Of the 19 sites tested — 17 were on Scotts Creek and two on its tributaries — the only site that yielded a mean above the state standard was located midway down Cope Creek, with 281 colonies per 100 milliliters.
Reaction from commissioners
Town commissioners were pleasantly surprised to hear the news, with some seeming almost disbelieving that it could be true.
"I'm just happy to hear that the creek is not as bad as we were thinking it was," said Commissioner Greg McPherson. "I think that there's some opportunities for recreation on that creek, which is really interesting and a very positive thing for us in terms of economic development."
"I guess that inspired me that down the road we might have some more recreation opportunities on Scotts Creek, but that's down the road," Gelbaugh agreed.
Commissioner Barbara Hamilton was a bit more circumspect, saying that while she doesn't want to be a "doubting Thomas," she'll need more information to be convinced that Scotts Creek can be considered open for business.
"I remember two years ago we were at Bridge Park and all of a sudden this smell of sewage was coming down Scotts Creek," she said. "I know sewage when I smell it. Now two years have passed, so maybe they've been forcing people to comply but I can't say I truly — I still have questions about it."
Commissioner Harold Hensley, meanwhile, questioned whether it's worthwhile for the town to spearhead cleanup when the creek's headwaters are outside town limits.
"If it's not cleaned up from where it begins at the top of Balsam, the top of Fisher Creek, you have defeated any purpose," he said.
The Scotts Creek Watershed is located in northeastern Jackson County. Equinox graphic
Walsh acknowledged that headwaters are the most important part of any watershed, but he said that testing indicated that Scotts Creek's headwaters are already quite healthy.
Even if Walsh is correct and Scotts Creek doesn't belong on the impaired waterways list, getting it officially removed will take time. It would require the state to do an official sampling and the EPA to approve those results. The creek would continue to be monitored even after it came off the list to ensure it doesn't lapse — which, according to history, is certainly a possibility.
The creek's levels of fecal coliform were astronomically high in the early 2000s, with a 2005 round of sampling yielding a number nine times the level considered safe. That result spurred a collaborative effort to fix the problem, and between 2009 and 2012 levels stayed below the state standard. But the recovery didn't last. New sources of pollution appeared, with samples in 2013, 2014 and 2015 coming in well over the state standard.
"It was interesting to me too that things weren't as bad as I anticipated it being," said Mayor Lynda Sossamon. "I'm looking forward to studying the report and really being able to see what there is and see when we could get started on cleaning up some of it."
Room to improve
The report contains plenty of ideas for the cleaning up part of things. Fecal coliform contamination comes from three main sources, Walsh said: agriculture, stormwater runoff and failing septic or sewer lines.
In the Scotts Creek watershed, there are some livestock operations that could be contributing to fecal coliform levels — the report identified several sites, saying that restoring the streams that flow through them would go a long way toward reducing contamination in the watershed. However, the number of livestock operations in Scotts Creek is relatively low, and because addressing the issues would require cooperation from private landowners Walsh recommended that the town focus its efforts on the other two areas, which are more directly in its purview.
Historically, Scotts Creek has had issues with straight piping — that is, sewer pipes depositing waste straight into the water, untreated. Much of the problem has been addressed, but there are still plenty of aging septic systems in the area, located close to streams and with older pipes.
Walsh recommended that Sylva look into a program similar to one in place in Haywood County, which helps landowners pay to replace aging septic systems. Offered through a partnership of Haywood Waterways Association and the Haywood County Health Department as part of the N.C. Department of Environmental Quality Section 309 Grant Program, the program has been extremely successful, helping more than 130 homeowners prevent as much as 48,000 gallons of untreated sewage from flowing into Haywood County streams each day.
"That's really important because if my septic is failing and I can't afford to fix it, I'm not going to come to anybody and say, 'I have a failing septic,' because it's expensive," said Walsh. "You're going to get a lot more self-reporting when you have funds available to make those repairs."
The report also laid out some proactive measures the town could take to reduce pollution from stormwater runoff. While the Scotts Creek Watershed encompasses a section of northeastern Jackson County that is largely located outside town limits, by far most of the hard surfaces that cause rain to run off into the creek rather than absorb into the ground are located in Sylva. That means that the greatest opportunity to reduce stormwater runoff is also located in Sylva.
Walsh suggested that Sylva consider labeling storm drains to remind people that the water goes right into the creek, work to increase pet waste pickup and improve dumpster and landfill management.
And, he said, the town should look into some landscaping projects aimed at trapping and treating rainwater before it has a chance to find a creek.
Equinox developed a list of 17 locations where stormwater control projects would be helpful, including public and private holdings.
"With each site we took a great deal of time and effort to identify what is the appropriate stormwater control measure to implement at each site," Megan Foy, landscape architect with Equinox, told town commissioners.
Suggestions included bioretention ponds on either side of the driveway to the Jackson County Justice Center; cisterns and a bioswale — a plant-filled drainage route designed to filter out contaminants and slow water down — at Scotts Creek Elementary School, with an emphasis on the educational aspects of the project; and a much more involved endeavor at Bridge Park.
The Bridge Park plan, as envisioned by Equinox, would include a variety of plantings along the creek and around parking lots; rain barrels around the stage; a walking path and possible greenway connection; wetlands area; creek overlook and more. Commissioners were excited about the possibilities presented and the opportunity to further improve Bridge Park, but also cognizant that it's not a question to be resolved overnight.
Fully implementing the Bridge Park plan would be expensive — $521,000 to $1.2 million, according to Equinox' estimates — and while Sylva has just about that much money in a fund that's already earmarked for water quality projects, the town will have to decide if this is the best way to use that money.
There's also the fact that, while Equinox's testing boded well for the creek's health, Scotts Creek is still officially listed as an impaired waterway. Sylva would likely want to see it removed from that list before it really started to market the creek as an amenity.
"They presented some neat plans, that who knows, maybe they'll take wings and fly," said Gelbaugh. "But at this point I think it's just too soon to predict."