Archived News
Store closes following roadwork dispute
Wednesday, December 12, 2018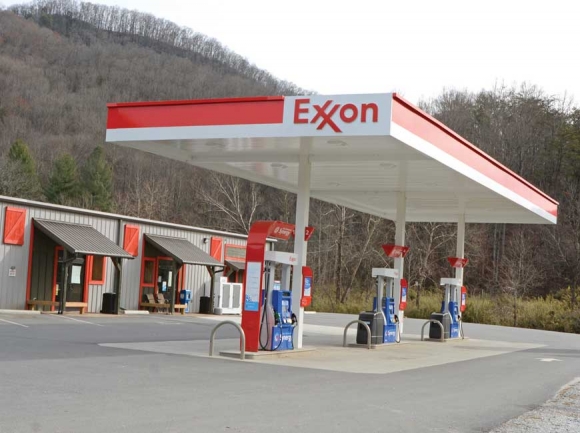 Caney Fork General Store closed its doors last week following an ongoing dispute with the N.C. Department of Transportation and various subcontractors over compensation for a recent relocation and unpaid contractor bills. Holly Kays photo
Just over a year after opening its doors at a new location, Caney Fork General Store is closed, though likely only temporarily.
"Sorry we will be closed until after the New Year!" reads a sign now posted on the door of the gas station and convenience store south of Cullowhee. "NCDOT has forced us to make some hard decisions! Until which time NCDOT decides to pay us and our vendors for the comdemnation (sic) move! This process started in April 2016 and has left us with no other choices."
The store, whose owner Mickey Luker also serves as a Jackson County commissioner, has been at the center of a controversy that involves the N.C. Department of Transportation, an Atlanta-based program management company called THC Inc., and various subcontractors.
Luker first bought Caney Fork General Store in December 2011 and opened it in April 2012, though at that time the store was located across the road from its current location. He was forced to move due to a DOT road-widening project along N.C. 107 between Caney Fork and Tuckaseigee, relocating his business to a new building little more than a stone's throw from the original location.
The DOT paid him for the property, also releasing funds to cover re-establishment and relocation expenses for the business. According to the DOT, Luker received $757,800 for the property, $533,900 to relocate the four businesses contained inside the store and $100,000 to re-establish those four businesses.
However, Luker says that he did not actually receive the money promised, and that's why multiple contractors have been left unpaid for their work. He also believes that $757,800 is too little for a property that will be rendered basically unusable following the road project and filed a lawsuit to that effect. He reached an agreement with the DOT in mediation last month, and the DOT Review Board is expected to approve the settlement at a Dec. 12 meeting. When those funds are released, he said, he will be able to pay his subs.
Coming to an agreement
Despite repeated statements to the contrary from the DOT, Luker has maintained that he never saw the $533,900 promised him for the relocation. He said that the money was funneled through THC, which was responsible for paying the contractors, and that THC's shortcomings are the reason contractors haven't gotten paid. DOT, meanwhile, has said that paying contractors was not one of THC's responsibilities and that the $533,900 was paid to Luker.
One of those contractors is Blitz Estridge of Sylva-based Estridge Electric, who in January filed a lien, followed by a lawsuit, alleging that Luker owed him more than $42,000. Estridge said that he met with DOT officials in May to discuss the issue.
"They wanted me to itemize a bill for them, really detailed out on what I did," he said. "I had to break down the cost of wire, fittings, outlets, the lights, everything. It took a long time. But nothing really came out of that deal." According to a DOT document provided following a public records request, that discussion resulted in $1,881.81 for Estridge.
The lawsuit has been lying dormant for a while, because Estridge says he's waiting on the outcome of the condemnation suit between Luker and the DOT.
Jay Coward, Luker's attorney in the condemnation suit, said that the yet-to-be-approved agreement would give Luker more than the original $757,800. However, Luker said the agreed-upon amount is still less than needed. He said the average of the three commercial appraisals he had done, plus the amount still owed contractors, should be $275,000 more than the pending agreement.
Luker has said that he's tried in good faith to pay his subcontractors but that irresponsibility on the part of THC and ineptitude on the part of DOT meant that some companies never got their money. However, a statement sent to The Smoky Mountain News in May shows that the DOT keeps quite a different point of view.
"Mr. Luker asked his contractors to perform work outside the scope of NCDOT's moving bids, and has refused to pay for the work performed, telling them that NCDOT will pay for it," wrote Robert Woodard, state relocation director for DOT. "This is why he has not paid the companies himself, and why they have taken out liens against them."
Further, Woodard wrote, "NCDOT will not be paying the entire balances that Mr. Luker owes, as he simply is not eligible to receive reimbursement for all of the costs." Some of the work was for capital improvements, he added, not simple replacement of existing services.
While Luker declined an interview about the store closure and the status of his dealings with the DOT, saying he didn't want to jeopardize any forthcoming payment, he did answer some questions via text message. Among them was a reaction to Woodard's statement that Luker had asked his contractors to do work outside the scope of work that could be reimbursed by the DOT.
"A 100 percent complete false statement — As none of the Contractors were given a scope of work to be performed by the NCDOT or were there any oversight or guidance by TMC (sic) or the NCDOT! How would Mr. Woodard know as he never once visited the site during his period of Work?" Luker said via text message.
He further denied the charge that he had work done for capital improvements beyond what existed at his original store, saying that the work was done to accommodate the same services, coolers, refrigerators and inventory spaces as the old location.
Other contractors' experiences
Estridge is not the only one to have filed a lawsuit against Luker. Tillman's Restaurant Equipment and Supplies did as well, with a Wayne County suit claiming that Luker had paid Tillman's only $55,000 for $94,989 of work.
In that case, Luker blamed the nonpayment on the company's alleged poor quality of work, saying that he'd been having issues with leaks and frozen lines in the new equipment. The last filing in that case was a September scheduling order, but it does not appear on the court calendar, said Kelly Lewis of the Wayne County Clerk of Court Office, indicating that the dispute likely went to mediation.
In March, Luker said that there were several other vendors who hadn't filed a formal complaint but had not yet been "completely made whole." Carpenter Chad Crowe is not one of those vendors.
In contrast to Estridge, who has said that Luker is habitually dishonest and intentionally solicited services he wouldn't be able to pay for, Crowe said that Luker is an honest man who has "paid me every dime he ever owed me." Crowe did all the carpentry work for the relocation, he said, and was paid in full despite having just a handshake agreement on the matter.
"I don't ask for no written nothing from Mickey (Luker)," said Crowe. "I've done so much work for him it's just … we're like brothers. We trust each other."
However, Crowe said, he got his work done and bills turned in early, finishing work around the time Estridge was starting his in July 2017 — Estridge said that by the time he sent his bills in, there wasn't any money left to pay them. Crowe said he turned his bill in to Mickey, who sent it along to THC, and received a check from the DOT.
"I tried to get my work done early and bills turned in early, because I know how the DOT operates — slowly on getting you paid," said Crowe.