Archived News
Jackson swears in commissioners, sets meeting schedule
Wednesday, December 05, 2018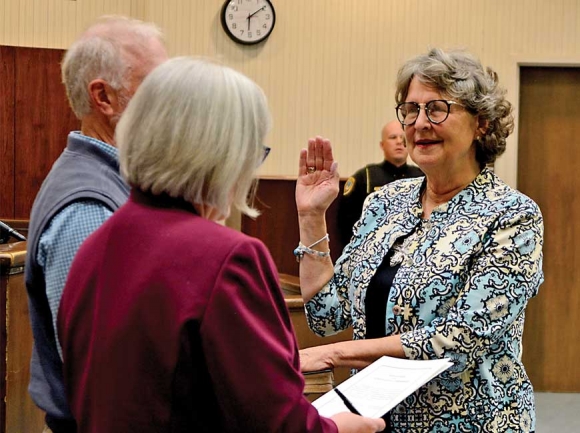 Gayle Woody is sworn in for her first term as a county commissioner. Holly Kays photo
The Jackson County commissioners said goodbye to a longtime member, welcomed a new member and changed their meeting schedule during an organizational meeting Monday, Dec. 3.
"It's been a pleasure, a great pleasure, serving Jackson County for 12 years," said outgoing Commissioner Charles Elders. "I've worked with some good friends, made friends, and I'm grateful to all those friends."
Elders lost his bid for re-election this year to political newcomer Gayle Woody, who was sworn in to a term that will last through 2022. Elders sat on the board of commissioners from 1994 to 1998 and again from 2010 to 2018.
"You are on the list of a very short number of people who have exceeded a decade serving," said Chairman Brian McMahan as he presented Elders with a plaque of appreciation. "Jackson County is a unique place. Very few commissioners serve more than a decade, and I think that's quite an honor that you can say you've served that many years for our county."
Commissioner Mickey Luker added that Elders had always been a "true mentor" throughout his growing up in Jackson County and praised his "dedication to this county, your commitment, always working in this area, staying employed in this area, serving the people, running a business."
Commissioner Ron Mau agreed with those sentiments, saying that he'll still plan to stop by Elders' store in the Barkers Creek area to get his thoughts on issues facing the county.
Elders, a Republican, lost the election to Woody, a Democrat, with the board's two other Democrats — McMahan and Commissioner Boyce Deitz — keeping their seats against Republican challengers. Thus, as of Dec. 3, the board has flipped from a 3-2 Republican majority to a 3-2 Democratic majority.
In election season interviews, Woody said that she looked forward to serving and listening to Jackson County's citizens, and that supporting education, protecting the environment and combating the opioid crisis were three of her major goals. She also said she opposed changes the Republican board made over the past year to the county's health and social services departments and would look to reverse them.
While commissioners' regular meetings have been held on Mondays during the past two years, the board will now meet on Tuesdays instead. Beginning in January, the board will meet on the first Tuesday of each month at 6 p.m. and on the third Tuesday at 3 p.m. It will also hold a monthly work session beginning at 1 p.m. on the second Tuesday.
Commissioners also decided who of them will represent the county on various other boards and organizations. Woody will serve on the Recreation and Parks Advisory Board and on the Road Naming Board. Deitz will serve on the Fire Commission, Juvenile Crime Prevention Council and Transit Advisory boards. McMahan will serve on the CTP Steering Committee, the Road Naming Board, the Southwestern Commission RPO and the Vaya Health County Commissioner Advisory Board. Luker will serve on the Council on Aging, Emergency Food and Shelter and Public Library boards. Mau will serve on the Tourism Development Authority and Tuckaseigee Water and Sewer Authority boards.
Contact information for commissioners is online at www.jacksonnc.org/county-commissioners, with meeting agendas and schedules also available.