Archived News
State releases annual economic tier rankings
Wednesday, December 05, 2018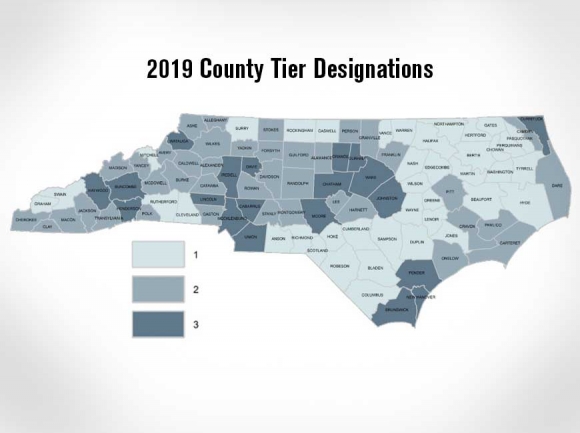 Macon and Jackson counties will be considered less economically distressed in 2019, according to the North Carolina Department of Commerce.
At the end of each year, the state releases the Economic Development Tier Ranking designations for each county — tier 1, tier 2 or tier 3 — and those rankings play a major role in how program funding for economic development is distributed throughout the state for the following year.
The recently released data shows that Macon and Jackson moved up from the most distress designation of tier 1 in 2018 to tier 2. Macon County was moved from a tier 2 to tier 1 county in 2015, mainly because it's population is under 50,000 and its poverty rate increased to nearly 20 percent.
Jackson County dropped from a tier 2 to a tier 1 county in 2013 and stayed there until this year— also mainly due to its population and poverty rate.
Haywood County will remain a tier 3 county for the third year in a row after moving up from a tier 2 county in 2017. For 2017, Haywood ranked 79 in the Economic Distress Ranking. The rise in the rankings was due to improvements in population growth and median household income. Adjustments for counties with populations less than 50,000 shifted three counties from tier three to tier two, which bumped Haywood County into tier three for 2017.
Meanwhile Swain County hasn't budged from its tier 1 designation in many years.
The economic rankings present a catch 22 for local governments and economic development leaders. On one hand a county's goal is to improve economic development opportunities and wages for its residents, but on the other hand having a higher ranking means those counties are less likely to receive funding for economic development and infrastructure projects.
The 2019 rankings comply with changes made by the North Carolina General Assembly that alter the formula used to calculate final tier designations. These changes, implemented with the adoption of the 2018 Appropriations Act, eliminate several 'adjustment factors' previously incorporated into the methodology. Otherwise, the formula, which identifies four economic factors to be compiled and calculated by N.C. Commerce, were used to analyze and rank each of North Carolina's 100 counties.
The rankings are based on an assessment of each county's unemployment rate, median household income, population growth, and assessed property value per capita. The law calls for 40 counties to be designated as tier 1, 40 counties to be designated as tier 2, and 20 counties to be designated tier 3.
There are 28 counties that will change tier designations for 2019. Counties moving to a less distressed tier ranking include Alleghany, Ashe, Camden, Cherokee, Clay, Jackson, Macon, McDowell, Montgomery, Person, Yadkin, and Yancey (from tier 1 to tier 2); and Currituck and Davie (from tier 2 to tier 3).
Counties moving to a more distressed tier ranking include Beaufort, Cleveland, Cumberland, Duplin, Hoke, Nash, Rockingham, Rutherford, Sampson, Surry, Wayne, and Wilson (from tier 2 to tier 1); and Carteret and Granville (from tier 3 to tier 2).
Tier designations determine eligibility and guidelines for several different grant programs that N.C. Commerce administers including the One North Carolina Fund, building reuse, water and sewer infrastructure, and the downtown revitalization Main Street program. Tier designations also play a role in the state's performance-based Job Development Investment Grant program, serving as a mechanism to channel funds for infrastructure improvements to less populated areas of the state.