Archived News
Haywood Meme lawsuit escalates with arrival of First Amendment attorneys
Wednesday, December 05, 2018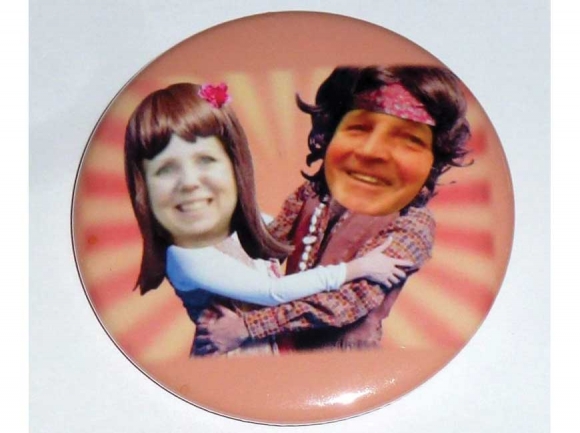 A parody image is at the heart of Debbie King's lawsuit. Monroe Miller photo
Months ago, just after he finished mopping the floor with pro se defendant Eddie Cabe, Haywood County attorney Rusty McLean said, "You should always have a lawyer."
Apparently, someone heard him.
"We're very happy to be able to provide services pro bono to those who have a viable First Amendment defense to these claims and otherwise would not be able to afford high-quality legal representation," said Nicole Ligon, supervising attorney of and lecturing fellow for the First Amendment Clinic at Duke Law.
Funded by the Stanton Foundation — founded by longtime CBS president and free speech advocate Frank Stanton — the First Amendment Clinic at Duke Law seems tailor-made for the matter of Debbie King v. Eddie Cabe, the only remaining defendant in a high-profile case stemming from a bitter feud between members of Haywood County's Republican Party and a splinter faction known as the Haywood Republican Alliance.
"One of the real problems in the American system of law is that we have many wonderful legal rules and principles, but if you don't have competent legal representation, a lot of times you can't successfully invoke those," said H. Jefferson Powell, professor of law and director of the First Amendment Clinic at Duke Law. "You're at a real disadvantage."
The clinic works on local, state and federal cases and also files Amicus briefs before the Supreme Court; its advocacy stretches into perspectives on campus speech and freedom of the press, but Powell said its most high-profile client is currently a man named Russell Beckman, who filed a First Amendment-related pro se action against the NFL's Chicago Bears earlier this year.
"Our client has [Chicago Bears] season tickets and various other perks that he of course pays for, but he's a Packers fan," he said. "When the Bears play the Packers he wants to wear his Packers regalia to the pregame warm-up on the field that he's allowed to participate in, and the Bears have a rule — they created a rule — saying you can't do that."
On Nov. 28 Powell and four others filed appearances in the case of King v. Cabe. He said they'd heard about the matter from North Carolina Press Association attorney Amanda Martin, who briefly represented others in the Feb. 6 suit alleging Plaintiff Debbie King had suffered "emotional psychological distress, embarrassment, humiliation, physical disability, loss of appetite [and] stress" after parody images — "memes" — hit social media and eventually lapel buttons.
Named in that suit were defendants Eddie Cabe, Jeremy Davis, and HRA Treasurer Richard West, but West was tossed a few weeks ago, Davis unexpectedly passed away months ago, and King opted not to pursue the matter with Davis' estate.
That left only Cabe, who attempted to go it alone and on June 15 saw more than two-dozen of his motions struck down by Superior Court Presiding Judge Greg Horne.
"From our perspective Mr. Cabe is not somebody who is in a good position to go to D.C. and get a first-rank lawyer," Powell said. "He's the kind of person we want to be helping."
The crux of Cabe's case is a nuanced debate over what constitutes misappropriation in North Carolina, and how the First Amendment protects political speech. King is a vice-chair of the HCGOP, and the mockery stemmed from bad blood between the HRA and HCGOP.
"This is precisely what the First Amendment is about — political dispute. When disputes arise, what Americans do is they argue with one another, they criticize one another, they attack one another, they state their different positions, and that's the whole system working as it's supposed to," said Powell. "Interjecting the law into it in the sense where somebody tries to go to court over a political dispute is, number one, not really the American way of doing politics. We fight our politics in the political realm. Number two, it is what the First Amendment, as a general matter, forbids."
The only remaining claim against Cabe is misappropriation of King's image; the misappropriation tort recognized by North Carolina involves making money from that image and according to Powell, it's not certain that happened.
"So our position is that [King] doesn't have a claim under North Carolina tort law, and if she had a claim," he said, "that would run straightforwardly into the First Amendment."
Should it come to that, Ligon, who did not file an appearance in the case, seemed confident that Cabe would prevail.
"The First Amendment protects somebody's ability criticize those who they don't agree with and certainly here, the speech issue was within the confines of First Amendment protections," she said. "We feel very strongly that we will be victorious in asserting that as a legal defense."
The other four who filed appearances in the case, Joe Bianco, Michael Fisher, Luke Morgan and Bryant Wright, are all third-year law students.
"The North Carolina State Bar has a very good rule that allows you to be certified and practice law under the supervision of members of the bar, so our student lawyer members of the clinic are part of this," said Powell. "From the standpoint of Duke Law School and the state bar, one of the great things about this kind of case is that it's a wonderful opportunity for young people who are in the process of becoming lawyers to have a chance to really be on the inside of it."
And if at first they don't succeed, the case could drag on and grow to an even more substantial level, per Powell.
"The judge has to make the judge's decision, and in no way are we questioning that that is the judge's role to undertake, but we think this suit is one that really needed to go away," he said. "If necessary, we will litigate this until that is established by judicial decision."
Cabe, contacted Dec. 2, said he welcomed the assistance and thought it would be helpful, but showed no shortage of the fuel that started the fire in the first place.
"I think it just proves that this is a First Amendment issue, and that the only thing that the HCGOP wants to do is operate off of greed and political revenge," he said. "The worst mistake I ever made was volunteering for the HCGOP and the hundred times they called me asking me to come in, I wished I'd hung up the phone."