Archived News
Campaign rhetoric criticized in Jackson
Wednesday, December 05, 2018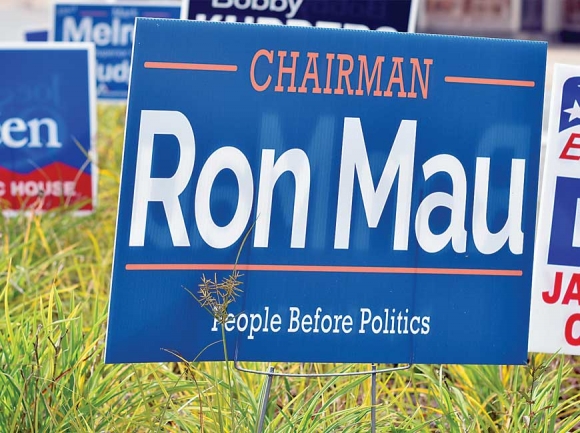 Commissioner Ron Mau took issue with a post on the Jackson County Democratic Party's website that said his campaign signs made the writer think of the Chinese dictator Chairman Mao. Holly Kays photo
A May blog post titled "Chairman Mao or is it Chairman Mau?" was the topic of an impassioned statement Jackson County Commissioner Ron Mau read during a Nov. 19 commissioners meeting.
"When John McCain passed away our pastor talked about the divide in our country's politics," Mau said. "He mentioned the hate too many use to justify their political decisions, the need to be more civil, and they need to change; or as a country we will not improve. I agree with the statement, but it needs to start at home."
Spurred by a sign
Mau was referencing a post published on the Jackson County Democratic Party's website on May 30. It was written by Penny Smith, who is listed as the third vice chair in the Jackson County Democratic Party on the party's website, though Smith said her role over the past year has been more limited due to the illness of a loved one. The post began by discussing Mau's campaign signs, which had just started going up across Jackson County.
"When I first saw the sign, what did it say to me?" Smith wrote. "Well, I couldn't help but leap immediately to Chairman Mao. Mao didn't believe in political parties and politics either, but in a solidarity embodied by him alone. Mao set a high bar for authoritarian rule. He was right, all the way, all the time. Durn right, yes, sir! Knew better than anyone else, he did. That's the role of CHAIRMAN, after all."
The signs, which read "Chairman Ron Mau" in large capital letters with the lower-case tagline "People before politics," occupied many billboards and roadsides throughout the campaign season. Mau ran against incumbent Chairman Brian McMahan in November. He lost the race but will remain on the board as the District 3 representative.
The post continued to criticize the sign's "bigly Trumpian font" and Mau's record over the past two years, including controversial changes to the departments of health and social services and his vote to allow Sunday morning alcohol sales in the county. Both of those positions ran contrary to the prevailing public opinion expressed during multiple public hearings, Smith pointed out.
"'People before politics' is an even more empty phrase than 'Make America Great Again,'" Smith wrote. "I suspect it really means some people before politics … What would you substitute for politics? War? Oligarchy? Chairman Mao? People benefit from politics played fair. Our current problem is not with politics per se, but with obstructionist politics, with politics controlled by big money men with an agenda that benefits their bottom line, with politics that leads to the diminution of democracy and not its enhancement. To me CHAIRMAN Mau's signage alludes to unfair politics, I hope unintentionally."
In an interview, Smith said the post was simply a "close reading" of the sign and her reaction upon first seeing it. Mau's protest was a case of "much ado about very little," she said.
"As a baby boomer, I associated the notion of 'Chairman Mao' with China's authoritarian leader and penned what I thought was a close reading of the signage with an attempt at humor (obviously missed by some readers) with a pointed message," said Smith in a follow-up email. "I stand by that reading, even if it was not intended by the advertisement's purchaser — I think it wittingly or unwittingly bespoke a set of assumptions made from a position apparently blind to the implications or coded messages that could be read in the advertisement."
Chairman Mao Zedong was a communist leader who founded the People's Republic of China. His now-infamous policies, such as the Great Leap Forward and the Cultural Revolution, were responsible for the deaths of tens of millions of people.
Post-post debate
Mau saw the issue differently, first addressing it publicly during a Sept. 27 debate at Southwestern Community College. On that occasion, he said he "found it interesting" that another candidate brought up civility in the national discourse when posts like Smith's were appearing at the local level.
"Oh, you think it's funny?" he said, pointing his finger at someone in the audience who laughed at the Chairman Mao pun. "You tell that to my Asian-American daughter-in-law."
During an election interview with The Smoky Mountain News the next day, Mau grew visibly emotional when discussing the post, saying that "there is no way in heck we'll be united at the national level when this stuff is happening right here in Jackson County."
In his Nov. 19 statement, Mau said that he discussed the post with multiple Jackson County Democratic Party officers over the course of the campaign season and was met with a less-than-friendly response on both occasions. The post remained online until Nov. 8.
Ronnie Mau, one of Mau's sons, wrote a letter to the editor that appeared in The Sylva Herald Nov. 15. Ronnie Mau invited Smith to critique his father's billboards, voting record and campaign finance to her heart's content, but to do so without "the use of exaggerated statements."
"Our surname is a homophone for Chairman Mao Zedong," Ronnie Mau wrote. "That does not mean it was justifiable to reference an authoritarian dictator who was responsible for the death of over 30 million humans when discussing my father's campaign."
In his Nov. 19 comments, Mau observed that the post appeared to have been removed one day after Ronnie Mau sent his letter to The Sylva Herald. However, McMahan said that the post's removal likely had nothing to do with the letter and was rather the result of a request that Mau made when he called McMahan to concede the election Nov. 6.
"He said, 'I want that post taken down,'" said McMahan. "I said, 'Look, I don't control the Democratic Party. I don't control what people say in blogs, but I promise you I will call them and ask for them to consider removing it.' And I did."
McMahan said he called the Democrats' chairman Frank Burrell the next day, Nov. 7, and asked if he would consider removing it. According to McMahan, Burrell said, "Absolutely." Smith said that Burrell called her to ask if it would be OK to take the post down and that she had no objection.
"I was happy for them to take it down. That was fine," she said. "It no longer seemed to have a purpose, and if it offended someone and the party doesn't want to offend that person, I'm perfectly happy for them to take it down."
While McMahan made the call requesting the post's removal, he said he did so out of respect for Mau and not because he himself felt that the post was out of line.
"I didn't think it was that offensive, because it didn't call him Chairman Mao. It said nothing derogatory or racial toward him at all," McMahan said. "I said, 'Please remove it' because it was some sort of stumbling block to him."
McMahan said it was more like a "contrast" comparing Mau's marketing of himself to what history says about Mao Zedong.
Mau strongly objected to that characterization, saying that the post most definitely did associate him with the Chinese dictator.
"There were some things where she specifically stated my policies were the same as his, so that's about as direct as you can get," he said.
McMahan and Smith both took issue with the fact that Mau's signs simply said "Chairman Ron Mau" rather than something like "Ron Mau for Chairman" — the phrasing implied that Mau was already chairman, when in fact McMahan held that seat, Smith said. Given the similarities between the surnames Mau and Mao, she added, it was at best a tone-deaf choice of words.
"Anybody of my generation grew up with Chairman Mao meaning one set of things," said Smith, who is 72. "And consequently that would be the automatic thing that came to my mind. I thought it was presumptuous to declare yourself chairman before an election."
For his part, Mau said that campaigning with the title of the office you hope to win is nothing unusual and that his name and the name of the position left him with little option but to choose wording vulnerable to the Mau/Mao pun.
"I can't change the position I was running for and I can't change my name, so there really was nothing I could do about that," he said.
Mau ultimately lost the race against McMahan by a wide margin, pulling 43 percent of the vote to McMahan's 57 percent, despite raising about three times as much in campaign funds. He will remain on the board as a commissioner representing District 3 until 2020 but will not serve as chairman.