Archived Outdoors
Planted in the mountains: WNC botanist reflects on a lifetime of discovery
Wednesday, November 28, 2018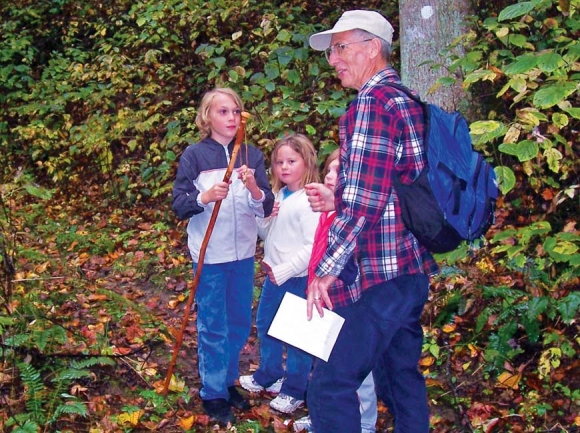 Dan Pittillo instructs a friend's young children in the ways of botany. Stan Hammer photo
Dan Pittillo has made his name as a botanist, but he could easily have ended up a dairy farmer instead.
Born in Henderson County the oldest of five, Pittillo entered the world in 1938, when the Great Depression was in full swing and people were used to not having much. For the first two years of his life his parents didn't even have a house — the family lived with his grandparents while his father worked to build one.
"Dad had built the dairy farm from the get-go," said Pittillo. "He started with six or seven cows and they had signboard that they strung between a tree or two that they used as a shelter to milk the cows in until they were able to build a barn."
It was a do-it-yourself lifestyle those days. They built the house — two stories and 20 by 20 feet — and dug the well by hand, 60 feet deep and extending through a layer of Henderson granite. The barn was next, about 30 feet tall with a big opening at the top for hay.
"We didn't even have a toilet when I moved to that house," Pittillo recalled. "We would go out in the woods."
But the family built itself out of poverty, increasing the herd to 10 cows, and then 30 and then more, buying up land along the way until by the time Pittillo was earning his Ph.D. their holdings had increased to 300 acres. When Pittillo's brother Fred eventually took over the business, the farm continued to grow, and to change, today existing as a 1,200-acre sod and soybean operation that Fred's children now manage.
Pittillo often looked out of the upstairs window of his childhood home in Henderson County, which still stands today. Donated photo
The future botanist
Pittillo, though, never felt much inclination to follow in his father's footsteps.
"It was too much and my heart was not set in it," he said.
Instead Pittillo, encouraged by teachers who sensed his potential, went the academic route.
"I was being encouraged every step of the way by my teachers," he said. "The place I landed here had a lot to do with what it was recommended that I do."
Pittillo was interested in insects initially, keeping a collection through sixth and seventh grade that he hung on the wall of his school's science lab. He eventually put together a plant collection, too, though that endeavor didn't end well — the room got hot in the summertime, the tape came off and the whole thing came crashing down. But science continued to fascinate Pittillo.
"My (ninth grade) civics teacher was not interested in teaching civics," Pittillo recalled. "I think he said two or three days a little bit about what civics was and that was it, but he would just sit there and talk with the girls in the front row. So I would ask, 'Can I go to the lab?' So I would go down to the lab and do my lab things."
By the later years of high school those "lab things" included preparing plant samples to submit to a botany project led by UNC Chapel Hill. In his free time, Pittillo would collect plant samples in Henderson County to send along for inclusion in what would become The Manual of the Vascular Flora of the Carolinas. One of the professors involved with the project, H.R. Totten, would later send Pittillo a thank you in the form of a different book, Gray's Manual of Botany, inscribed to Pittillo, the "future botanist."
It was a prophecy Pittillo would eventually fulfill, although he didn't know it yet. He went on to attend Berea College, a small school in Kentucky that's unique in that it admits all students tuition-free — with the caveat that everybody works 10 hours per week at an assigned job on campus.
Pittillo's background in the dairy industry formed the basis for his initial assignments. His first semester was spent picking up cow manure, the second one stripping cows of their cream after the milking machines were done. But in his sophomore year he was assigned to organize the biology department stockroom, and the spring semester of that year brought with it a pivotal opportunity.
Berea had landed a grant from the U.S. Forest Service to document plants in the college's 5,000-acre forest, and Pittillo was asked to do the collecting. His botany professor would drop him off somewhere in the forest, where he'd spend the day gathering samples before arriving the designated rendezvous point for pickup. Pittillo would prepare labels for the specimens before sending them to the Forest Service herbarium in Cincinnati to be identified — he wasn't yet expert enough in botany to do it all himself. Altogether, he put together about 450 specimens before graduation.
Pittillo had found his calling.
"You turn me loose in the woods and say, 'Go get 'em,' and that's what I do," he said.
It's what he kept on doing. Pittillo continued his education with a master's degree at the University of Kentucky and then a Ph.D. at the University of Georgia. Geogia wasn't his first choice — Pittillo had wanted to go to Duke, but his undergraduate grades weren't high enough for their liking.
"Berea knocked my socks off as it were with the kind of grades that I was able to achieve," said Pittillo. "I had a D in algebra and French. And I had some Cs in some other classes and I think I just had a B in biology."
But when it came to plants, he was intuitive, and hardworking. And as it turns out, Duke's rejection was something of a blessing in disguise, because it was in Georgia that Pittillo met the woman who would become his wife, Jean Farr. He kept his distance at first, mistakenly believing her to be in a relationship with someone else — but once he found out she was single, "we started dating, and it was I guess you might say a love affair right off the bat," he said.
The two married, raising a family and sticking together through the decades until 2011, when Jean died following a battle with cancer.
"I miss her," said Pittillo, pausing before continuing to speak. "She was a botanist too, but when we came here she was more inclined to stay a housekeeper and really do a lot with supporting me in my efforts. I have at least occasionally said behind every good man there is as good woman. Jean was essentially my backup. She spent a lot of time with me in the field."
Pittillo inspects a pinxter azalea at Nodding Trillium Garden, located on land adjacent to his home in Cullowhee that the family turned into a conservation easement called the Pittillo Family Nature Preserve. Penny Graham photo
Home in Cullowhee
Pittillo has traveled the country and the world in the course of his research, but he's spent most of his days in Western North Carolina — Cullowhee, to be exact. Western Carolina University offered Pittillo a faculty position in the February of 1966, before he was slated to finish his Ph.D. in August. Pittillo accepted, and he remained at WCU until his retirement in 2005.
"I'm sort of a not shirking duty person," he said. "If I sign up for something I intend to do it."
In the decades since, Pittillo has carved out a name for himself at WCU and beyond, widely recognized for his expertise in and love of the region's diverse flora. He's conducted myriad plant surveys — in the Great Smoky Mountains National Park, the Blue Ridge Parkway, the Biltmore Estate, Balsam Mountain Preserve and the N.C. Arboretum — and played a pivotal role in countless conservation projects, including protecting the Joyce Kilmer Wilderness Area, Panthertown Valley Backcountry Recreation Area, the Bartram Trail and the Mountains-to-Sea Trail.
But he's an expert who has always maintained a profound reverence for the unknown, and for the idea that there is always more to learn.
"When Granny Pittillo brought me one of those little round Nantahala slate rocks as a kid, I was really curious. This doesn't look like my rocks around Hendersonville. What is that? That's a mystery," said Pittillo. "When I finally got to the Smokies, it was mysterious. In my mind a mystery is that which you see visually that you don't yet understand how it can be. So there's a mystique about it."
Pittillo has chased that mystique across the mountains and through history, doing all he can to learn about what is here, how it came to be, and the ways in which the woods we see today have changed over the course of thousands of years.
"I can tell you if you'd been sitting here 18,000 years ago there would have been spruce trees out there. We'd be in a spruce-fir forest," said Pittillo, gesturing out the door of his home off of Old Cullowhee Road.
He likes to think about the trees of yesterday as well as the trees of today, and how back then, in cooler times, the type of forest that now grows in Cullowhee would instead cluster at lower elevations along the rivers flowing toward the Atlantic Ocean and Gulf of Mexico. The mountains would be capped with glaciers, and when the Ice Age ended and the glaciers broke, those mountains would be scraped clean as slow-moving ice carried away plants and seeds and soil.
If you know where to look — and Pittillo does — you can still see the traces of history amid the jumble of floral diversity that is the Smokies' hallmark. At 80, Pittillo still finds himself outdoors more than most people half his age, searching for the mountains' hidden secrets.
Sometimes, those explorations end up giving him more than he bargained for, as with a recent excursion to Pinnacle Park in Sylva with his hound Bart, who is named after Pittillo's beloved Bartram Trail.
It started with a trip to help his church split wood, but when he realized he'd gotten the date wrong Pittillo decided to take Bart on a little walk up the East Fork Trail instead. Recent rain on fallen leaves made the already steep trail muddy and slippery to boot, and Pittillo found himself grabbing onto shrubs while clasping the dog's leash to pull himself up before finally reaching the intersection with the more navigable West Fork Trail, arriving at the parking lot 7 miles later and much more tired than he'd intended to become that day.
"I wasn't disappointed that I did go," he said. "It's just one of those things that you sometimes do on the spur of the moment — a quick decision, and once the quick decision is made you're up some distance and it's not a good idea to go back."
Pittillo still works on the Smokies' All Taxa Biodiversity Index, a 20-year-old project aiming to inventory every species growing in the park's 816-square-mile boundary. He's spent about 60 days since 2013 working on the ATBI, pushing through the woods and processing data at home. Other times, Pittillo can be found gardening — or, as he calls it, "editing" out invasive plants while encouraging desirable ones — and typing out stories of his outdoor experiences in the 1800s home where he lives, adjacent to family land that has now been turned into a nature preserve for future generations to enjoy.
He knows a lot more now than he did as a 20-something at Berea, but mysteries will always remain — especially in the Smokies.
"It's still a mystique I get in looking at some of those tallest trees," he said, "and thinking, 'Wow. How did some of these get this big?'"